GPU Performance
As I mentioned on the last page, moving from Snapdragon 410 to Snapdragon 617 doesn't really lead to a significant improvement in real-world CPU performance. What does improve is GPU performance, which is something that has always been a bit of a problem on low-end and mid-range smartphones. The 2015 Moto G used Qualcomm's Snapdragon 410 SoC. Snapdragon 410 uses Qualcomm's Adreno 306 GPU, which put the 2015 Moto G in a bit of an odd position because that same SoC was used in the significantly cheaper Moto E. Snapdragon 617 uses Adreno 405, which we've demonstrated as providing significantly faster performance than Adreno 306 in past reviews of other devices that use it. It's worth testing a device to ensure everything is working correctly even if you already have results for another device with the same SoC, and so I've run our 2016 GPU benchmarks on the Moto G4.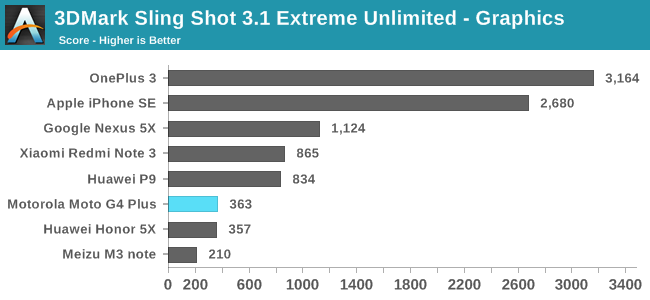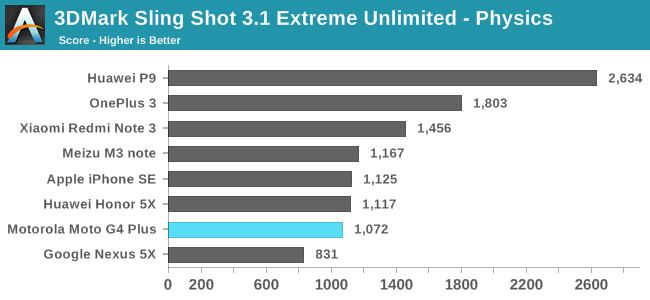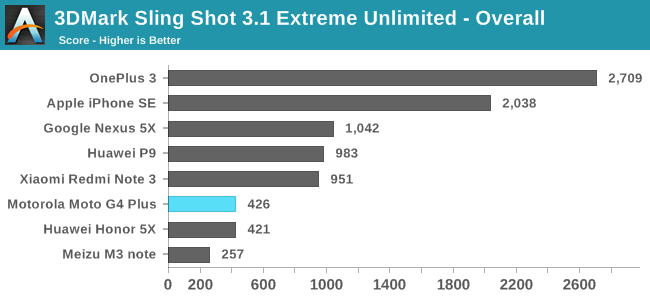 The 2015 Moto G doesn't support OpenGL ES 3.1, and so there's no way to run 3DMark Sling Shot Extreme Unlimited which uses ES 3.1 on Android and Metal on iOS. Snapdragon 617 uses the same Adreno 405 GPU as Snapdragon 615, and you can see in the results that the performance is right in line with the Huawei Honor 5X which uses Snapdragon 615. For a mid-range phone this is generally good performance, but once again the Xiaomi Redmi Note 3 sits far ahead of the rest of the mid-range smartphones, including the Moto G4.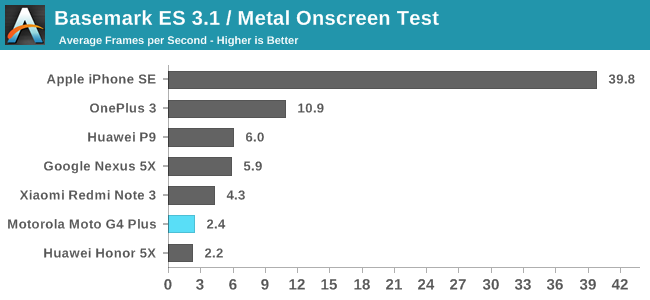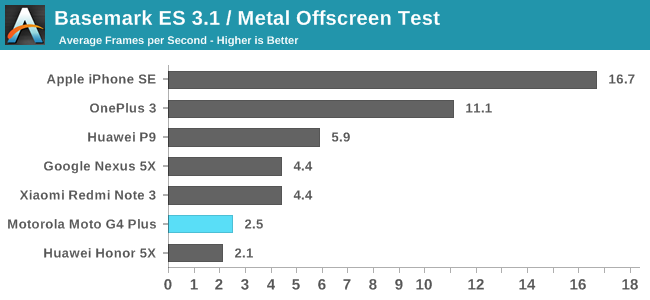 The situation in BaseMark ES 3.1 is the same as 3DMark, with the G4 Plus achieving roughly the same performance as the Huawei Honor 5X. The Xiaomi Redmi Note 3 with its Adreno 510 GPU ends up being a little over 75% faster, which is a huge improvement even if both devices technically don't get close to a playable frame rate in this very heavy test.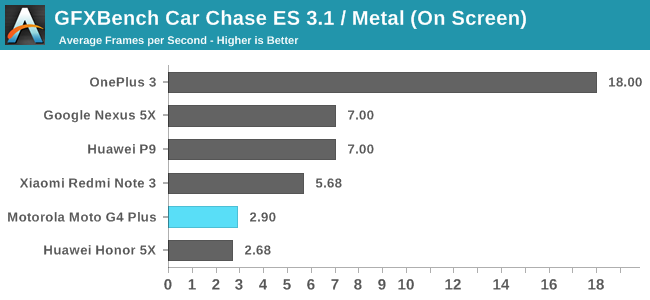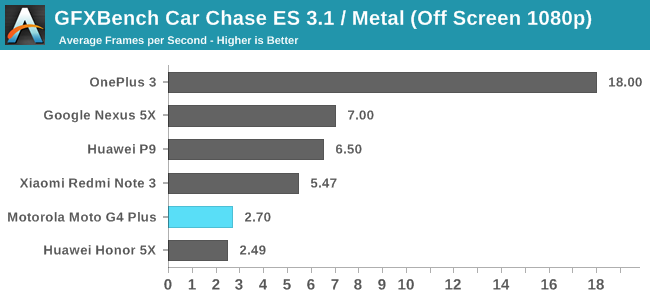 In GFXBench Car Chase it's the story is the same. The Moto G4 Plus is in line with other Adreno 405 devices, but the question is really whether or not that's good enough for a device launching this late into 2016.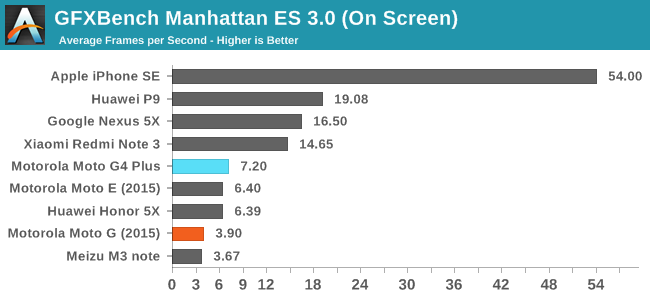 We've generally moved to Manhattan ES 3.1 / Metal for our reviews, but in cases like this where a device's predecessor doesn't support OpenGL ES 3.1 it's helpful to bring back Manhattan ES 3.0 to do a direct performance comparison. As expected, the Moto G4 is much faster than the 2015 Moto G, with on screen performance being about 85% faster despite the move from 720p to 1080p. and off screen performance being over four times faster.
It's clear that the Moto G4 provides much better GPU performance that the 2015 Moto G. However, much like the CPU benchmarks, I keep looking at the charts and seeing the Xiaomi Redmi Note 3 sitting well above the Moto G4. Adreno 405 is much better than Adreno 306, but Adreno 510 is two times faster than Adreno 405. I feel like the Moto G4 is simply launching too late for this kind of performance to be competitive, as it's tied with the Honor 5X which was launched at $200 nearly a year ago. While I don't mean to take away from the fact that the Moto G4 does provide faster GPU performance than its predecessor, I think there are devices right around the corner that are going to make a mid-range smartphone with Snapdragon 617 look decidedly last generation.
NAND Performance
NAND performance is still an area of concern on mid-range smartphones, but the situation has gotten better in recent times. The 2015 Moto E was an example of a device with very poor NAND performance, but the 2015 Moto G was significantly faster across the board. Motorola is still using eMMC memory, but there's definitely room for improvement over the 2015 Moto G even when sticking with an eMMC storage solution. To evaluate the Moto G4's storage performance I've run AndroBench 4.0 on both the 16GB Moto G4 and the 64GB Moto G4 Plus.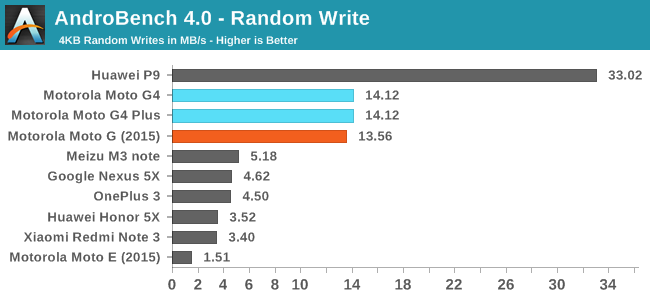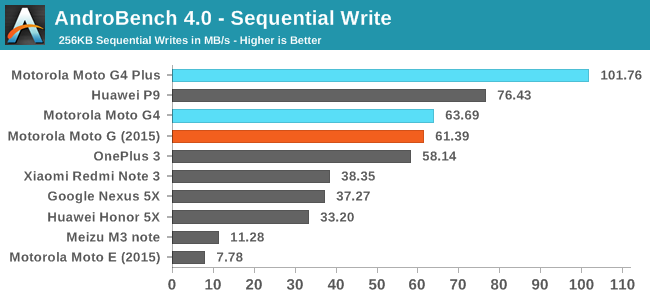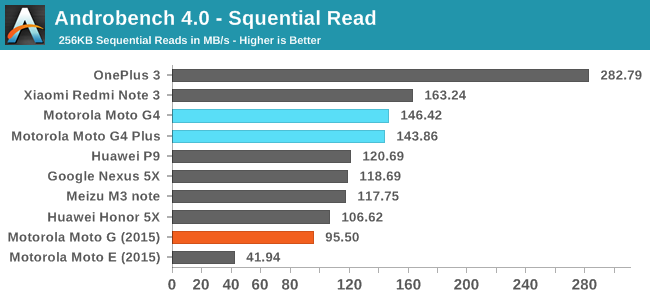 Among mid-range devices, the 64GB Moto G4 Plus performs very well. Random write results are ahead of all other devices on the chart except the Huawei P9, which isn't really a mid-range device and is just there for SoC comparisons. In the sequential write test the Moto G4 leads, which is due in part to the larger capacity allowing greater write parallelism. Sequential read performance is very good as well, although obviously not competitive with UFS 2.0 storage solutions like the one used in the OnePlus 3.