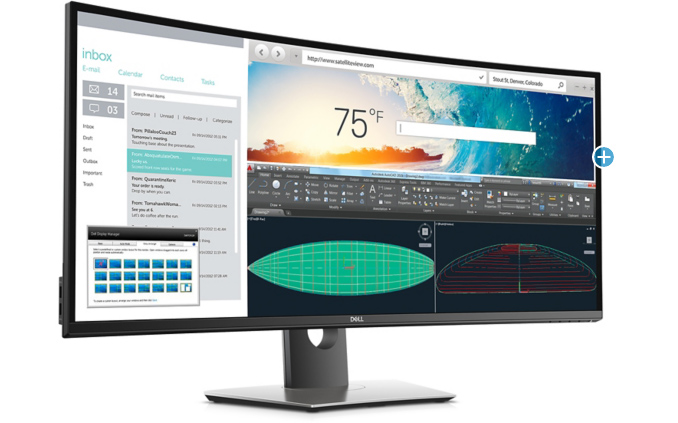 Dell this week began shipments of its curved ultra-wide 3840×1600 UltraSharp U3818DW display. The monitor is the fourth screen of this size and with this resolution on the market, and one of a few displays with a USB Type-C input (via DP 1.2 alternate mode). Dell is positioning its U3818DW as a business-class monitor, so it gets market-typical features such as an antiglare coating, but notably it does not get support for AMD's FreeSync (which is available on competing monitors).
The Dell UltraSharp U3818DW is based on a 37.5" 8-bit + FRC IPS panel featuring a 3840×1600 resolution, a 24:10 aspect ratio, 2300R curvature, and 1.07 billion colors. This panel has rather unique specifications and comes from LG Display. So far, three displays have used the panel for monitors aimed at consumers. For example, LG's own 38UC99 and Acer's XR382CQK come with FreeSync support and up to 75 Hz refresh rate (LG's one only supports 75 Hz when FreeSync is used). Moreover, ASUS's Designo Curve MX38VQ has integrated wireless Qi charging, whereas the LG 38UC99 has Bluetooth speakers (to playback music from smartphones or notebooks without using wires), two consumer-oriented features. By contrast, Dell seems to position its UltraSharp U3818DW in a similar way that it positions a number of its other curved displays: as a solution for business users looking to do a lot of multi-tasking.
Dell UltraSharp U3818DW
Panel
37.5" IPS
Resolution
3840 × 1600
Refresh Rate
60 Hz
Response Time
5 ms gray-to-gray

Brightness
350 cd/m²
Contrast
1000:1 (?)
Viewing Angles
178°/178° horizontal/vertical
Color Saturation
99% sRGB
78.1% DCI-P3
Pixel Pitch
~0.23 mm
Pixel Density
110 ppi
Anti-Glare Coating
Yes
Inputs
1 × DisplayPort 1.2
2 × HDMI 2.0
1 × USB 3.0 Type-C
USB Hub
4 port USB 3.0 hub: four USB-A
Audio
9 W × 2
Launch Price
$1499.99
In a bid to better appeal to the target audience, Dell has managed to increase maximum brightness of its U3818DW to 350 nits (from 300 nits on competing monitors), added an antiglare coating, and also added support for Dell's Command remote management capability. Each screen is sRGB-calibrated to Delta E < 2 accuracy, which is important for those who work with color-managed content. Meanwhile, the monitor also technically supports the DCI-P3 color gamut, but only covers 78.1% of it.

Dell's formal positioning of the U3818DW does not really curtail its advantages for home users. Its resolution and the aspect ratio are well suited for displaying HD and UHD content filmed in an aspect ratio of 2.35:1 or 2.40:1 (a lot of movies are shot in such aspect ratios) as well as for games. Meanwhile, the monitor is equipped with HDCP 2.2, so it can display protected UHD content transfered to it using one DP 1.2 or two HDMI 2.0 inputs.
37.5" Curved Displays with 3840×1600 Resolution
Model
Acer
XR382CQK
ASUS
MX38VQ
Dell
U3818DW
LG
38UC99
Inputs
1×DisplayPort 1.2
1×mDP 1.2
1×HDMI 2.0
1 × MHL 1.2
1 × USB-C (alt mode DP1.2)
1×DisplayPort 1.2
2×HDMI 2.0
1×DisplayPort 1.2
2×HDMI 2.0
1×USB-C (alt mode DP1.2)

1×DisplayPort 1.2
2×HDMI 2.0
Max. Refresh Rate
75 Hz
unknown
60 Hz
60 Hz - 75 Hz with FS
Dynamic Refresh Rate
FreeSync
unknown
no
FreeSync
Audio
2×7W
2×8W Harman
2×9W
2×10W Bluetooth
USB Hub
4-port USB-A 3.0
4-port USB-A 3.0
(2 upstream ports)
3-port USB 3.0:
2×USB-A
1×USB-C
Special Features
-
Qi charging (5W/1A)
Antiglare coating
sRGB at Delta E
-
Approximate Price
$1300
$1100
$1500
$1700
Dell's UltraSharp U3118DW is now available directly from Dell for $1500, which is a bit lower than the price of LG's 38UC99, but higher compared to similar displays from Acer (available now) and ASUS (set to be available in Q3).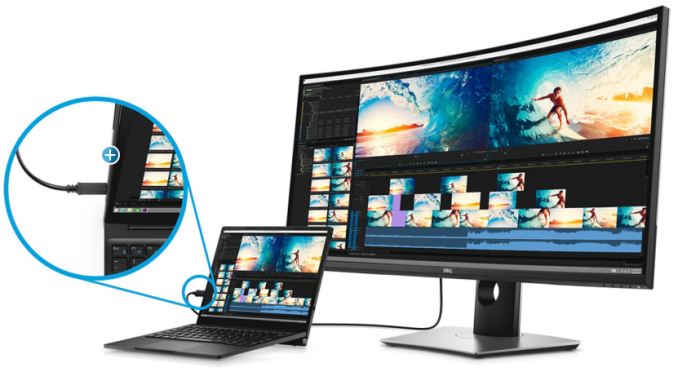 Related Reading:
Source: Dell