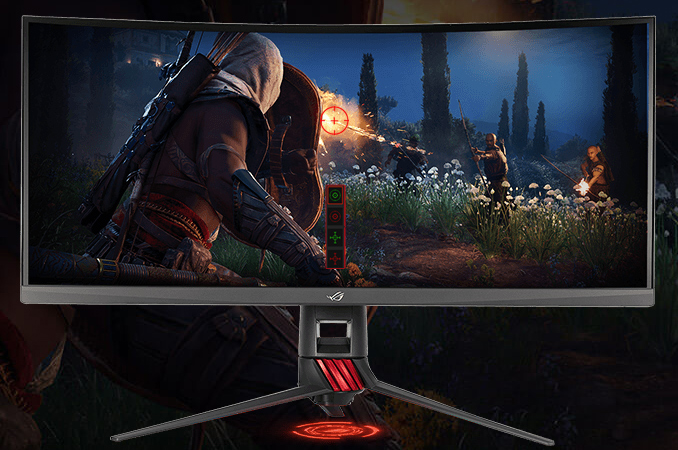 ASUS has quietly added two large curved displays to its lineup of ROG gaming monitors. The new LCDs are based on VA panels and boast a 100 Hz and 144 Hz refresh rates (depending on the model) along with AMD's FreeSync and ASUS's ELMB. The ROG Strix XG32VQ features a mainstream 16:9 aspect ratio display, whereas the larger ROG Strix XG35VQ is an ultra-wide curved display that promises to be cheaper than the last year's flagship ROG Swift PG348Q. Following the recent trends, both monitors also come with the ASUS Aura Sync RGB lighting.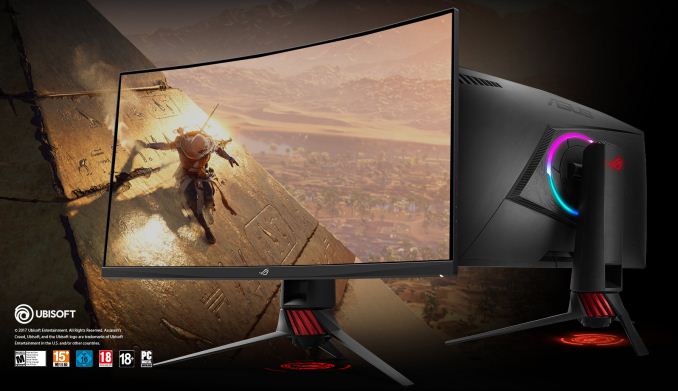 As curved monitors are gaining traction on the market, ASUS and other manufacturers are expanding their lineups to address various customers with such products. The ROG Strix XG32VQ belongs to the upper mid-range segment of the gaming market and offers a rather interesting combination of features. The monitor relies on a 31.5" VA panel with a 2560×1440 resolution, 1800R curvature, 16:9 aspect ratio, as well as refresh rates between 48 Hz and 144 Hz, courtesy of AMD's FreeSync technology. The VA panel can reach 300 nits of brightness, a rather high contrast ratio of 3000:1, a 4 ms response time, 178°/178° viewing angles and so on. Typically, VA panels are not known for the most accurate color reproduction and this particular one can display 16.7 million of colors. Nonetheless, ASUS claims that its color gamut is wider than the sRGB. As for connectivity, the XG32VQ has a rather standard set of connectors by today's standards: an HDMI 2.0 port, a DisplayPort 1.2 input, a Mini DisplayPort 1.2 input, and a 3.5-mm audio jack for headphones.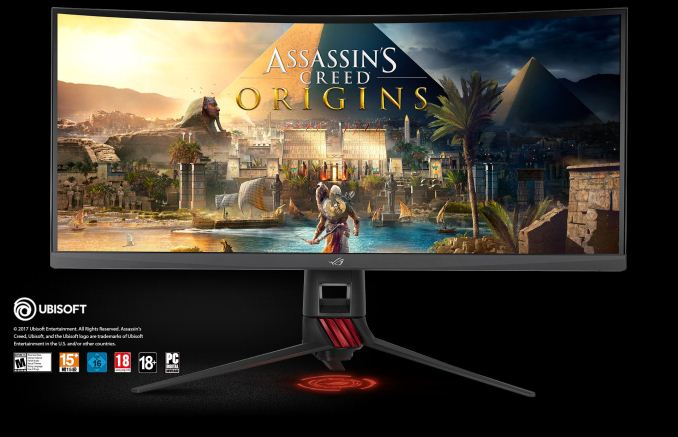 Meanwhile the ROG Strix XG35VQ is a larger monitor featuring a 21:9 aspect ratio, but lower refresh rates of up to 100 Hz. The 35" model is based on a VA panel with a 3440 × 1440 resolution, 2500:1 contrast ratio, 300 nits brightness, and a 4 ms grey-to-grey response time. Besides AMD's FreeSync (that works in the range between 48 and 100 Hz), the display also supports ASUS' ELMB technology designed to make fast-paced scenes look sharper. The connectivity scheme of the XG35VQ is a bit different than on the XG32VQ model: the large monitor has a DisplayPort 1.2 input, an HDMI 1.4 input, and an HDMI 2.0 input, as well as 3.5-mm headphone jack.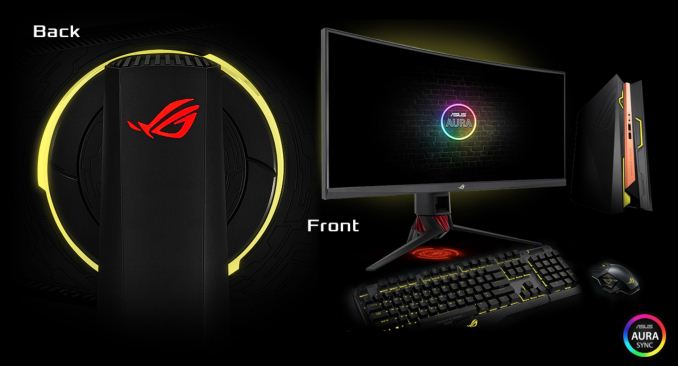 From ergonomics standpoint, the two monitors are very similar: both can regulate height, tilt, swivel or can be attached to a VESA wall mounting. As for ASUS' proprietary enhancements, such as GamePlus OSD features and GameVisual modes that adjust LCD for a particular game genre, they are supported, but with some variability between models. Finally, to make the new ROG Strix monitors look like other latest ROG-branded models, the new LCDs also feature adjustable ROG signature projection on the bottom as well as the Aura Sync RGB LEDs on the back. The latter can automatically match their behaviour with the Aura Sync LEDs inside the host PC and peripherals.
ASUS ROG Strix XG32VQ and ROG Swift XG35VQ Displays
ROG Strix XG32VQ
ROG Swift XG35VQ
Panel
31.5" VA
35" VA
Native Resolution
2560 × 1440
3440 × 1440
Refresh Rate
144 Hz
100 Hz
Dynamic Refresh Rate
Technology
AMD FreeSync
Range
48 - 144 Hz for DP, HDMI
48 - 100 Hz for DP, HDMI
Response Time
4 ms (gray-to-gray)
Brightness
300 cd/m²
Contrast
3000:1
2500:1
Color Gamut
125% sRGB
100% sRGB
Viewing Angles
178°/178° horizontal/vertical
Curvature
1800R
Inputs
1 × HDMI 2.0
1 × DisplayPort 1.2
1 × Mini DisplayPort 1.2
1 × HDMI 1.4
1 × HDMI 2.0
1 × DisplayPort 1.2
USB Hub
2 × USB 3.0
Audio
1 × 3.5-mm audio jack for headphones
Proprietary Enhancements
Trace Free Technology
Color Temperature Selection: 4 Modes
GamePlus Modes: Crosshair/Timer/Display Alignment
Low Blue Light: Yes
VividPixel: Yes
GameVisual Modes: Scenery/Racing/Cinema/RTS/RPG/FPS/MOBA/sRGB
ULMB
Trace Free Technology
Color Temperature Selection: 4 Modes
GamePlus Modes: Crosshair/Timer/Display Alignment
Low Blue Light: Yes
GameVisual Modes: Scenery/Racing/Cinema/RTS/RPG/FPS/sRGB
GameFast Input
Power Consumption

Idle
~0.5 W
Active
43 W at 200 cd/m²
Detailed Information
Link
Link
ASUS is not disclosing when exactly it plans to start selling the two monitors. Since the company has published presumably final specs of the new units, they are presumably set to be available rather sooner than later. In the meantime, ASUS' first ultra-wide curved monitor ROG Swift PG348Q based on an IPS panel and offering several advantages over the new displays is now available for less than $1,000.
Related Reading:
Source: ASUS