Xe-LP Feature Set: DirectX FL 12_1 with Variable Rate Shading
Kicking off the proper part of our architectural deep dive, let's start with a quick summary of Xe-LP's graphics feature set. I call this a quick summary as there is unfortunately not a whole lot new to talk about here.
From an API-level perspective, Xe-LP's feature set is going to be virtually identical to that of Intel's Gen11 graphics. Not unlike AMD with their RDNA1 architecture, Intel has decided to concentrate their efforts on updating the low-level aspects of their GPU architecture, making numerous changes downstairs. As a result, relatively little has changed upstairs with regards to graphics features.
The net result is that Xe-LP is a DirectX feature level 12_1 accelerator, with a couple of added features. In particular, tier 1 variable rate shading, which was first introduced for Intel in their Gen11 hardware, is back again in Xe-LP. Though not as capable as the newer tier 2 implementation, it allows for basic VRS support, with games able to set it on a per-draw call basis. Notably, Intel remains the only vendor to support tier 1; AMD and NVIDIA have (or are) going straight to tier 2.
DirectX 12 Feature Levels
12_2
(DX12 Ult.)
12_1
GPU Architectures
Intel: Xe-HPG?
NVIDIA: Turing
AMD: RDNA2
Intel: Gen9, Gen11, Xe-LP
NVIDIA: Maxwell 2, Pascal
AMD: Vega, RDNA (1)
Ray Tracing
(DXR 1.1)
Yes
No
Variable Rate Shading
(Tier 2)
Yes
No
(Gen 11/Xe-LP: Tier 1)
Mesh Shaders
Yes
No
Sampler Feedback
Yes
No
Conservative Rasterization
Yes
Yes
Raster Order Views
Yes
Yes
Tiled Resources
(Tier 2)
Yes
Yes
Bindless Resources
(Tier 2)
Yes
Yes
Typed UAV Load
Yes
Yes
The good news for Intel, at least, is that they were already somewhat ahead of the game with Gen11, shipping 12_1 support for even their slowest integrated GPUs before AMD had phased it into all of their products. So at this point, Intel is still at parity with other integrated graphics solutions, if not slightly ahead.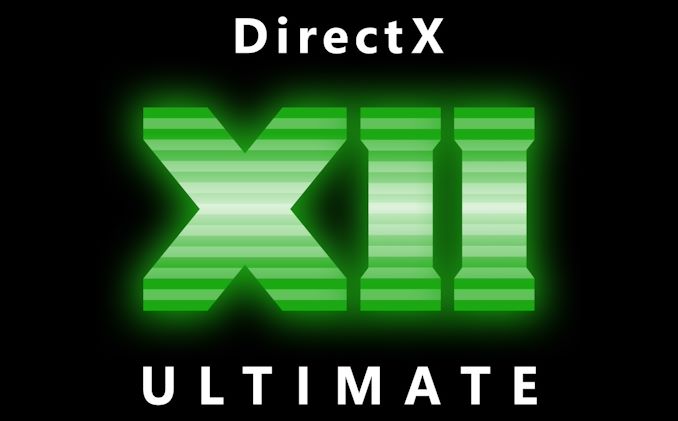 The downside is that it also means that Intel is the only hardware vendor launching a new GPU/architecture in 2020 without support for the next generation of features, which Microsoft & co are codifying as DirectX 12 Ultimate. The consumer-facing trade name for feature level 12_2, DirectX Ultimate incorporates support for variable rate shading tier 2, along with ray tracing, mesh shaders, and sampler feedback. And to be fair to Intel, expecting ray tracing in an integrated part in 2020 was always a bit too much of an ask. But some additional progress would always be nice to see. Plus it puts DG1 in a bit of an odd spot, since it's a discrete GPU without 12_2 functionality.