Improved Docking And Snap Layout Experiences
Multi-monitor laptop users rejoice. Microsoft has finally addressed the frustration that is docking and undocking in Windows with an improved experience. It seems crazy that in 2021, Windows 10 still makes a complete mess of the desktop layout when docking and undocking a laptop from a monitor or multiple monitors, but that is indeed the case. In Windows 10, if you have a laptop connected to any number of external monitors, if you undock, all of your open applications will be moved to and resized onto your laptop display. Then, if you reconnect to the external display, you get the wonderful task of moving all of your applications back and resizing them. With Windows 11, the operating system will finally remember where everything was, and put it back automatically.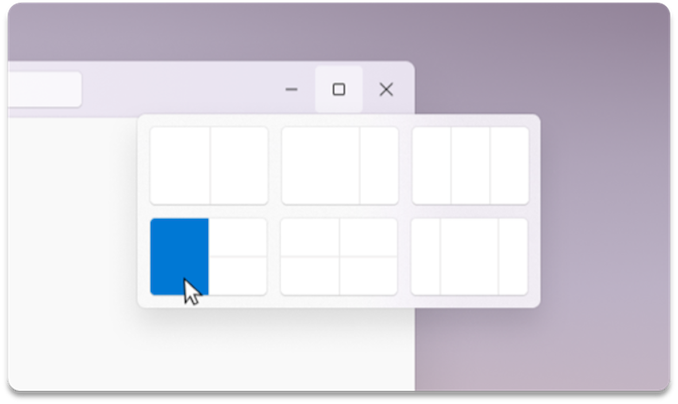 Snap options on a large display
If you are a user of the current Windows Snap functionality, where you can drag an open window to the side or corner of the display and then snap another application beside it, you will be happy to see the improvements to snap functionality. If you had no idea this existed, because the discoverability of dragging an open application to the side of your display is a non-obvious task, you will be even happier to see that Microsoft has greatly improved the discoverability of Snap by adding it to the maximize button on any open window.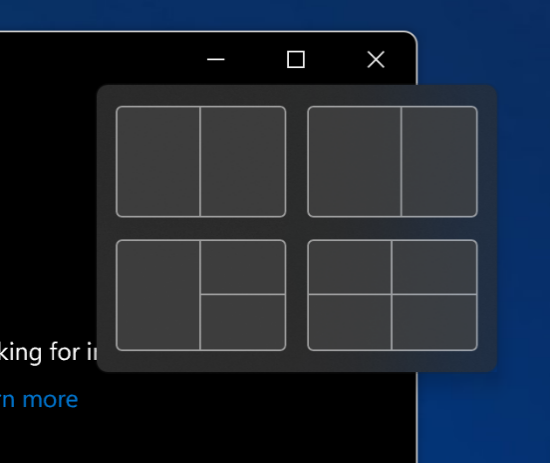 Snap Options on a small display
Hovering over the maximize button will now provide a graphics representation of different options to snap one or more applications to different locations on the display, and the choices will depend on the size and resolution of the display in question so that you don't end up with a selection that does not leave enough of an open window usable.
You can now easily snap up to four applications open at once and choose how they are arranged with far less difficulty than Windows 10.
Security Changes
Likely one of the most controversial changes to Windows 11 is the requirement for a trusted platform module (TPM) to be active in the system. Microsoft is now requiring TPM 2.0, and this is a major hurdle for a lot of older devices. Microsoft has stated that "Most PCs that have shipped in the last 5 years are capable of running Trusted Platform Module version 2.0" which is a true statement, but for it to be true that only means that over 50% of computers have TPM 2.0. It is a vague statement and is likely driven by laptop sales outpacing desktop sales.
The requirement for TPM 2.0 does allow Microsoft to enable security features that they had previously supported, but never enabled by default such as Virtualization-Based Security (VBS). VBS can be implemented without a TPM, but it is highly recommended to have one, and in an age of phishing, malware, and ransomware, it makes sense to want to enable all of the security features that you can. The communication of this change was not very clear though, and this single requirement is going to impede the rapid adoption of the new OS.
Windows 11 is also very stringent on its CPU requirements. Intel processors basically have to be 8th generation (Coffee Lake) or newer, with AMD processors needing to be 2nd generation Ryzen (Zen+) or newer. For a full list of the supported processors, you can check out the information on Microsoft's support page: https://docs.microsoft.com/en-us/windows-hardware/design/minimum/windows-processor-requirements