Re-Introducing the iBUYPOWER Erebus GT
It was only a month-and-a-half ago that we were able to test the iBUYPOWER Erebus GT, a boutique desktop with a custom water-cooling loop at a very compelling price for what you got. Yet in the intervening period the computing landscape has actually changed fairly drastically, with NVIDIA's GeForce GTX 680 coming to market and Intel releasing the Ivy Bridge-based Core i7-3000 series processors. Our previous review unit focused more on value proposition with a single AMD Radeon HD 7970 handling graphics duties, but the one we have on hand today is a true war machine.
We've covered Ivy Bridge extensively up to its launch and exhaustively this week, with a breakdown of the architecture and performance, analysis of its overclocking potential, testing in an HTPC environment, benching the notebook version, and even a vendor discussion and Q&A with ASUS of the Z77 platform that accompanies it. Today we have a firsthand look at how Ivy Bridge is going to handle and overclock in the field courtesy of an updated Erebus GT from iBUYPOWER, along with our first taste of a pair of NVIDIA GeForce GTX 680 graphics cards in SLI running on the platform.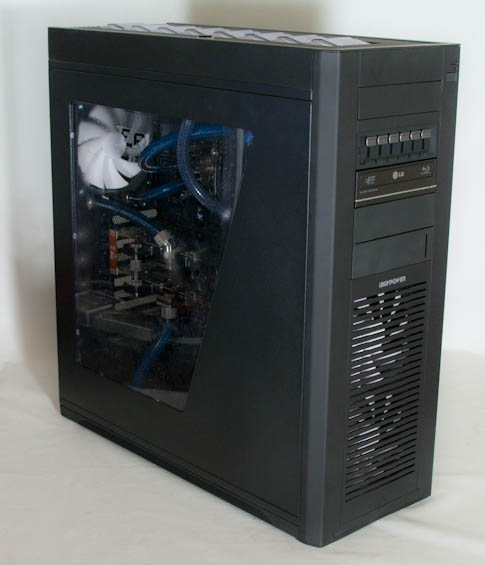 There's no question that Intel's made a major achievement with Ivy Bridge: IPC is up, power consumption and die size are down, so that's pretty much win-win for all involved. Yet there's one discipline Sandy Bridge has excelled in that Ivy Bridge has a bit harder of a time with: overclocking.
The Erebus GT system that was equipped with Sandy Bridge was able to hit a 4.6GHz overclock on the Core i7-2700K, while the refreshed system with a Core i7-3770K is only able to go up to 4.4GHz, and we expect this is going to be about as high as Ivy Bridge is going to consistently go. So the question becomes: are the IPC improvements in Ivy Bridge enough to make up for the reduced overclocking headroom? We'll find out in a moment, but first here's the rundown of the updated Erebus GT.
iBUYPOWER Erebus GT Specifications
Chassis
iBUYPOWER Custom
Processor
Intel Core i7-3770K
(4x3.5GHz + HTT, Turbo to 3.9GHz, 4.4GHz Overclock, 22nm, 8MB L3, 77W)
Motherboard
ASUS Sabertooth Z77 (Z77 Chipset)
Memory
4x4GB Corsair Vengeance DDR3-1600 (expandable to 32GB)
Graphics
2x NVIDIA GeForce GTX 680 2GB in SLI
2x (1536 CUDA cores, 1006/6008MHz core/RAM, 256-bit memory bus)
Storage
Intel 520 120GB SATA 6Gbps SSD (SF-2281)
Seagate Barracuda 7200.12 2TB 7200-RPM SATA 6Gbps HDD
Optical Drive(s)
Hitachi-LG BD-ROM/DVD-RAM
Power Supply
Corsair AX1200 80 Plus Gold
Networking
Intel 82579V Gigabit Ethernet
Audio
Realtek ALC892
Speaker, mic/line-in, surround jacks, optical out for 7.1 sound
Front Side
Optical drive
SD card reader
2x USB 2.0
2x USB 3.0
Headphone and mic jacks
6-channel fan controller
Top
-
Back Side
4x USB 2.0
HDMI (IGP)
DisplayPort (IGP)
Optical out
2x eSATA
4x USB 3.0
Ethernet
Speaker, mic/line-in, surround, and optical jacks
4x DVI-D (2x GTX 680)
2x HDMI (2x GTX 680)
2x DisplayPort (2x GTX 680)
Operating System
Windows 7 Home Premium 64-bit SP1
Extras
Card reader
Custom liquid-cooling loop
Custom LED lighting
80 Plus Gold modular PSU
Warranty
3-year parts, lifetime labor and support
Pricing
???
Compared to the last unit we reviewed, we're looking at what theoretically could be a wash in terms of CPU performance (4.6GHz i7-2700K vs. 4.4GHz i7-3770K), but pretty dramatic improvements most everywhere else. The ASUS Sabertooth Z77 leverages the i7-3770K's PCIe 3.0 support along with USB 3.0 connectivity, and it includes Intel's highly desirable gigabit ethernet NIC as opposed to the Realtek controller more commonly found.
The other elephant in the room, or elephants, are the pair of NVIDIA GeForce GTX 680 cards in SLI. NVIDIA got rid of the hot shader clock in Kepler, but in the move to 28nm they also basically tripled the number of CUDA cores from GF100/110. Do some vulgar math and that works out to about 50% more shader power per GPU than the GTX 580, and you get to enjoy NVIDIA's generally excellent SLI support. That said, as has been mentioned before, the GTX 680's memory bandwidth nears 200GB/sec but still doesn't scratch the ~250GB/sec the AMD Radeon HD 7970 offers, and the GTX 680 is also working with a smaller framebuffer with 2GB of GDDR5 instead of the 7970's 3GB. Still, the 680 has been fast enough to be crowned the fastest single-GPU video card available, so theoretically two of them should be screaming fast.
Finally, we have a hefty 1200W, 80 Plus Gold power supply from Corsair, an Intel SSD, and 16GB of Corsair Vengeance DDR3 running at 1600MHz. There's very little to complain about here, the parts employed are top shelf from start to finish.