Dell U2713HM Brightness and Contrast
Last review I changed how I measured brightness and contrast to use a 5x5 ANSI grid instead of solid black and white screens in order to provide more accurate data. I wasn't sure how this would impact screens, making comparisons between models harder. Measuring the center square of the 5x5 ANSI grid, the maximum brightness I could obtain from the U2713HM is 343 nits, which is very close to the 350 nits listed in the specs. With the backlight set to minimum that drops down to 28 nits, giving you a wide range of brightness levels to choose from.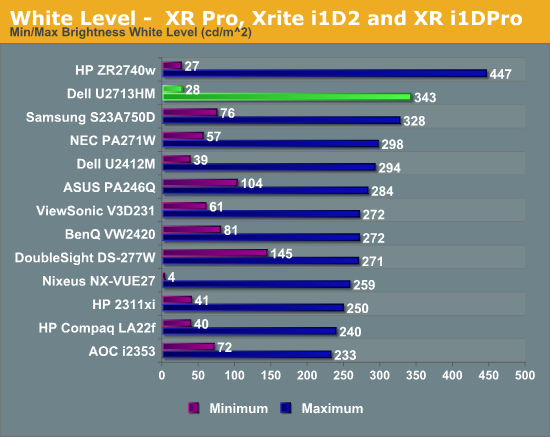 Black levels are where I expected the most impact with the new testing, since an ANSI grid prevents LED systems from going to full black. Preventing these systems from kicking in gives a much better real-world idea of the contrast ratio for a monitor. The U2713HM does a good job with the new measurements, as seen in the chart below.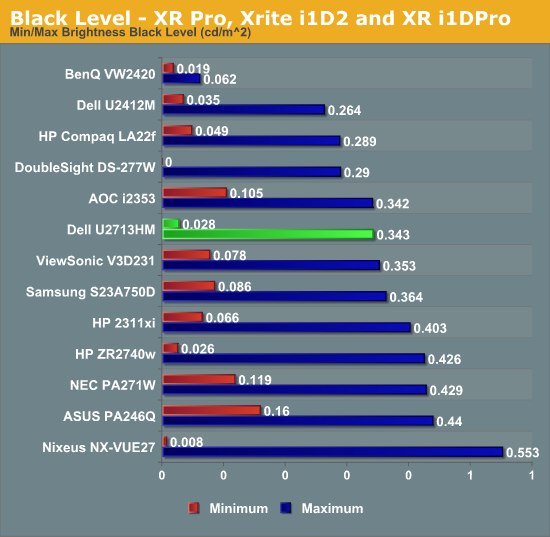 Figuring out the contrast ratio from the avove data is simple. There's some slight rounding, but otherwise we see contrast ratios very close to 1000:1 for the display at both maximum and minimum brightness. This stacks up very well compared to all the other 27" displays that have been tested, and using a more stringent standard. The contrast numbers from the Dell are very good overall,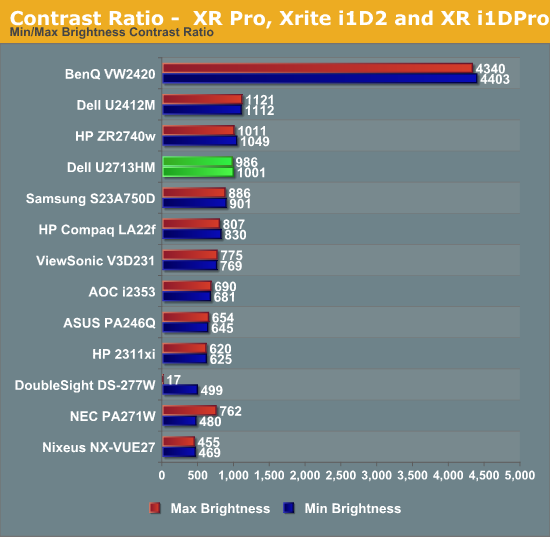 With a good foundation of brightness and contrast levels, it's time to see how the Dell performs with color.