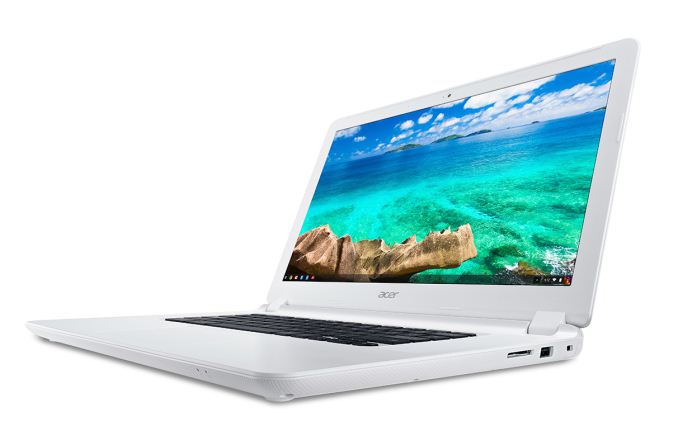 CES officially starts this week, which means announcements are going to start pouring out. Every year it seems the pre-CES stuff starts earlier, and for 2015 Acer is kicking things off with a bevy of new products. We've already covered their new IPS G-SYNC display, and up next we have new Chromebooks. I've been working on a review of the Chromebook 13, which will receive a minor update with the availability of a touchscreen now, but the real news is the Chromebook 15.
At first blush, you might wonder why anyone would need a 15.6" Chromebook, but with Chrome OS expanding in features and capabilities it's only natural to see a wider variety of devices. The 15.6" class also means things like 1080p displays are readily available, and the Chromebook 15 will have models with 1080p as well as lower spec models with 1366x768 displays. Even better is that the 1080p panel features wide viewing angles and an anti-glare coating. The 1366x768 panel on the other hand appears to be a typical mediocre quality TN panel, "ideal for budget minded customers".
More interesting than the display perhaps is the processor choice: the Chromebook 15 will be the first Chromebook to ship with a 5th Generation Intel processor. It's not too surprising that we're talking about a Celeron variant of Broadwell, but given that the Haswell-based Celeron 2955U still does quite well compared to other Chromebook processors, the upgrade to Broadwell certainly can't hurt. As with the C720, there will also be a Core i3 variant available for those that want even more performance. Battery life for now doesn't appear to have changed from the older C720 Chromebook, as Acer is rating the CB15 at eight hours of battery life.
In terms of styling, the CB15 builds off the white theme of the Chromebook 13, only with a larger chassis obviously. The dimensions are 393mm x 256mm x 24.2mm (15.4" x 10.08" x 0.95"), and the CB15 weighs 2.2kg (4.85 lbs). It also comes with 2x2 802.11ac WiFi, Bluetooth 4.0, one USB 3.0 and one USB 2.0 port, an HDMI port, and an SD card reader.
Pricing of the Chromebook 15 starts at $249 for the 1366x768 version with 2GB RAM and 16GB storage. Other models with up to 4GB RAM and 32GB storage will exist, but the full specifications and pricing for those models has not been disclosed. Availability has not been announced either, but when we visit with Acer later this week we'll hopefully be able to find out more about the CB15 and get some hands on time with it.
As for the touchscreen C13, battery life is rated at up to 13 hours with pricing starting at $329. Availability is slated for this month, but Acer doesn't mention whether the touchscreen option will be available with both 1366x768 and 1080p models, or only one. There's also still the question of how much a touchscreen really matters for laptops; I don't generally find myself missing a touchscreen if it's not there, as I'm more concerned with keeping fingerprints off my display, but YMMV.