Display
The UX305 comes with two display options. The base model is a 13.3 inch 1920x1080 IPS display, and no touch available. The display has a matte finish to it, which helps with glare. ASUS will also be offering a 3200x1800 Plane-to-Line Switching (PLS) model with a matte finish, and that model should be available in April or so. Optionally, both models can be equipped with touch.
The model that we received is the 1920x1080 version, and the display is from AU Optronics and is model AUO212D. At 166 pixels per inch, it is a good resolution for this size of display. It is a full RGB stripe, which is pretty typical for this resolution and size panel.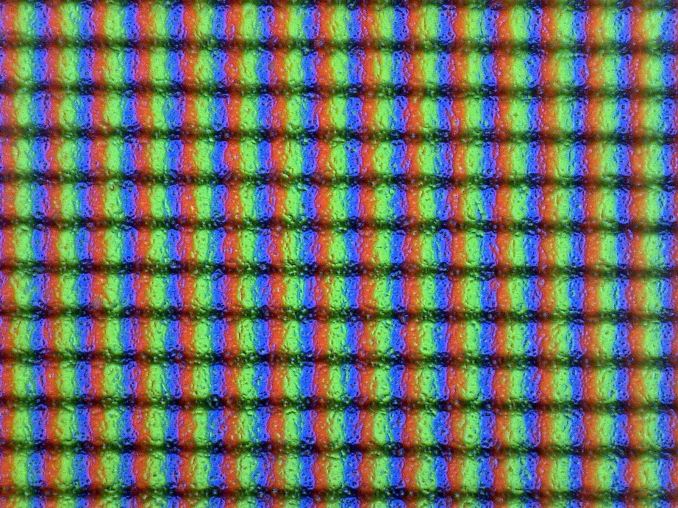 The anti-glare coating causes the sub-pixel distortion seen on this image. The AU display is a 6-bit model, but that is unsurprising given the low cost of this device. As an IPS display, it has great viewing angles and is a big step up over the TN panels that you may still find at this level of cost.
To test the display accuracy and its ability to reproduce color, we use SpectralCal's CalMAN 5 software suite, with an X-Rite i1Display Pro colorimeter for brightness and contrast readings, and the X-Rite i1Pro spectrophotometer for color accuracy.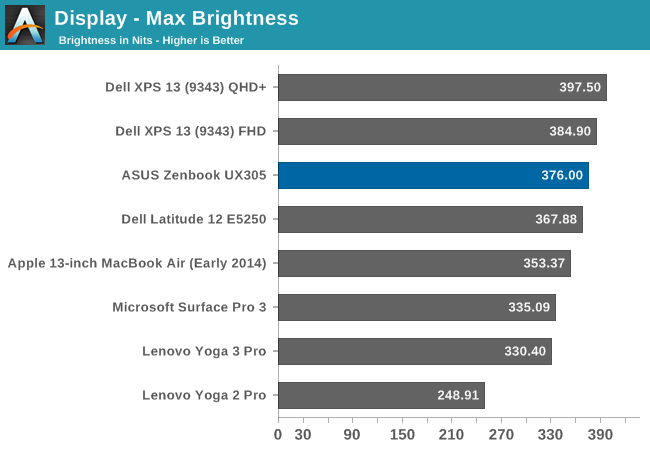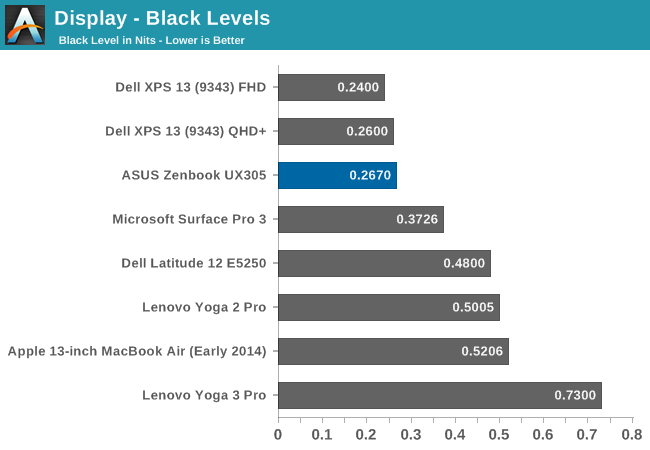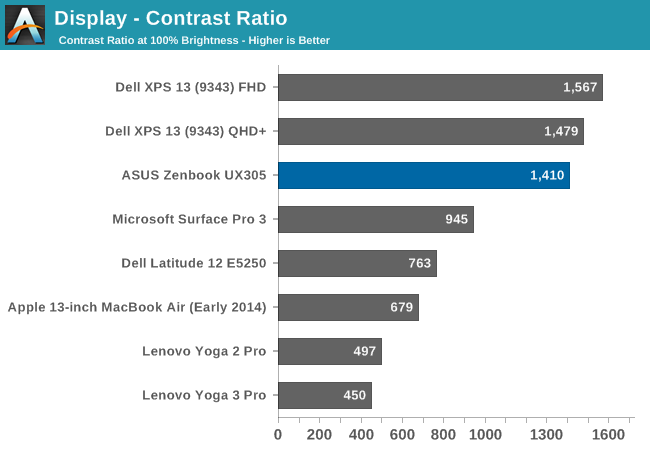 The maximum brightness for the UX305 is an impressive 376 nits. This combined with the anti-glare coating should make this a great laptop for any sort of bright room, or even outside. Even better, the panel has excellent black levels. ASUS rates the display for a contrast ratio of 500:1, but the model we received blew past that for a 1410:1 ratio which is fantastic.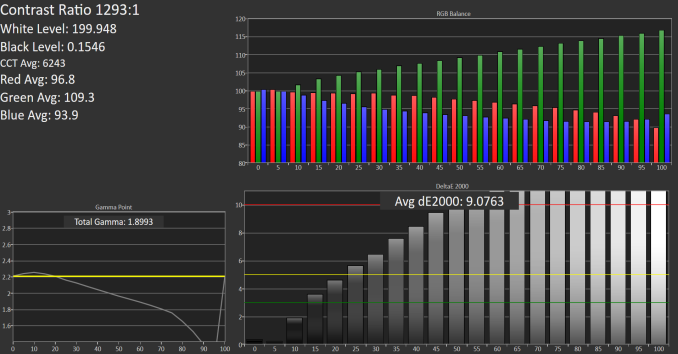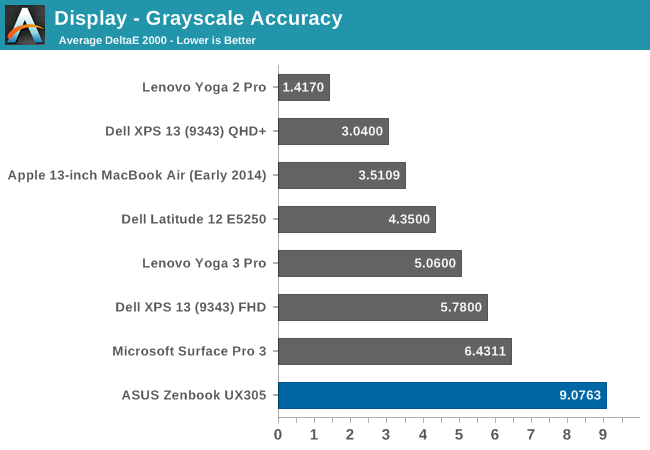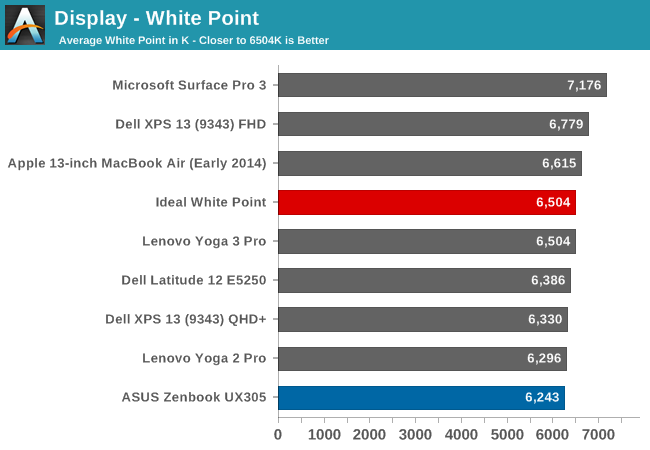 Unfortunately the great brightness and contrast is about where this display ends. The grayscale average is actually flattering the ASUS with a score of just over 9, because the error rate is between 12 and 13 from 70% brightness on. These are huge errors, since anything over 5 is a poor result, and really we are aiming for scores under three. The white point is off, and there is a huge green shift in the display by default.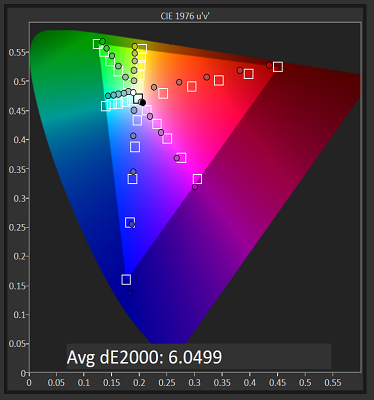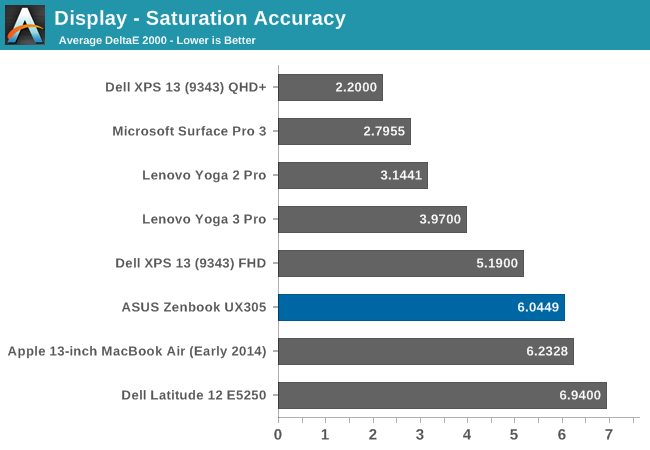 The saturation sweeps are not quite as bad as the grayscale, with the UX305 coming in just over 6. It is oversaturated on blue, undersaturated on red, and there is a green shift which pulls the yellows and teals off of their axis.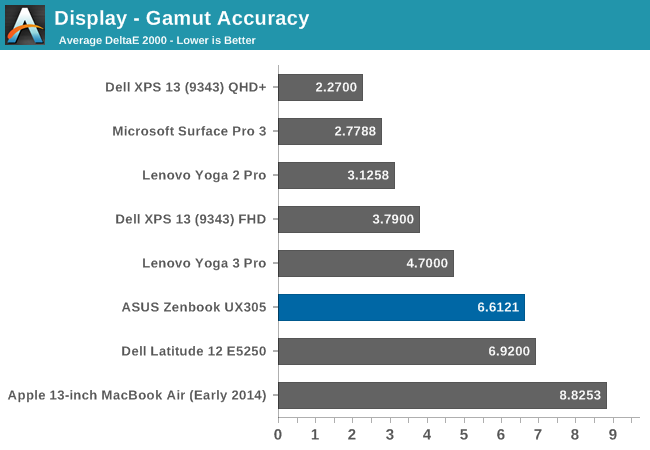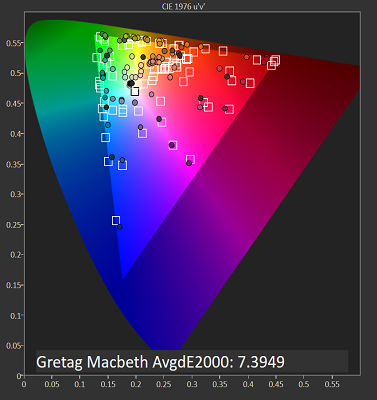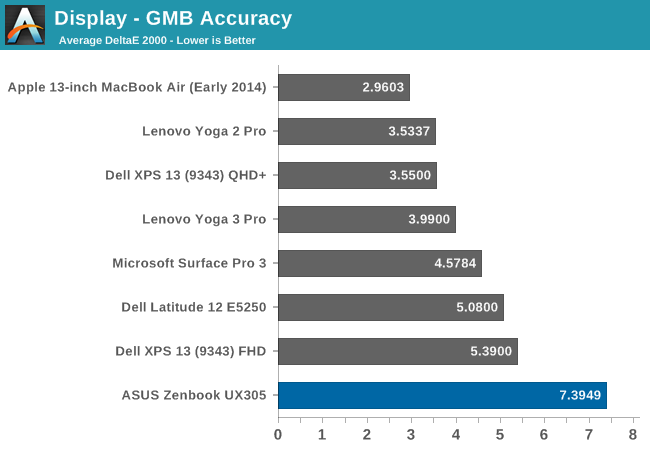 The GMB test is a more comprehensive test, and it scores very poorly again with a score over seven. The worst offenders were of course the white levels, which are very off, and the flesh tones on this display all had errors way over many of the other colors.
This is a very poor result and throws us back several years in terms of calibration. As far as out of the box performance goes the display can hit the entire sRGB colorspace, and as an IPS display it has great viewing angles, but otherwise there is nothing good to be said about this display as far as out of the box color accuracy goes.
To see if the display can be improved on with aftermarket calibration, I have run the display through our calibration software to try to fix some of the errors we encountered. Generally icc profiles will only really have a major effect on the grayscale, but that is the worst part of this display so hopefully we will be able to fix some of these issues.
Once calibrated, the display is almost completely different. There is still a large error on 100% white, but the overall grayscale drops to 0.9582, with a bit too much green but it is barely noticeable on most levels. The gamut drops to just 3.1256, saturation plummets to 1.9571, and the GMB test comes in at 2.3099.
If ASUS would take the time to include an icc profile for this display from the factory, it would be a lot better. It is amazing to me that ASUS would ship this display with it so far out of calibration, especially when calibrated it is almost perfect. Yes, the $699 price point is a factor, but the hard work was already done in getting a display that can produce these numbers. The easy part is taking the time to make it do that.