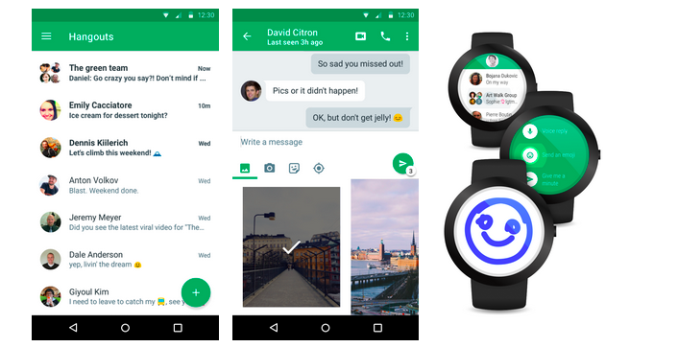 Today Google shipped a major update to their Hangouts application for Android. Ever since Hangouts for iOS was updated to 4.0 a little over a month ago Android users have been waiting for the update to make its way to Android. This update has been in the pipeline for quite some time, and it comes with a comprehensive redesign that brings the Hangouts app in line with Google's Material Design visual guidelines.
Visually, Hangouts 4.0 for Android is very similar to what shipped on iOS a little while ago. This isn't surprising, as Google's applications for iOS use their Material Design principles heavily. There are a few small differences, such as the spacing of the quick access buttons underneath the message input field, and the calling controls not being hidden behind the three dot overflow menu, but the overall appearance is the same. The appearance is definitely a departure from the previous design which had a strange dual list design which was separated into two tabs.
On top of the redesign, Google claims that Hangouts 4.0 has noticeable improvements to performance, reliability, and battery consumption. I personally have never had many issues with Hangouts on Android, but any improvements to performance are always welcomed.
Hangouts 4.0 is currently rolling out in stages, and users can expect to receive the update in the near future if they haven't already.
Source: Official Google Blog