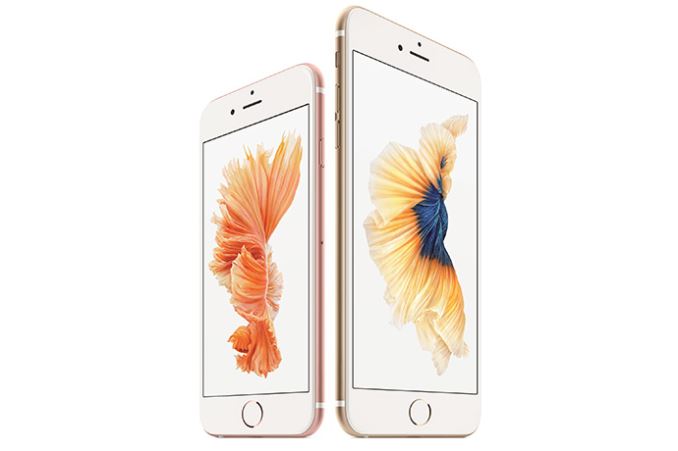 Today, Apple announced their refresh of the iPhone 6 lineup, the iPhone 6s and iPhone 6s Plus. For those that are unfamiliar with Apple's "s" refreshes, these are years in which the iPhone doesn't receive a visual design update but a number of internal aspects are significantly revised and updated. In the case of the iPhone 6s, this includes changes to display, SoC, new cameras, wireless connectivity, TouchID, and front-facing flash. I've summarized these changes in the table below.
Apple iPhone Generations
Apple iPhone 6
Apple iPhone 6 Plus
Apple iPhone 6s
Apple iPhone 6s Plus
SoC
Apple A8
Apple A9
Display
4.7-inch 1334 x 750 IPS LCD
5.5-inch 1920 x 1080 IPS LCD
4.7-inch 1334 x 750 IPS LCD
5.5-inch 1920 x 1080 IPS LCD
WiFi
2.4/5GHz 1x1 802.11a/b/g/n/ac, BT 4.2, NFC
2.4/5GHz 2x2 802.11a/b/g/n/ac, BT 4.2, NFC
Storage
16GB/64GB/128GB
I/O
Lightning connector, 3.5mm headset
Size / Mass
138.1 x 67 x 6.9 mm, 129 grams
158.1 x 77.8 x 7.1 mm, 172 grams
138.3 x 67.1 x 7.1 mm, 143 grams
158.2 x 77.9 x 7.3mm, 192 grams
Camera
Rear Facing
8MP iSight with 1.5µm pixels + True Tone Flash

Front Facing
1.2MP f/2.2
Rear Facing
8MP iSight with 1.5µm pixels + True Tone Flash + OIS

Front Facing
1.2MP f/2.2
Rear Facing
12MP iSight with 1.22µm pixels + True Tone Flash

Front Facing
5MP f/2.2
Rear Facing
12MP iSight with 1.22µm pixels + True Tone Flash + OIS

Front Facing
5MP f/2.2
Price
$99 (16GB)
$199 (16GB)
$199/299/399 16/64/128GB
$299/399/499 16/64/128GB
For the most part, it's really rather difficult to talk in great depth about these changes because right now we don't have a lot of detail which will probably be saved for a full review. One example of something that we can't test or really notice at all is the change to the build materials. While the display glass is still glass, Apple is claiming the strength of this cover glass is greatly improved from the iPhone 6. The aluminum of the back cover has also been strengthened, with the iPhone 6s using a custom 7000-series aluminum alloy to improve strength.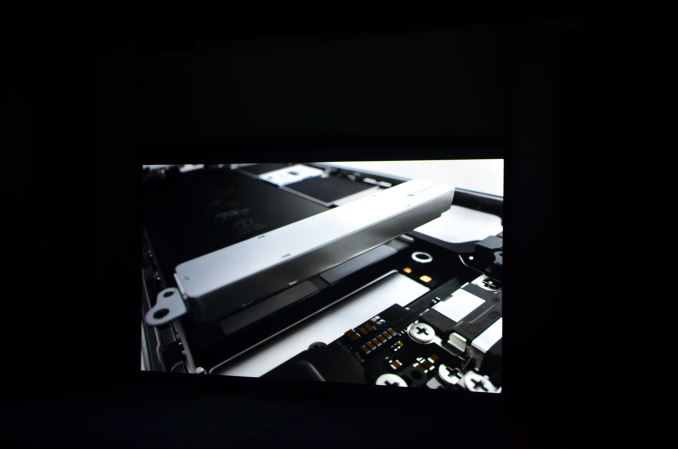 On the display side of things Apple has added a precise force sensing layer to the display module which allows for a whole range of new interactions with the smartphone. This force sensing technology is called 3D Touch by Apple, to differentiate from Force Touch on Apple Watch which is basically just a single force sensor to allow for a single force gesture within a context. The addition of a taptic engine helps to enable strong and useful haptic feedback when using 3D Touch gestures. While not part of the display, TouchID has also improved to enable much faster unlock speed.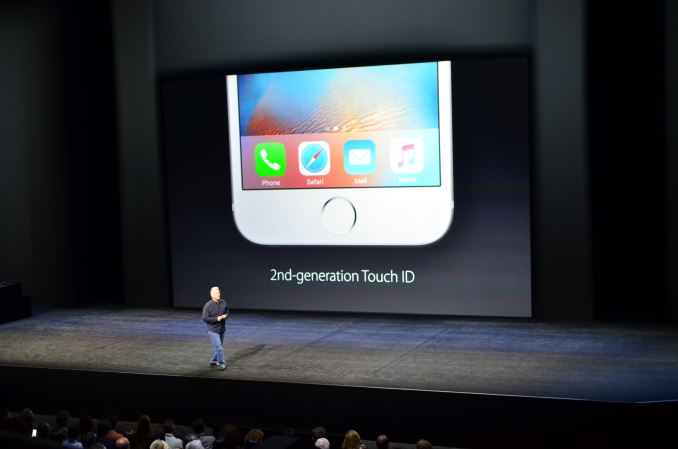 The SoC is also brand-new and much faster. Apple disclosed up to 70% CPU performance improvement and 90% GPU performance improvement, and is built on a leading edge FinFET process. Judging by the lack of disclosure of specific process node the possibility that A9 will be using both Samsung 14nm and TSMC 16nm still exists. The Apple A9 SoC in the iPhone 6s will also have the M9 motion coprocessor built into the SoC itself, which should improve power efficiency by virtue of being on a leading-edge process rather than lagging behind on 28nm or something similar. The addition of always-on Siri voice activation is also possible due to the new A9 SoC.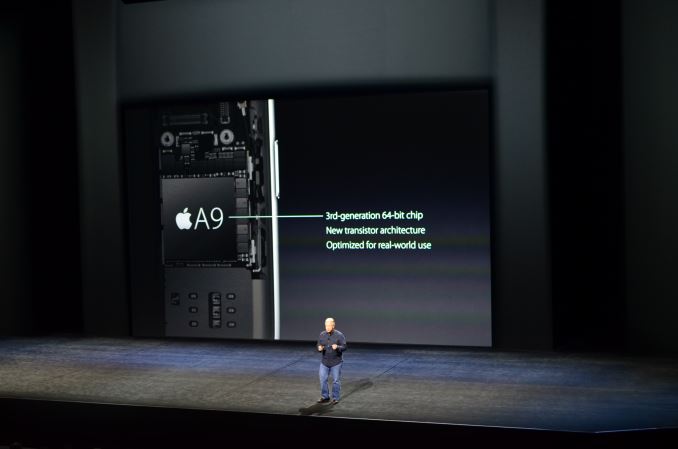 The new camera is also part of the major announcement this time around as the iPhone 6s now has a higher resolution to support 4K video recording. This new camera is 12MP, with 1.22 micron pixel size which means that sensor size is effectively identical to the iPhone 6 and 5s at 1/3". Technologies like deep trench isolation and modified color filter array are said to help with low light performance. Deep trench isolation has been seen before in camera sensors like the One M7 ST-Micro Cinesensor/Ultrapixel sensor, and Samsung's ISOCELL sensors, which is likely needed in order to drive these smaller pixel sizes.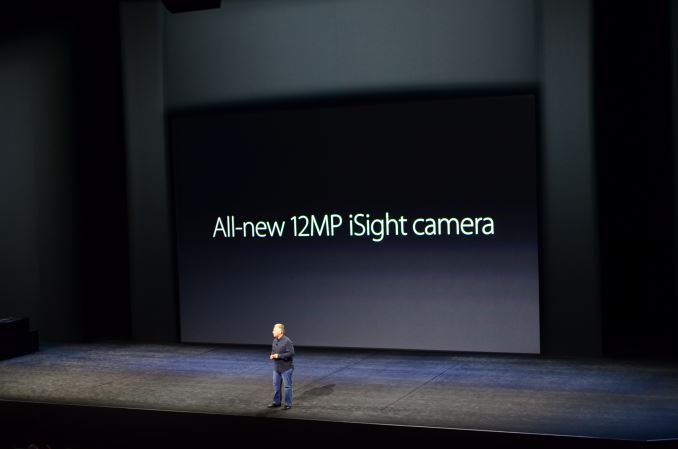 The front-facing camera has also been updated to a 5MP unit, with a display flash mode to enable low light selfies. Using the display for flash has been done before by companies like LG, but Apple's claim for differentiation is that they're detecting ambient light and using their display LED driver to boost LED brightness up to 3x the maximum brightness of the display in normal operation with the right white balance to ensure good color rendering.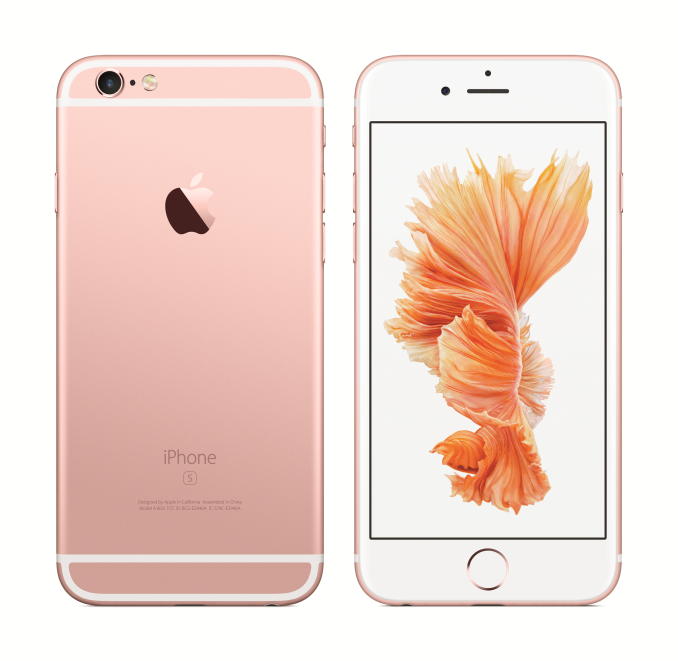 The camera will also have Live Photos, which captures a photo that is a short moment in time with sound, which could also be said to be a video. If this sounds a lot like HTC's Zoe feature, it's probably because it definitely shares some similarities in that regard. However, as far as I can tell unlike HTC's implementation Live Photos is mostly seamless and only shows animation when you do a force touch or if you're swiping from one photo to another in the gallery.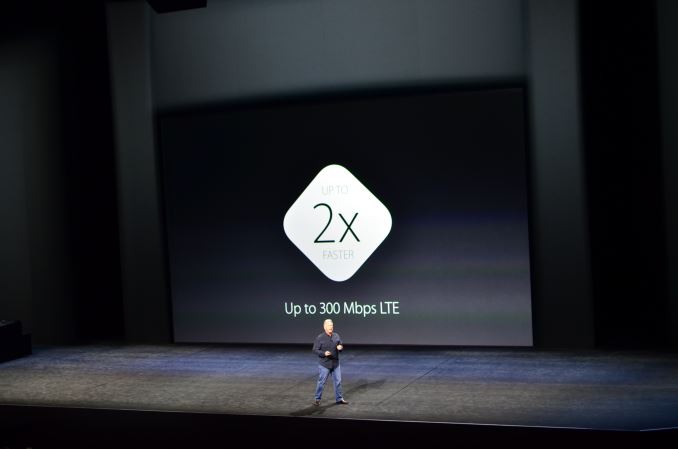 On the wireless side, the iPhone 6s brings LTE-A with speeds of up to 300 Mbps. The modem design win wasn't disclosed, but it's probable that Qualcomm's Gobi modems are in at least some iPhone 6s variants. Apple did disclose that the iPhone 6s can support up to 23 LTE bands, which makes the iPhone 6s one of the closest phones to single global SKU on the market today.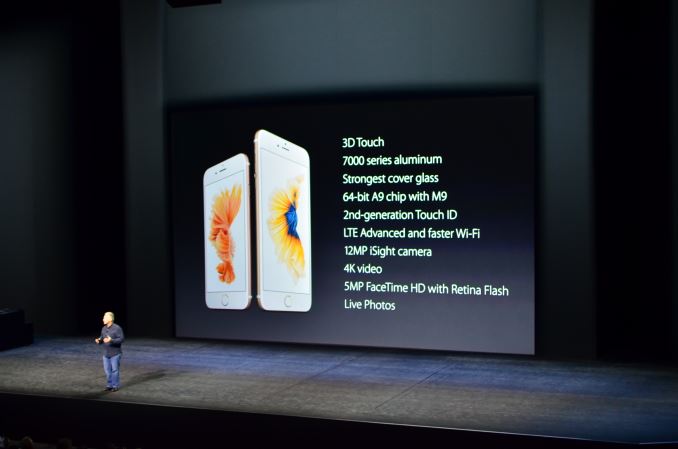 WiFi is also improved with two spatial streams for up to 866 Mbps on 5 GHz 802.11ac. The two antennas are likely to be integrated into the top and bottom metal sections of the phone, which likely means that peak WiFi performance will have to be achieved by not touching either section. Of course, this isn't going to be another antennagate though because it's likely that all RF that relies on the lower antenna to work will also have an antenna tuner to reduce detuning effects.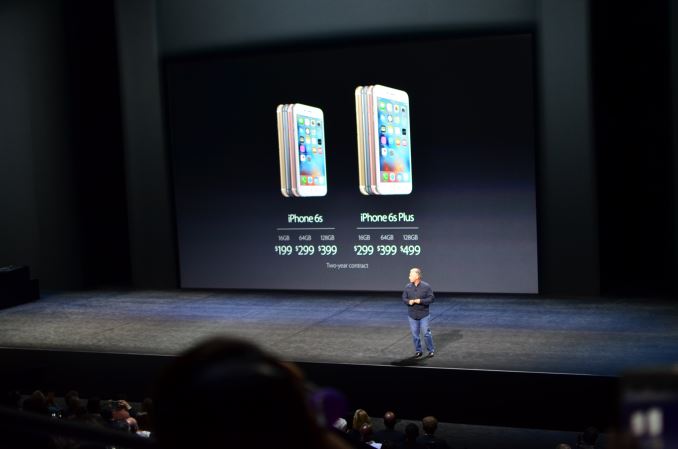 The iPhone 6s and 6s Plus will go on sale starting September 25th, and preorders begin September 12th. Pricing will be identical to the iPhone 6 last year, with the 16GB 6s starting at 199.99 USD on contract and the 16GB 6s Plus starting at 299.99 USD on contract. Unlocked pricing is likely to start at 649.99 USD and 749.99 USD respectively. Both phones will be available in silver, space gray, gold, and rose gold.