System Performance
Lenovo offers both the 45W Core i5-6300HQ and the similar 45W Core i7-6700HQ as CPU options on the Y700. The i5 is a quad-core part with no hyperthreading and 6MB of L3 cache, operating at 2.3-3.2 GHz, while the i7 gains hyperthreading and sees its clockspeed boosted to 2.6-3.5 GHz. The impact of the clockspeed increase is relatively straightforward, but even with current quad-cores hyperthreading sees a fair bit of use, so that should keep the performance of the two CPUs comfortably separated. Our review unit features the Core i7 model, and this is the first quad-core Skylake mobile part to grace my desk. As such, I'm pretty curious to see how it compares to outgoing gaming laptops with Broadwell or Haswell.
The Y700 has been put through our standard test suite for notebooks. A selection of comparable devices has been added to the graphs to get a feeling for where the Y700 stands as far as performance, but for those wishing to compare it to any other device we've tested, please refer to our Notebook Bench. The Razer Blade 14 is a 14-inch gaming notebook with Core i7-4720HQ and GTX 970M. The cost is quite a bit more, but it's a small gaming notebook so it's worth looking at. The Surface Book has a GT 940M GPU so it will fit in on the low end. For a mid-range device, the MSI GS60 3K has a Core i7-4710HQ and GTX 870M card. The Dell XPS 15 9530 is the previous generation XPS 15, with Core i7-4702HQ and GT 750M graphics. The MSI GT80 Titan may seem like an unfair comparison, but it's the only Broadwell quad-core laptop we had a chance to test so it needs to be here.
PCMark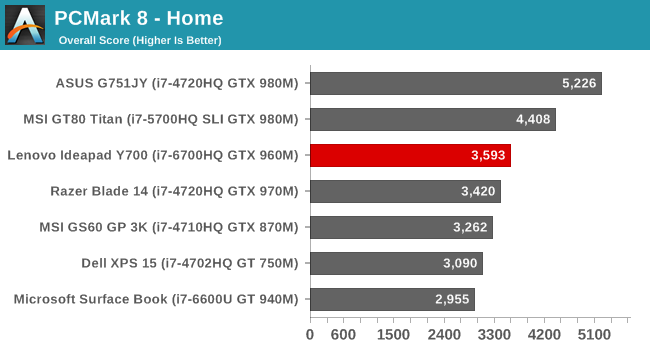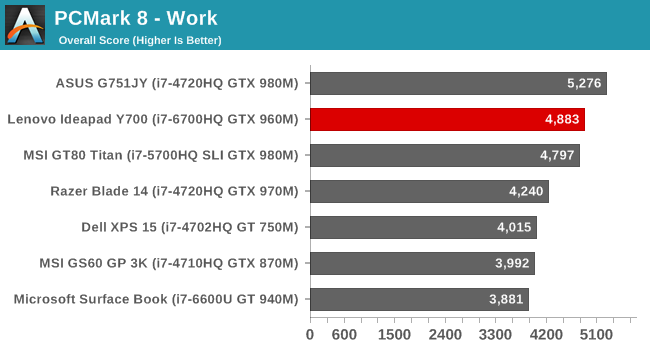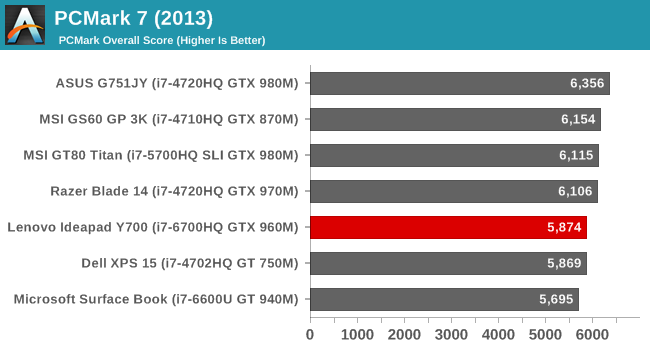 PCMark is a test which uses all of the components, and everything factors in from GPU speed to the display resolution. The various tests across the different benchmarks within PCMark try to focus on applications which would be applicable to the segment. I had some issues with PCMark 8 when I first got the notebook, and it would bluescreen on any of the tests. Luckily a new graphics driver from Intel allowed some of the tests to be completed, however Creative is still not working, which is something I've observed on other Optimus notebooks as well. The Y700 can't really compete with the high end gaming notebooks here, nor is it expected to.
Cinebench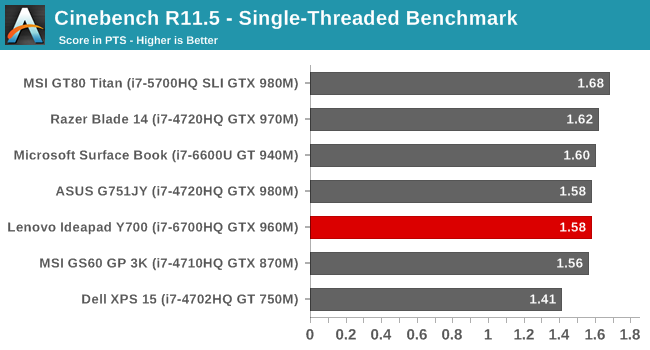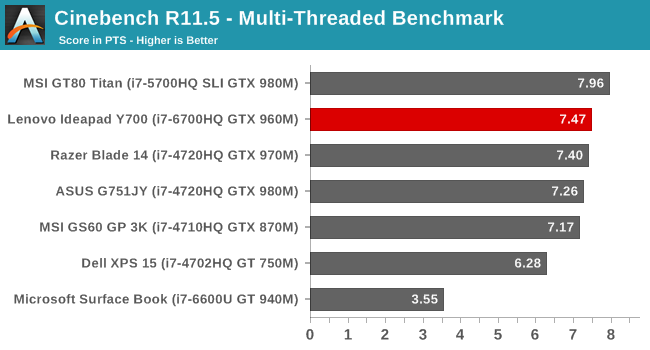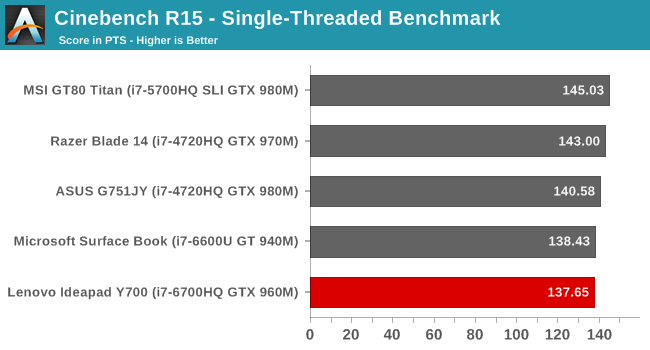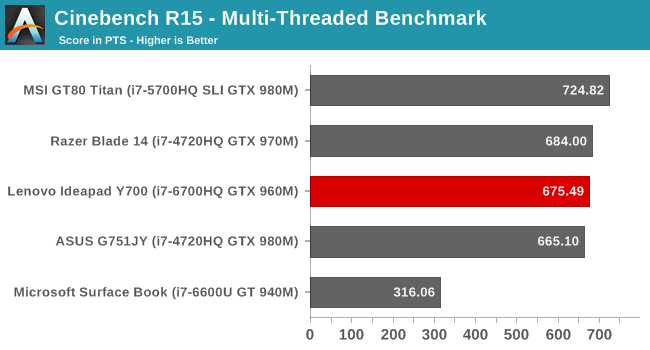 Cinebench from MAXON does a 3D rendering, and it is all about CPU speed. More cores and more frequency is the name of the game here. In the single threaded results, the i7-6700HQ in the Y700 doesn't quite match up to some of the previous generation chips which is a bit surprising. Skylake is not a huge jump in performance, but it generally does outperform Haswell and Broadwell.
x264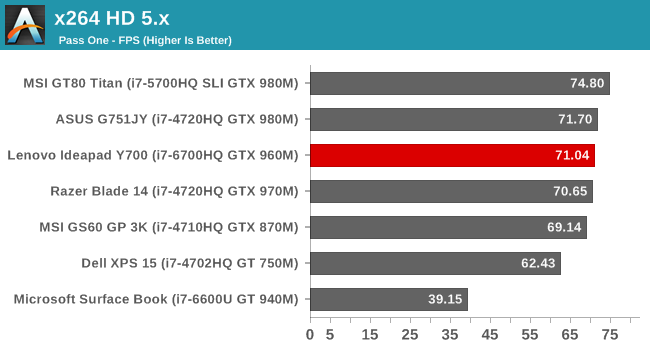 Much like Cinebench, x264 is purely a CPU test. The video conversion software loves more cores and high frequencies. Much like Cinebench, the Skylake chip doesn't really jump ahead of Broadwell or Haswell here.
Web Benchmarks
With the launch of Windows 10, we've moved our web testing over to use Edge rather than Chrome, since Edge is built in and its performance has come a long way since Internet Explorer.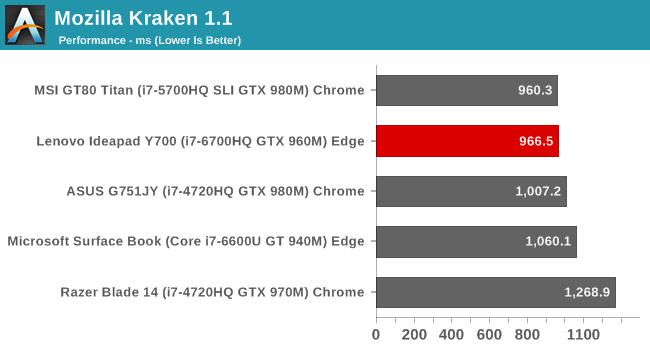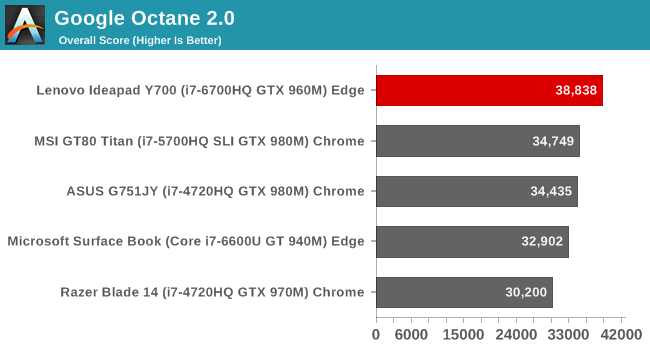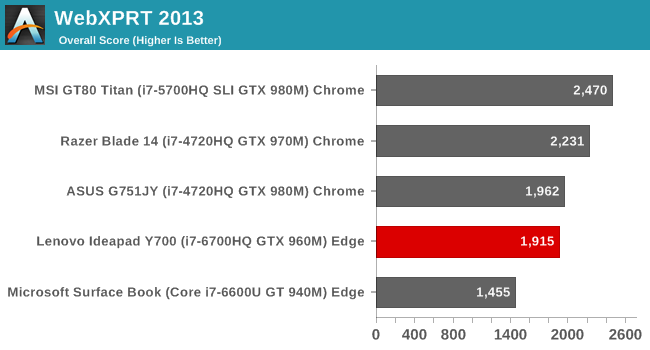 Although on Cinebench and x264, the Skylake part was neck and neck with the older chips, on the web testing under Edge it does very well. Some of this is due to Intel's Speed Shift which lets the CPU ramp up to maximum turbo in much less time. This is a new feature of Skylake and requires the latest version of Windows 10 to be installed.
Edge still falls behind to Chrome on some of the tests (namely WebXPRT 2013), but it's done well to catch up.
All in all, the CPU performance is about what you would expect of a quad-core notebook, but I was hoping for a bit more from the latest Skylake processor.
Storage Performance
The 128 GB TLC SSD found inside the Lenovo Y700 is going to be much better than any spinning disk for bootup and random access, but being a TLC drive, and especially a lower capacity model, performance is likely not going to be as high other models.
We generally use PCMark 8 as a storage test, but it has always had a tendency to lump all SSDs pretty closely together. This isn't far from real life experiences, because for the real application traces in PCMark, you may not notice a huge difference. However, FutureMark has adjusted the PCMark 8 storage test to better reflect the impact of NVMe drives. This is a good thing in the long run, but it does mean that the test scores can no longer be compared.
CrystalDiskMark shows the deficits of the TLC drive with low capacity. Write speeds are not fantastic. Read speeds show the limits of the SATA interface. Still, compared to the hard disk drive (results on the D: drive in the above image) any SSD is going to be a pretty big improvement. Once again, Lenovo was aiming for a price point so the TLC SATA drive is understandable.