For the longest time we've been pushing AMD to open up a bit and talk about more than their roadmaps and upcoming processors. When Intel breaks the 10GHz barrier with an air-cooled ALU or when they produce a 52Mbit SRAM on a 90nm wafer, we definitely hear about it. But when AMD does something incredible it remains confined to the walls of AMD R&D, tucked away in a beautiful part of eastern Germany – Dresden. So you can understand the surprise when AMD asked us to come and take a tour of their Dresden facilities and talk a bit about AMD's technology and their direction.
Obviously not an opportunity to pass up, we hopped on a plane and made the journey to the 10F weather of Dresden, Germany. AMD's influence on the area is clear; it isn't often that public street signs carry the name of a company, but in the case of Dresden you will find that the same signs that direct you to the airport will also tell you how to get to AMD. The Dresden community is very grateful to AMD for the over 2,000 jobs created by AMD Saxony Manufacturing GmbH (the name given to AMD's Fab 30 and their Dresden Design Center), especially since over 90% of those jobs were filled by East German residents.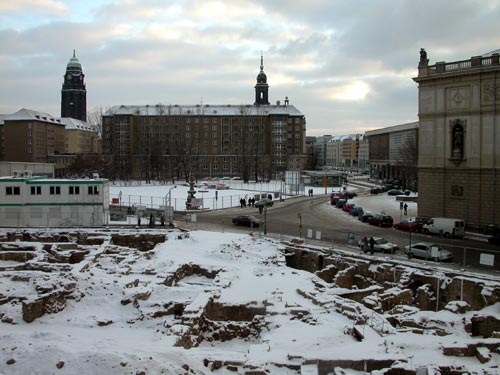 Welcome to snowy Dresden
There's very little known publicly about AMD's advanced manufacturing plant in Dresden, other than what comes out of it and its name – Fab 30. As you've undoubtedly heard time and time again, the name Fab 30 comes from the age of AMD when the fab began mass production. AMD was founded in 1969 and the Dresden Fab began mass production in 1999 thus covering 30 years, which is where the '30' in Fab 30 comes from.