What's a Barton?
With AMD's 0.13-micron transition finally going as planned and 90nm still a 2004 item, it is no surprise that Barton is another 0.13-micron core. Replacing the short-lived Thoroughbred, Barton adds one major feature to the Athlon XP's list - a 512KB L2 cache. Other than a larger cache (and a respectively larger die), Barton is no different from Thoroughbred.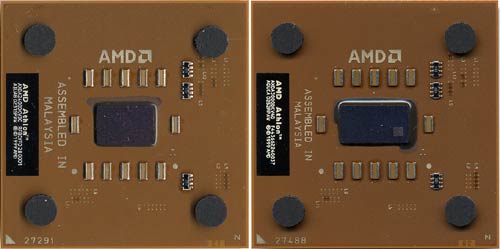 Thoroughbred (left) vs. Barton (right)
The larger L2 cache obviously improves performance a bit (we will explain exactly how and why later), and with that, AMD has given the Barton cores a slightly modified model rating system.
The Barton cores are going to be made available in three clock speeds, all using the new 333MHz FSB. The speeds and model ratings are summarized by the table below:
AMD Athlon XP Model Numbers

CPU Name

Clock Speed

Athlon XP 3000+ (Barton)

2.167GHz

Athlon XP 2800+ (Barton)

2.083GHz

Athlon XP 2800+ (333MHz FSB)

2.25GHz

Athlon XP 2700+ (333MHz FSB)

2.167GHz

Athlon XP 2600+ (333MHz FSB)

2.083GHz

Athlon XP 2600+

2.13GHz

Athlon XP 2500+ (Barton)

1.83GHz

Athlon XP 2400+

2.00GHz

Athlon XP 2200+

1.80GHz

Athlon XP 2100+

1.73GHz

Athlon XP 2000+

1.67GHz

Athlon XP 1900+

1.60GHz

Athlon XP 1800+

1.53GHz

Athlon XP 1700+

1.47GHz

Athlon XP 1600+

1.40GHz

Athlon XP 1500+

1.33GHz
As you can see, the new Athlon XP 3000+ actually carries a lower clock speed than the previous flagship 2800+ (2.167GHz vs. 2.25GHz). The idea behind this is that the larger L2 cache makes up for the negative difference in clock speed, but as you'll see, this isn't always the case.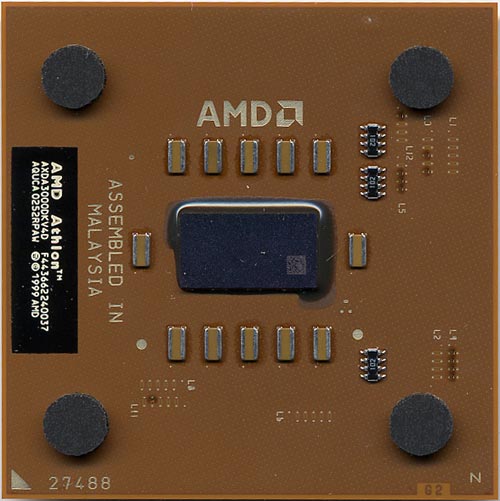 The Barton 3000+ and 2800+ will be available immediately, with the higher volume 2500+ coming at the end of February.