An Unusual Launch Cycle: OEMs now, Individual Units Later
The launch of Bristol Ridge APUs for desktop is taking a slightly different strategy to previous AMD launches. Typically we expect to see CPUs/APUs and OEM systems with that hardware launched on the day of the announcement, with stock of the hardware getting to shelves over the next few weeks. In order to do this, AMD needs to work with all the OEMs (HP, Lenovo, Dell) and platform partners (ASUS, GIGABYTE, MSI, ASRock) and potentially the memory manufacturers (Crucial, Kingston, G.Skill, ADATA, etc) to synchronize a launch with expected hardware, platform control and settings.
This time around, AMD has focused on the OEMs first, with all-in-one PCs and desktop systems being their focus. Typically the big OEMs develop their own PCBs and manage the full gamut of support, as well as being mindful of firmware that can be a work in progress up until the launch date. This allows the launch to be focused on a few models of complete experience systems, rather than the comparative free-for-all with custom build machines. Typically one might argue that the standard motherboard designers take longer to design their product, as it becomes their brand on offer, whereas HP/Lenovo sells the system as a brand, so not every stage has to be promoted, advertised and polished in the same way.
Of course, from an enthusiast perspective, I would prefer everything to come out on day one, and a deep dissection into the platform. But because Bristol Ridge is sharing a platform with the upcoming new microarchitecture, Zen, AMD has to balance the wishes of OEMs along with product expectations. As a result, the base announcement from AMD was somewhat of a brief overview, and we delayed writing this piece until we were able to source certain nuggets of information which make sense when individual units (and motherboards) are on sale for DIY users, as well as some insights into what Zen might offer.
But by focusing on OEMs first, it makes it more difficult for us to source review units! Watch this space, we're working on it.
The CPU Roadmap
A lot of the recent talk regarding AMD's future in the desktop CPU space has revolved around its next-generation CPU architecture called Zen. In August, AMD opened up to a significant part of the underlying Zen microarchitecture, detailing a micro-op cache, a layered memory hierarchy, dual schedulers and other information. Nonetheless Zen is initially aiming for the high-end desktop (HEDT) market, and AMD has always stated that Zen will share the AM4 platform with new mainstream CPUs, under the Bristol Ridge and Stoney Ridge names, initially based on an updated Excavator microarchitecture.
AMD's roadmap seems to be the following: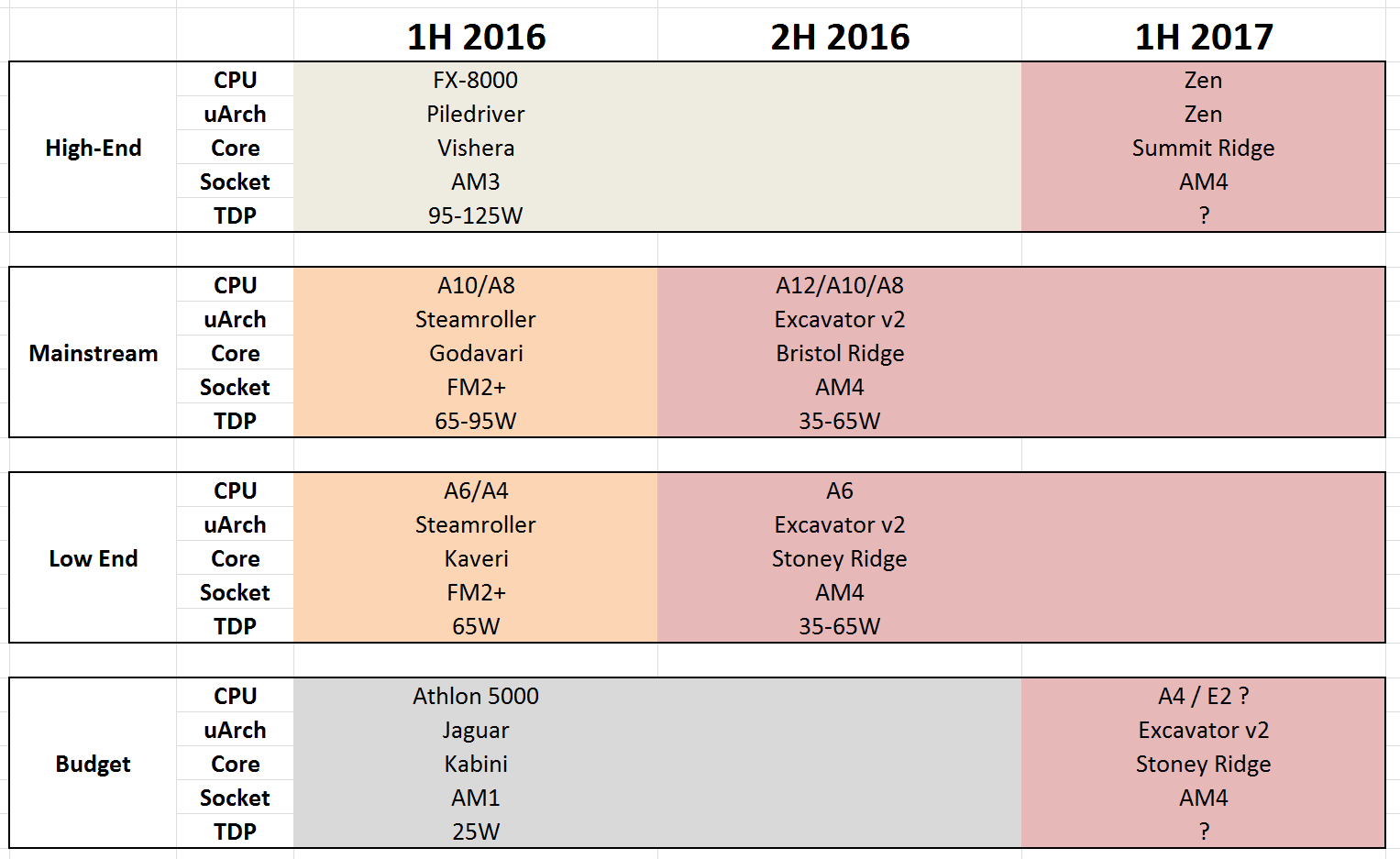 The latest AMD announcements are for that mainstream segment, but we can see that AMD is moving from a three-socket configuration of AM3, FM2+ and AM1 into a singular AM4 platform from top to bottom, with the budget element perhaps being more embedded focused. This has positives and negatives associated with it, which is part of the reason why AMD is staggering the release of Bristol Ridge and the 7th Generation APUs between OEMs and PIBs.
The positive from the unified problem is that AMD's OEM customers can have a one size fits all solution that spans from the budget to the premium, which makes OEM designs easier to translate from a high powered platform to a budget system. The downside is variety and compatibility – if a vendor designs a platform purely for a budget system, and has fewer safeguards, then a user cannot simply put in the most powerful CPU/APU available. Luckily we are told that all AM4 systems should be dual channel, which migrates away from the Carrizo/Carrizo-L problem we had in notebooks late last year.