Hot Test Results (~45°C Ambient Temperature)
Early SFX PSU designs displayed relatively poor power quality figures but we are constantly getting better and better performance figures from newer designs, indicating that manufacturers are now placing more resources on their design and development. The Nightjar NJ450-SXL feels eons ahead of the units that we reviewed merely a couple of years ago, displaying outstanding power quality figures that easily compare to those obtained from top-tier ATX units. However, we could not operate the unit stably inside our hotbox at 100% load, as the PSU would randomly shut down, therefore we were forced to limit our testing up to 90% load. SilverStone clearly states that this unit is rated for operation up to 40 °C and the high ambient temperature greatly impacts the unit's ability to dissipate its thermal losses, so the behavior of its safety mechanism is both expected and welcome.
Main Output
Load (Watts)
90,9 W
227,11 W
338,63 W
400,78 W
Load (Percent)
20,2%
50,47%
75,25%
89,06%
Amperes
Volts
Amperes
Volts
Amperes
Volts
Amperes
Volts
3.3 V
1,4
3,37
3,5
3,37
5,25
3,33
11,08
3,33
5 V
1,31
5,05
3,28
5,02
4,93
4,99
10,38
4,97
12 V
6,57
12,11
16,42
12,11
24,63
12,04
25,96
12,03
Line
Regulation
(20% to 100% load)
Voltage Ripple (mV)
20% Load
50% Load
75% Load
90% Load
CL1
12V
CL2
3.3V + 5V
3.3V
1,2%
16
12
14
18
20
18
5V
1,6%
18
16
16
20
20
22
12V
0,6%
24
14
16
26
24
20
SilverStone's unit uniquely hits its best performance at 50% load, with the power quality figures worsening when the PSU is very lightly loaded. We recorded a maximum voltage ripple of 26 mV on the 12V line at 90% load, an impressive figure for any SFX PSU. Voltage regulation is very tight on the 12V line, at lower than 0.6% across the nominal output range. The secondary lines are not as tightly regulated, at 1.2% and 1.6% for the 3.3V and 5V lines respectively, yet these figures still are excellent by any measure.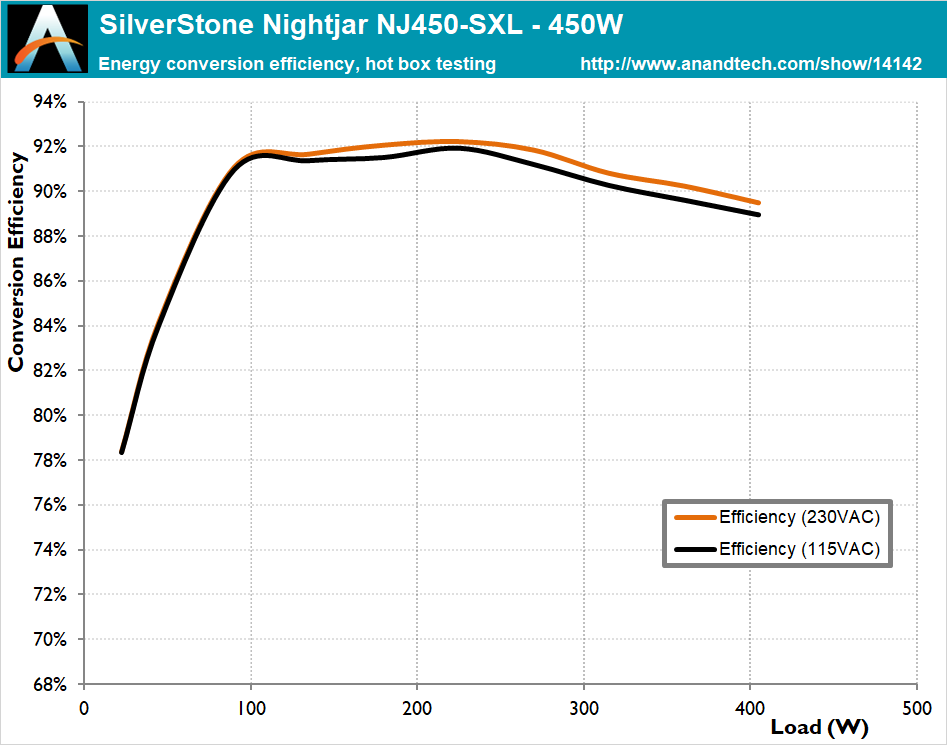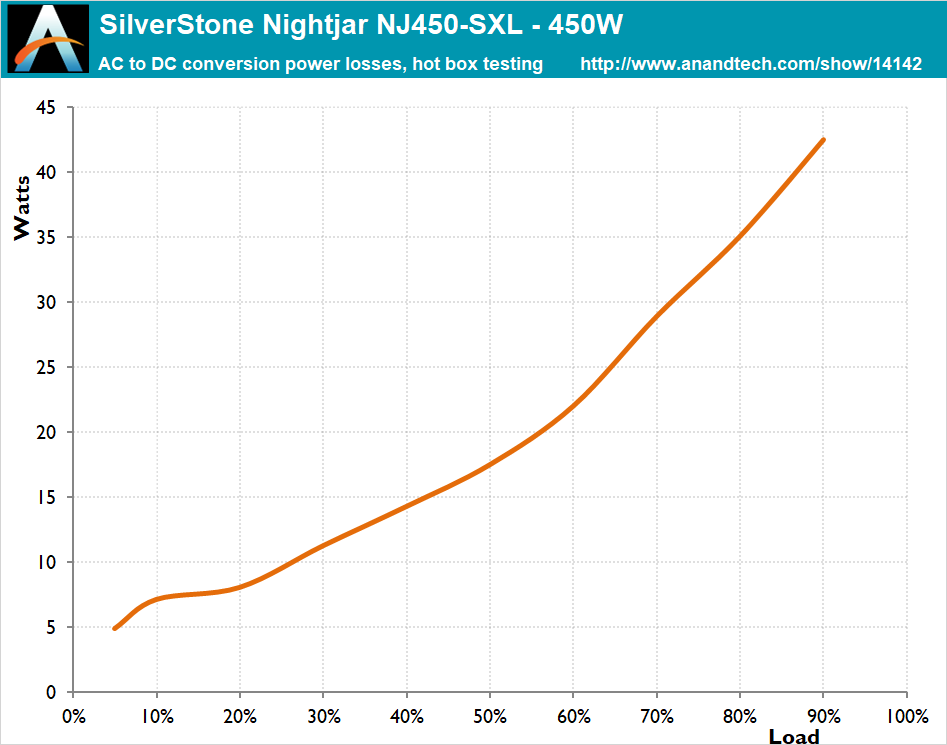 The energy conversion efficiency of the SilverStone Nightjar NJ450-SXL takes a significant hit with the unit operating in our hotbox, a natural phenomenon considering the high internal temperatures of the unit under these operating conditions. The average efficiency reduction is 2%, equally distributed across the entire load range, suggesting that the efficiency drop is not due to the overstressing of a particular component but merely due to the high operating temperatures. Albeit the Nightjar NJ450-SXL is clearly not designed to withstand such operating conditions, it remains operable and it recovers safely from overloading/overheating conditions.