Architecture & Roadmap
It's no secret that Clovertown isn't what the purists would call a "true quad core" architecture; it is two Woodcrest processors joined together in a single package. Does it matter? In our opinion, no. Clovertown performs very well, as you will see later in the article.
Clovertown is going to be with us for most of 2007 until Penryn is released, which is essentially a die shrink to 45nm. It is doubtful we will see a "true" quad core Intel part until the next generation architecture is released in 2008, code-named
Nehalem
. Below is the most recent server roadmap we have for the server platform. The part marked "Future Processor" in the Xeon DP Platform and UP Platform is
Nehalem
. You can read more about
Nehalem
and
Penryn
in our recent
article on that subject
.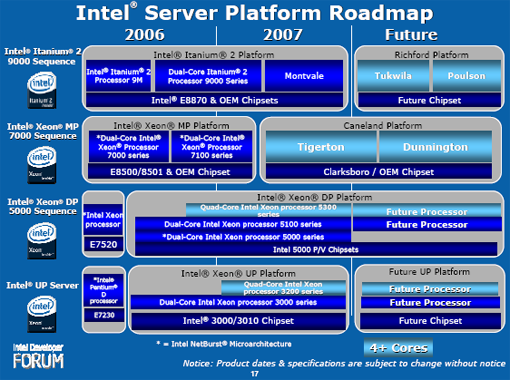 Clovertown at its heart is two Woodcrest parts connected together on a single package. Each pair of cores shares a single 4MB of L2 Cache, just like Woodcrest and the pair of cores shares a single 1066/1333 MHz pipe. For most Woodcrest systems, Clovertown will be a drop-in replacement after a BIOS upgrade. We tested the Clovertown in a spare Supermicro board we had in the lab, and had no issues upgrading it from dual core to quad core. For a more in-depth analysis of Clovertown architecture, check out a Johan's very thorough
write-up on Clovertown
.