No New Name
Marketing departments always want to run wild with establishing catchy new names and phrases for the great technology that comes out of semiconductor companies like VIA.  So what kept the KT266A from being called VIA's GoliathForce Turbo?  A big concern that motherboard manufacturers have to face whenever dealing with a new chipset is the time to market for the solution.  If a new chipset however attractive the features may be, requires a new motherboard layout then it's immediately a longer time to market and a pain to implement. 

Luckily, VIA has always been friendly to their neighboring motherboard manufacturers in Taiwan.  Pin-compatibility between chipsets is something VIA strives for and it's not a surprise that the KT266A's North Bridge is pin-compatible with the KT266 North Bridge.  Although VIA calls this a feature of their VIA Modular Architecture Platforms (V-MAP), the reality is that "V-MAP" has been around for much longer than even the KT133.  The important things to take away from the KT266A is improved performance; it was always expected that the solution would be pin-compatible with the KT266.
The rest of the chipset remains unchanged.  It's still connected to the same VT8233 South Bridge using a V-Link connection.  For more information on the chipset check out our original review of the VIA KT266. 
The Board
We tested on a VIA KT266A Reference Board but shipping boards should be able to offer similar performance. The first boards should hit the market next month.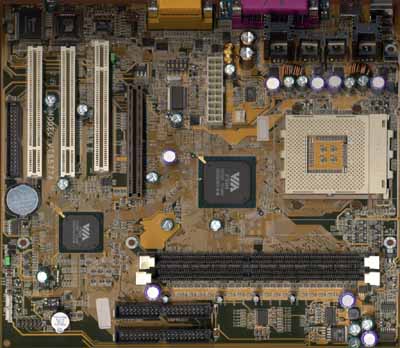 Click to Enlarge