Performance Metrics
The ECS LIVA was evaluated using our standard test suite for low power desktops. First off, we have some Futuremark benchmarks. PCMark 8 provides various usage scenarios (home, creative and work) and offers ways to benchmark both baseline (CPU-only) as well as OpenCL accelerated (CPU + GPU) performance. We benchmarked the ECS LIVA for OpenCL accelerated performance in all three usage scenarios. PCMark Suite from PCMark 7, as well as 3D Mark benchmarks were also run. All the Futuremark benchmark numbers are presented in the table below.
ECS LIVA - Futuremark Benchmarks
Benchmark
Score
PCMark 8 (Home OpenCL)
1035
PCMark 8 (Creative OpenCL)
766
PCMark 8 (Work OpenCL)
1135
PCMark 7 - PCMark Suite
2215
3DMark 11 (Entry - 1024x768 - Score)
374
3DMark 13 (Cloud Gate Score)
1015
3DMark 13 (Ice Storm Score)
11711
Some of the other benchmarks that we processed on the ECS LIVA include Cinebench R15 (OpenGL, single-threaded and multi-threaded), x264 v5.0, 7-zip, TrueCrypt (The Celeron N2806 doesn't have AES-NI support, so the results are on the lower side) and Dolphin emulator.
ECS LIVA - Miscellaneous Benchmarks
Benchmark
Score
Cinebench R15 (OpenGL)
4.66
Cinebench R15 (Single Threaded)
31
Cinebench R15 (Multi-Threaded)
49
x264 v5.0 Pass 1
8.67 fps
x264 v5.0 Pass 2
1.51 fps
7z Compression
1926
7z Decompression
3305
TrueCrypt
109 MBps
Dolphin Emulator
3032 s
Network & Storage Subsystem Evaluation
We have recently started analyzing the storage and networking credentials of mini-PCs under review. On the storage side, one option would be repetition of our strenuous SSD review tests on the drive(s) in the PC. Fortunately, to avoid that overkill, PCMark 8 has a storage bench where certain common workloads such as loading games and document processing are replayed on the target drive. Results are presented in two forms, one being a benchmark number and the other, a bandwidth figure. We ran the PCMark 8 storage bench on selected PCs and the results are presented below.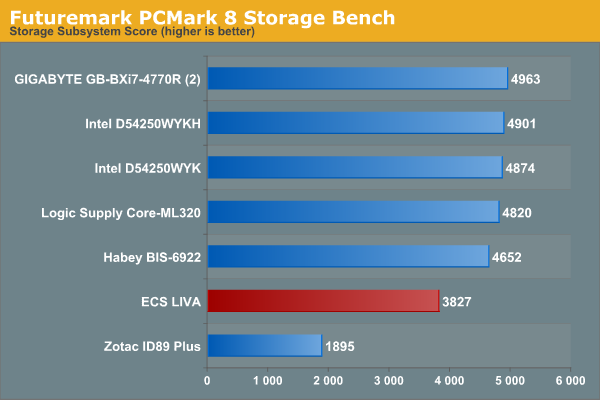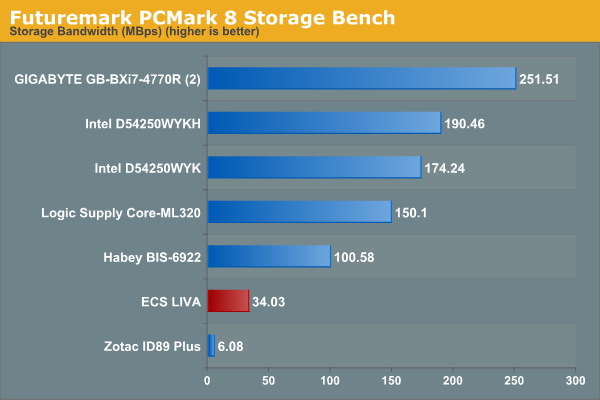 We find that the eMMC solution in the ECS LIVA nicely slots in between HDD-based solutions and SSD-based ones. For the price point of the product, this is a very good choice (though we wouldn't have objected to 64 GB eMMC coming in as default).
On the networking side, we restricted ourselves to the evaluation of the WLAN component. Our standard test router is the Netgear R7000 Nighthawk configured with both 2.4 GHz and 5 GHz networks. The router is placed approximately 20 ft. away, separated by a drywall (as in a typical US building). A wired client (Zotac ID89-Plus) is connected to the R7000 and serves as one endpoint for iPerf evaluation. The PC under test is made to connect to either the 5 GHz (preferred) or 2.4 GHz SSID and iPerf tests are conducted for both TCP and UDP transfers. It is ensured that the PC under test is the only wireless client for the Netgear R7000. We evaluate total throughput for up to 32 simultaneous TCP connections using iPerf and present the highest number in the graph below. The ECS LIVA Wi-FI card is not dual-band capable, and hence, it was conencted to the 2.4 GHz SSID.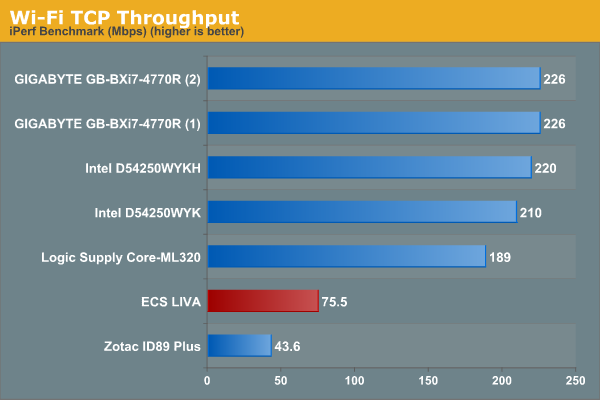 In the UDP case, we try to transfer data at the highest rate possible for which we get less than 1% packet loss.