On the Road Again
In order to kick off this review of the final 0.18-micron Palomino based Athlon XP we felt it necessary to start off with AMD's current desktop CPU roadmap to put things into perspective.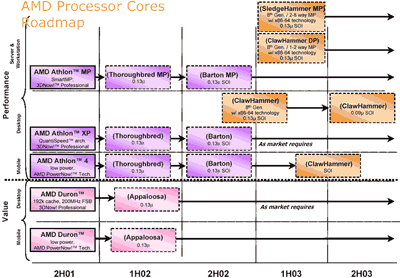 The roadmap you see above is publicly available from AMD's website and it explains quite a bit about what to expect from AMD in the coming months. With the majority of the most active AnandTech readership currently running AMD processors an idea of upgrade paths would definitely be useful.
If your motherboard currently supports the Athlon XP processor then the highest you'll definitely be able to upgrade to will be the 2100+ that we're looking at today. Whether you'll be able to upgrade to the Thoroughbred core or not is still a bit foggy; the reason being that AMD themselves haven't finalized exactly what the Thoroughbred core will come equipped with.
Since Thoroughbred will be the first 0.13-micron core, AMD could very well equip it with more L2 cache. One potential barrier to this would be AMD's desire to keep manufacturing costs as low as possible. Remember that AMD is still manufacturing on 200mm (8") wafers and thus they want to keep chip sizes as small as possible. Granted that on a 0.13-micron process, boosting L2 cache size to 384KB or 512KB (in addition to the 128KB L1) won't add too much bulk to the die but in the end it's a question of economics.
Rumors of higher speed FSBs for the Thoroughbred cores have also been running rampant, and it's definitely an avenue of performance improvement that AMD is considering. The Thoroughbreds will be put up against Intel's 533MHz FSB Northwoods which already have a 512KB L2 cache, moving to a 166MHz FSB (double pumped) could potentially make those CPUs much more competitive (we'll investigate this issue at the end of the article). It would also give AMD a chance to really begin pushing DDR333 but from what we're hearing, the premium that DDR333 will carry throughout this year will be a bit difficult for most to swallow, especially considering the flurry of complaints regarding recent memory price hikes.
Then there's the issue of what happens after Thoroughbred; at this point, the future of the 0.13-micron SOI Barton core is up in the air. The point of Barton was always a SOI enablement part for AMD, just to prepare things for the next-generation Athlon and server parts which would ship in volume using this process. It seems as if AMD is quite confident in the initial Hammer silicon thus causing them to rethink whether Barton is necessary at all.
Where does this leave the Duron? The CPU that originally entered this market as a Celeron killer has lost much of its meaning courtesy of very aggressive pricing on AMD's Athlon lines. In the time between now and the release of the first desktop Hammer CPUs (ClawHammer) it is unclear to us (and AMD) what role the Duron will play, but it is clear that after the end of this year the Duron as we know it will eventually be replaced by some derivative of a 0.13-micron and eventually a 0.09-micron Athlon XP core. This is definitely necessary as the next-generation Celeron will be Pentium 4 derived with a healthy 400MHz FSB, more than capable of feeding the execution units of that core.
There you have it, that's your Socket-A upgrade path for the rest of this year. The line ends here with Palomino and it'll pick up later in Q2 with Thoroughbred. While it's pretty obvious that as the last 0.18-micron Athlon XP CPU, the 2100+ is not the most desirable, we've put together a comparison of the majority of the XP line to help you pick which CPU is right for you so you don't feel stuck between a Thoroughbred and a hard place.
Enter to Win an all expense paid trip for two to the 2002 PC Expo in New York City from AMD and NVIDIA!