Performance Consistency
Our performance consistency test saturates the drive with 4kB random writes for a full hour, with a queue depth of 32, the maximum supported by the AHCI protocol used by SATA and most PCIe drives. This puts the drive's controller under maximum stress and writes enough data to exhaust all free space and spare area on the drive. This is an unrealistic workload for any client use, but it provides a worst-case scenario for long-term heavy use, and it sheds light on how different SSD controllers behave and if their performance will hold up as they fill up.
The average of the last 400 seconds of the test gives us a steady-state IOPS rating that is usually very different from what the manufacturer specifies for a new, empty drive. We also quantify the consistency of the drive's random write performance, and provide plots of the performance over the course of the test.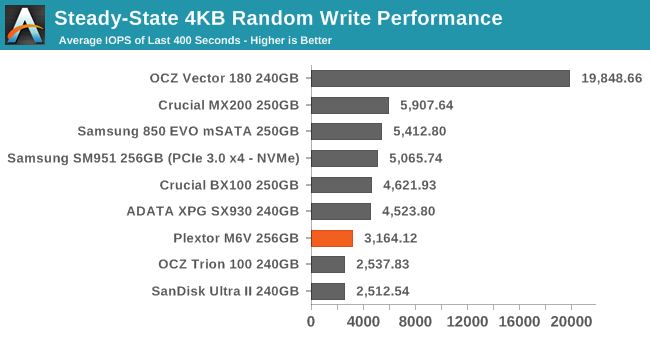 The M6V's steady-state performance falls well behind the Crucial BX100 and only slightly ahead of drives using TLC NAND, pointing to either significant firmware differences or lower performance from the Toshiba 15nm MLC than Micron's 16nm MLC.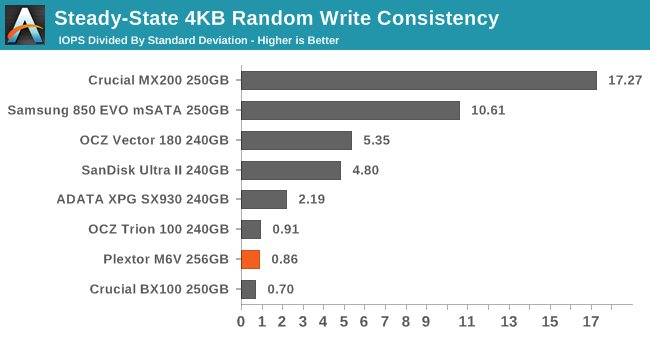 Plextor is able to eke out a little more consistency from the SM2246EN, but unfortunately this is due to the best-case being worse, rather than a significant improvement in the worst-case IOPS.
Default
Looking at the whole duration of the test, we see that once the M6V is filled and performance takes a nosedive, the M6V has a very slow recovery toward its steady state of occasionally reaching around 15k IOPS. Like the BX100, it has a pretty solid baseline and there are no garbage-collection pauses that drop it in to hard drive territory.
Default