Quick Sync
At IDF in San Francisco last week, Intel provided us with lots of insights into Skylake, the microarchitecture behind the 6th generation Core series processors. Skylake marks the introduction of the Gen9 Intel HD Graphics technology. In advance of our full Skylake architecture analysis (coming soon), I wanted to get a head start and explain the media side (including Quick Sync and the image processing pipeline) of Skylake in a separate piece. Media Capabilities and Quick Sync in Intel HD Graphics - A Brief History Quick Sync has evolved through the last five years, starting with limited hardware acceleration and usage of the programmable EU array in Sandy Bridge. The second generation engine in Ivy Bridge moved to a hybrid hardware / software solution with rate...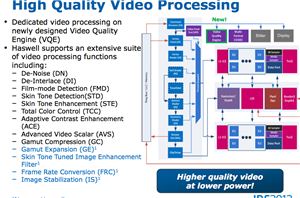 The latest version of Intel's Media SDK open sourced a key component of the QuickSync pipeline that would allow the open source community to begin to integrate QuickSync into...
32
by Anand Lal Shimpi on 3/27/2013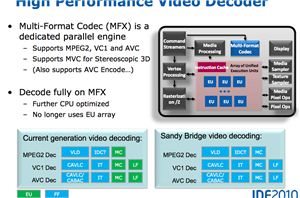 Intel's hardware accelerated video transcode engine, Quick Sync, was introduced two years ago with Sandy Bridge. When it was introduced, I was immediately sold. With proper software support you...
46
by Anand Lal Shimpi on 1/14/2013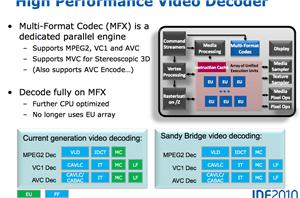 An Intel engineer by the name of Eric Gur started an AVSForum thread indicating he had begun work on enabling Quick Sync support in FFDShow's video decoder. Quick Sync...
23
by Anand Lal Shimpi on 9/28/2011