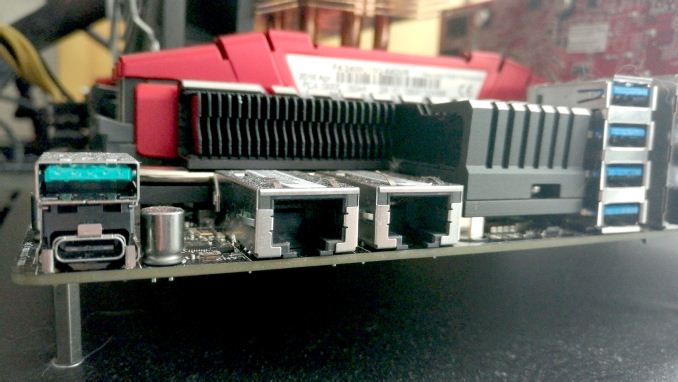 When we wrote up our list of 10GBase-T capable consumer motherboards back in July, we noted that out of the two main ways to get 10GBase-T on a motherboard, either by and add-in card or via an integrated controller, only one example of the latter existed on the market. For almost two years, that sole motherboard has been the only integrated solution – since then, ASUS launched the Maximus VIII Assembly which comes with a single port add-in card, and we saw a micro-ATX C236 model with a single port from MSI at Computex. We also listed the X99-E-10G WS from ASUS, a new board set to come to the market and we had an early sample. We're still testing the board, but ASUS is officially announcing it today.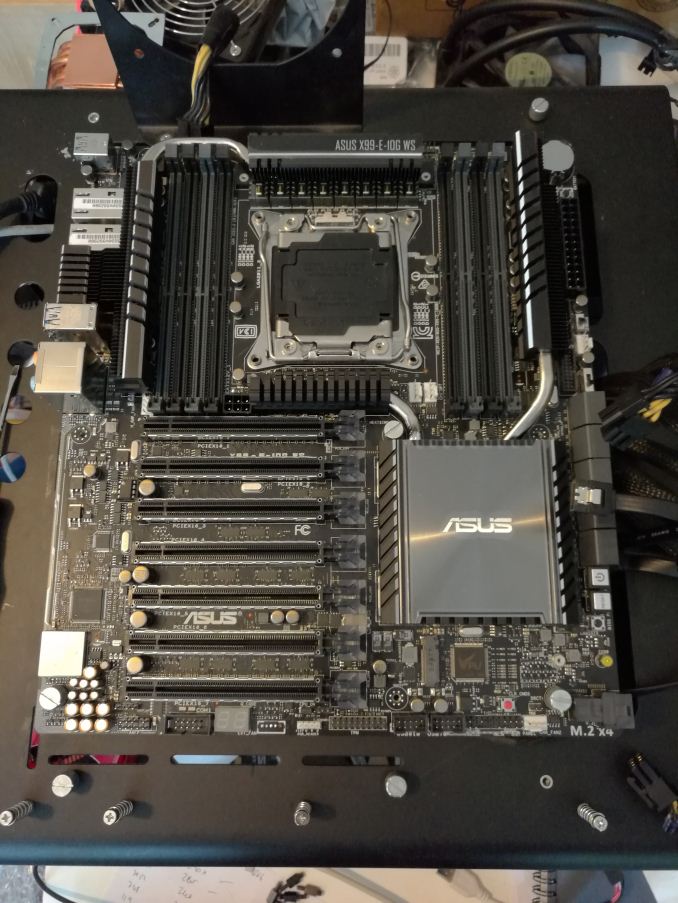 The X99-E-10G WS is built like a brick outhouse, with the focus on premium workstation parts and the latest set of features ASUS could put together while still under the X99 chipset banner, rather than a Xeon chipset. The board is designed for any Broadwell-E CPU, either consumer i7 or Xeon E5 v4, with extensive heatsink arrangements to carry both the Intel X550-AT2 controller (11W), the chipset, the upgraded power delivery and additional controllers.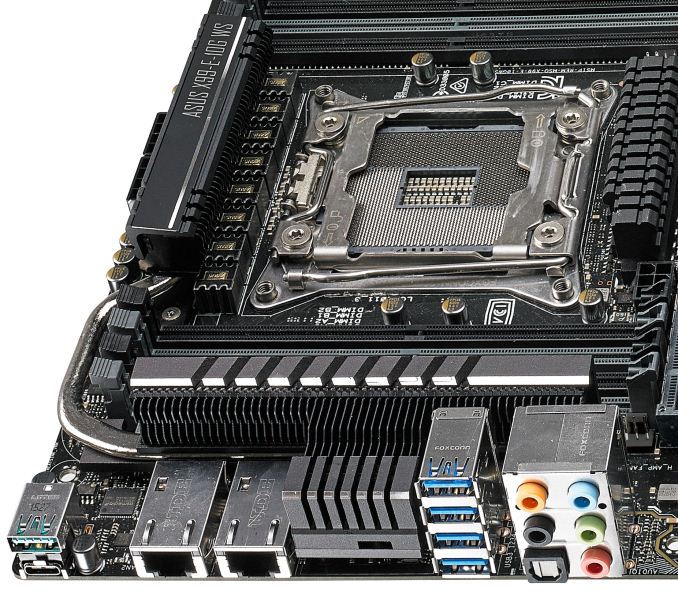 The main feature is obviously the 10GBase-T ports, which are RJ45 compatible with most home and SMB networks. The X550-T2 controller is a PCIe 3.0 x4 part, which is an upgrade over the older X540-T2 generation that needed PCIe 2.0 x8 (and even at PCIe 3.0, you still needed 8 lanes due to controller limitations). This controller has a list price on Intel's ARK of $80 for batches of 1000, however it probably adds nearer $100-$150 to the motherboard cost paid for by the end user. Alongside the Ethernet ports are a pair of 10 Gbps USB 3.1 ports (one Type-C), four USB 3.0 ports and the audio.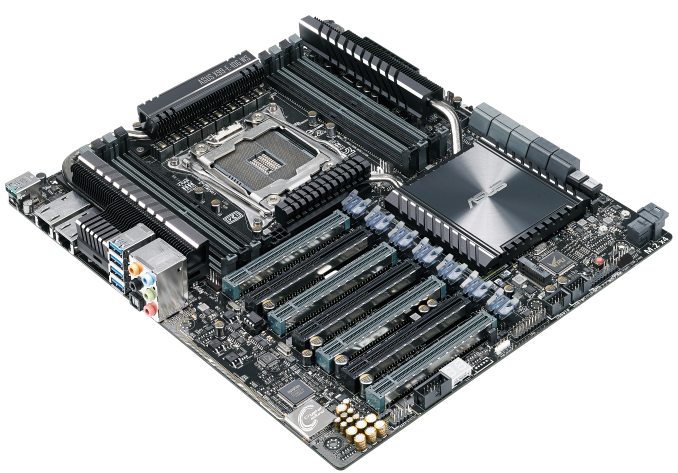 The board has full support for PCIe graphics, using dual PLX8747s as high-end PCIe switches. This allows support of x16/x16/x16/x16 slots (or x16/x8/x8/x8/x8/x8/x8) while also having enough bandwidth for the X550-T2 controller, a U.2 connector running at PCIe 3.0 x4 as well as an M.2 slot also at PCIe 3.0 x4. The PCIe slots have two additional features, with integrated guard rails in each of the slots to increase rigidity and reduce RMAs, but also the PCIe latches are translucent. When the system is turned on, the main PCIe slot connectors have a LED light that implements a slow breathing effect. Speaking with the motherboard product managers, it turns out that users do not often know which PCIe slots are suitable for maximum bandwidth, and this is designed to help.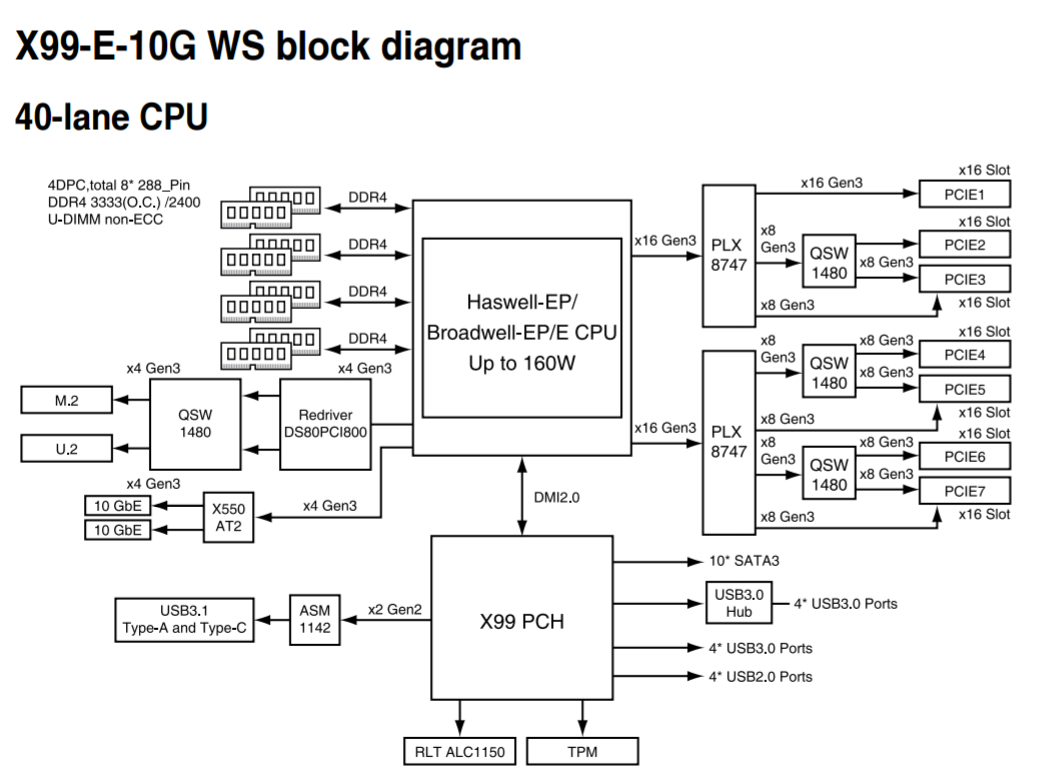 The ASUS X99-E-10G WS also comes with 10 SATA 6 Gbps ports, dual USB 3.0 onboard headers, Dr. Power, BIOS Flashback, EZ XMP and an upgraded audio solution. ASUS expects the board to land with an MSRP of $650 with select authorized resellers and distributors soon.
Source: ASUS Edge Up