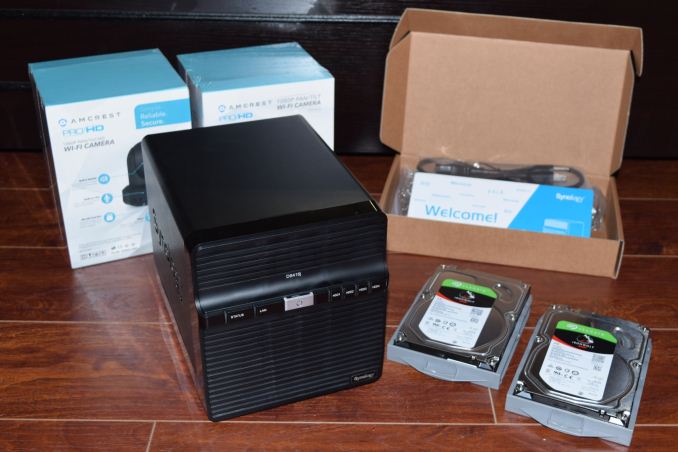 Recent technological advancements have led to a number of cost-effective video surveillance solutions. IP cameras (devices that can capture and stream video over an IP network while keeping latency low) that target home users have been around for the better part of a decade now. They started gaining more traction in the market after the user experience was simplified with the help of cloud-only products from Dropcam and other vendors. Such products have ease of use as their primary selling point. The disadvantage to consumers is their reliance on an always-active Internet connection and the holding of captured footage hostage in the cloud.
Consumers have begun to realize that there are advantages to rolling up their own surveillance system with multiple cameras and a dedicated network video recorder (NVR) or NAS to store the recorded video. Some of the plus points include
Full control over recorded video without the need to pay recurring fees
Ability to keep recording video even without Internet access
Minimizing Internet traffic from surveillance cameras (becoming important due to the rise in imposition of data caps on even wired plans)
There are some costs to doing this, though. Ease of use is definitely impacted. In particular, there are some impediments in setting up access to the surveillance feeds from an external network. Unless an off-the-shelf surveillance system (bundle of a number of IP cameras, a NVR, and pre-installed hard drives) is being bought, there is also a challenge in figuring out the right components to buy. The essential parts of a surveillance bundle are the IP cameras, the NAS, and the hard drives to use in the NAS. While the hardware components need to be set-and-forget, the software side is always a work-in-progress. It is, therefore, great to see that NAS vendors have chosen surveillance support as an important value-addition in their firmware.
Synology has put in quite a bit of effort into their Surveillance Station package. With the launch of Surveillance Station 7.2, they believe that that it is the ideal time to make a push in the home consumer space. Towards this, they have partnered with Seagate and Amcrest to make the choice of components for a home surveillance system easier. There are two bundles with the following configurations.
Synology, Seagate, and Amcrest 2016 Surveillance Bundles
Bundle 1
Bundle 2
IP Cameras
1x Amcrest IP2M-841W ProHD 1080p Wi-Fi
2x Amcrest IP2M-841B ProHD 1080p Wi-Fi
NAS
1x Synology DS216j 2-bay NAS
1x Synology DS416j 4-bay NAS
Hard Drives
2x Seagate IronWolf 2TB NAS Hard Drive (ST2000VN004)
4x Seagate IronWolf 2TB NAS Hard Drive (ST2000VN004)
Newegg Bundle Price
$400
$750
Amazon Standalone Price
$88 + $170 + $180 = $438
$180 + $289 + $360 = $829
The Newegg combo does provide better value compared to shopping around for the components separately.
Setup and Usage Experience
Synology provided us with a review kit closely matching the higher-end bundle with two Amcrest IP2M-841B IP cameras, a Synology DS416j 4-bay NAS and two Seagate IronWolf 3TB NAS hard drives (ST3000VN004). Our first task was to set up the Amcrest cameras. The cameras support 1080p30 capture, and have both wired and wireless network interfaces. They are indoor models with Pan-Tilt-Zoom (PTZ) capability. The power cord is 3m long, providing a bit of flexibility in camera placement relative to the power socket. There is also an ABS plastic mount to orient the camera as needed (in the case that placement on a flat surface is not possible). The model also has two-way audio support.
The ProHD camera comes with a QR code on the bottom that can be scanned with a mobile device using the free Amcrest View mobile app for easy setup. However, in our setup process behind a double NAT, this 'easy setup' failed. Connecting via the wired network interface and using a browser to access the web UI of the camera for further configuration was much more robust. Once the Wi-Fi credentials were set up inside the camera, I could move them to the desired location. The Amcrest web UI is passable, but, not particularly user-friendly. Another issue I had with the one of the cameras was spotty Wi-Fi reception in one of my desired locations. Given the single-band nature of the WLAN connection and the susceptibility of the 2.4 GHz band to interference, I wasn't surprised. For continuing the evaluation, I shifted the IP camera to another location. For a 'Pro' camera, it definitely needs dual-band (2.4 GHz and 5 GHz) support. In any case, once I had the cameras up and running with a good network connection, they did their job well.
We have been reviewing Synology's NAS units for quite some time now. Their Disk Station Manager (DSM) OS is one of the most user-friendly NAS operating systems in the market, and the user-experience with the setup process using the supplied hard drives was smooth. One must note here that the DS416j doesn't support hot-swap. In our review kit, the hard-drives were pre-installed in the NAS. We are not sure about the Newegg bundle, though. If the hard drives come in a separate package, it is likely that one would spend more time fastening the drives to the bays and the NAS frame compared to actually configuring the DSM OS. It must also be noted that Surveillance Station is a separate package that needs to be installed from the Package Center in the DSM desktop UI.
The rest of this section is a reproduction of our coverage of Surveillance Station 7.2 in the first part of our exploration of value additions in commercial NAS operating systems.
Synology has been devoting a lot of attention to the NVR features of the DSM OS in the last few years. It shows clearly, as Surveillance Station has moved from a rather plain UI to its own desktop-inspired UI similar to the main DSM. These updates have come with Surveillance Station 7.2, and Synology is justifiably proud of their efforts. Synology provides two free IP camera licenses with each NAS.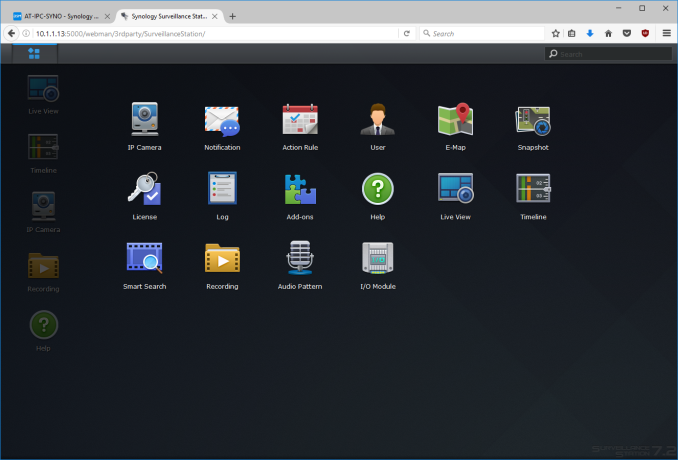 The camera addition wizard is simple and straightforward, though network configuration issues might prevent automatic recognition of cameras. In our case, it was simpler to just set up the cameras manually, as we had the IP address and login credentials in hand. After the initial set-up, the editing option allows users to finely tune the settings for the stream to be recorded (resolution, frame rate, image quality etc.). Keyframe intervals can also be set (though that depends on the camera's capabilities also). Recording settings such as schedules, duration of each video and limits for archives (space as well as number of days) can also be configured.
Live view settings (whether the stream comes from the NAS or direct from the camera, multicast settings etc.) can also be edited on a per-camera basis. Event detection can be configured with the detection source being the camera itself, or the NAS. Various other camera parameters can also be altered from the settings section.
Notifications are handled with settings on the DSM side. E-mail, SMS, and push services are supported. The list of events is quite comprehensive compared to what we have seen from other vendors. These events can also be set to trigger actions such as automatic panning or streaming particular audio files (a barking dog, for example) to the IP camera's speakers. These action rules can also be set to operate on specific schedules.
Similar to other NVR packages discussed in this section, Surveillance Station 7.2 also allows e-maps (for ease of understanding camera locations). Detailed logs are also vailable for information regarding camera status as well as changes to the Surveillance Station settings.
Despite Surveillance Station itself being an add-on to DSM, it also has its own plug-in architecture. This is particularly attractive to users who don't need to be confused with functionality they probably don't need. By default, the Device Pack add-on is pre-installed. This allows Synology to add cameras to the compatibility list without the need to update Surveillance Station itself. Other available add-ons include a central management system (for multi-site NVR deployments), VisualStation (for display output of surveillance view and control on certain NAS units with video outputs), Joystick (alternative to a mouse for PTZ control) etc.
The live view and playback capabilities of Synology's Surveillance Station are very user-friendly. Unlike Asustor and QNAP, a separate Windows program is not needed, but, a NPAPI plugin needs to be installed. Unfortunately, this means that certain browser / OS combinations are out of luck. It appears that Synology is moving towards a desktop client similar to QNAP and Asustor, though we are not sure that is a good approach. Native browser capabilities with HTML5 should also remain an option so that the current user interface can be maintained without the need of a plugin. However, one must definitely give credit to Synology for having moved on from a Java plugin.
The live view interface offers PTZ (pan-tilt-zoom) capabilities, and also has alert management settings on a per-camera basis. The Timeline view offers playback capabilities and can easily indicate periods of activity to the user. There is also support for a 'Smart Search' in the Live View that can be used to track regions of interest in the feed. The Recordings option in the desktop UI presents a list of files that have been finalized or currently being recorded to. These files can be played back from the web UI. They can also be downloaded to the client, if needed.
On the whole, Synology's Surveillance Station 7.2 is one of the best native NVR packages in the commercial NAS OS space. We would like Synology to focus on a fully browser-based cross-platform solution moving forward in addition to their current plans for a dedicated desktop program in the upcoming Surveillance Station release.
Concluding Remarks
The surveillance bundles created by the partnership between Synology, Seagate, and Amcrest provide an excellent platform for home users interested in a solution without recurring monthly fees. Compared to dedicated solutions, the bundles offer a lot of flexibility - particularly from the NAS side. The Synology -j series NAS units are value-centric solutions perfect for families who want to just back up their PCs and smartphone content and don't require fancy features such as dual LAN ports or hot-swap capabilities. The Surveillance Station package is one of the best offerings in this market segment, as evident from our recent exploration of the value additions in NAS units. The Seagate drives get the job done silently in the background. Given the surveillance focus, SkyHawk drives could have been a better choice, but, IronWolf is acceptable given that the NAS in the bundle is going to be used for other purposes also. Consumers can rest assured that the firmware in the drives are optimized for general NAS usage.
The weak link in the bundle are the Amcrest cameras. My issues are with the setup process - the claims that the camera can be set up by just scanning a QR code and using the cloud couldn't be verified in my particular network setup. However, as someone who is more tech-savvy compared to the average consumer, I had no trouble configuring it after setting the camera up with a wired connection. Once the Wi-Fi configuration was completed, I could move it to the desired location. The 'Pro' claims of the camera is also very misleading. While the Pan-Tilt-Zoom (PTZ) capabilities are welcome, the fact that the WLAN chipset in it is only single-band (2.4 GHz) is very disappointing. In Amcrest's defense, the IP2M-841 is often on sale for less than $100, and consumers have to realize that they get what they pay for. That apart, there is nothing wrong with the video quality or performance once the camera setup is done and the NAS has started recording the video.
In conclusion, consumers thinking about setting up a home surveillance system with 1 or 2 IP cameras should definitely consider the bundles offered by Synology, Seagate, and Amcrest. The deals are particularly good if the consumer currently doesn't have a NAS at home - the bundle can also serve as a very good starting point to explore the world of commercial off-the-shelf NAS units and their private cloud features.