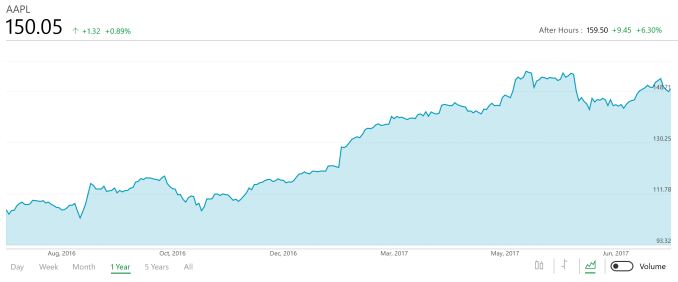 This afternoon, Apple announced their earnings for the third quarter of their 2017 fiscal year. Revenue grew 7% year-over-year to $45.408 billion USD for the three months ending July 1, 2017, with a gross margin of 38.5%. Operating income was $10.77 billion for the quarter, up 6.6% from a year ago. Net income was $11.31 billion, up 11.8% as well. This resulted in earnings per share of $1.67, up from $1.42 a year ago.
Apple Q3 2017 Financial Results (GAAP)
Q3'2017
Q2'2017
Q3'2016
Revenue (in Billions USD)
$45.408
$52.896
$42.358
Gross Margin (in Billions USD)
$17.488
$20.591
$16.106
Operating Income (in Billions USD)
$10.768
$14.097
$10.105
Net Income (in Billions USD)
$8.717
$11.029
$7.796
Margins
38.5%
38.9%
38.0%
Earnings per Share (in USD)
$1.67
$2.10
$1.42
Apple has been the iPhone company for pretty much a decade now, and at time, Apple has been somewhat dependant on the iPhone for most of its earnings. That's the case again this quarter, but Apple as a company is much more diversified now than even a year or two ago when iPhone revenues could account for over 70% of their earnings. This quarter, iPhone brought in $24.85 billion in revenue, which works out to 54.7% of Apple's revenue. iPhone revenue was up 3% year-over-year, with unit sales of 41.026 million phones, up 2% from a year ago.
Services has quickly jumped from being an afterthought at the company, to now being their number two source of revenue, surpassing both the Mac and the iPad. Services revenue jumped 22%, to $7.27 billion. The iPhone ecosystem is a strong draw for many Apple customers, clearly.
Mac sales were only up 1% year-over-year, which is a bit surprising since they hadn't yet launched their new laptops a year ago, but revenue was up 7% to $5.59 billion, so revenue-per-device is up nicely. Apple sold 4.29 million Macs in the last three months.
iPad has been the one sore spot for Apple for several years now, with slowing sales, but earlier this year, Apple announced a new, lower cost, entry level iPad. This strategy has paid off, at least for the interim, with iPad sales up 15% in terms of units sold. Apple sold 11.42 million iPads last quarter, compared to just 9.95 million a year ago. Revenue was only up 1% though, thanks to the lower cost of these entry level devices.
Apple Q3 2017 Device Sales (thousands)
Q3'2017
Q2'2017
Q3'2016
Seq Change
Year/Year Change
iPhone
41,026
50,763
40,399
-19%
+2%
iPad
11.424
8,922
9,950
+28%
+15%
Mac
4,292
4,199
4,252
+2%
+1%
Other Products, which includes Beats, Apple TV, Apple Watch, and accessories, also had a very strong quarter, with revenue up 23% year-over-year to $2.73 billion. Apple doesn't break down individual sales inside of Other Products though, but Apple did say Apple Watch sales were up 50% in the quarter. Up from what, we're not sure, but obviously a big jump regardless.
For the fourth quarter of fiscal year 2017, Apple is expecting revenue between $49 and $52 billion, with a gross margin between 37.5 and 38 percent.
Source: Apple Investor Relations