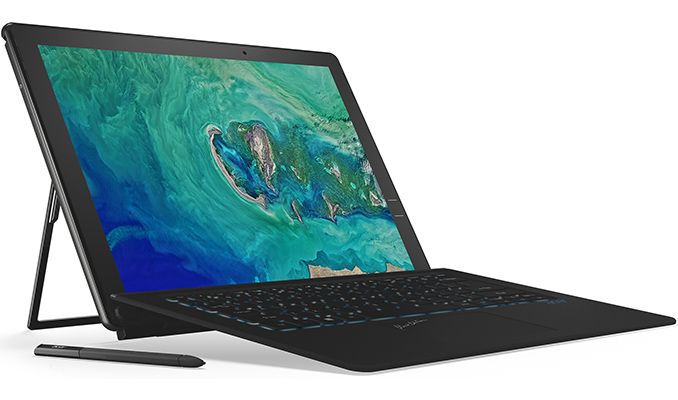 This week at IFA Acer has introduced their first 2-in-1 convertible laptop with a discrete GPU. Based on Intel's 8th generation Core i-series CPU, the Switch 7 Black Edition system has a 13.5" display and uses a special passive cooling system that cools down the system's CPU and GPU without using any fans. The notebook will not be very affordable, but it will also be rather unique.
In a bid to satisfy demands of users seeking for higher performance graphics, notebook makers this year decided to adopt discrete GPUs for low-power and relatively affordable laptops. To some degree, this happened because the performance of Intel's iGPUs hasn't shifted much as of late and, PC makers need to demonstrate performance improvements compared to previous-generation computers. A good news for the end-user is that there will be many more laptops powered by Intel's 8th generation Core processors with entry-level discrete GPUs than there were last year from different manufacturers. Acer's new convertible will be one of them.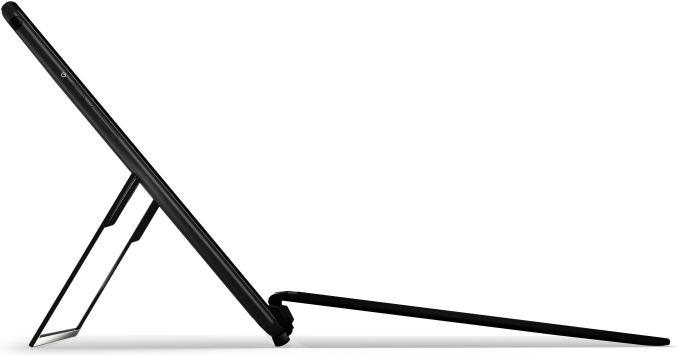 The Acer Switch 7 Black Edition will be based on Intel's Core i7 8000-series CPU (presumably featuring four cores) accompanied by NVIDIA's GeForce MX150 discrete graphics chip (GP108, 384 stream processors, 24 texture units, 8 ROPs) with 2 GB of GDDR5 memory. The CPU and the GPU will be cooled using Acer's dual LiquidLoop fanless cooling system that does not use any fans and is therefore utterly quiet. The machine will use solid-state storage and it is logical to expect the Switch 7 Black Edition to feature all modern I/O capabilities, including 802.11ac Wi-Fi, Bluetooth, Thunderbolt 3, USB, a MicroSD card reader and so on.
The Switch 7 Black Edition will come with a 13.5" IPS touch-enabled display with a 2256×1504 resolution and equipped with a stylus powered by Wacom's EMR technology. The tablet itself will weight 1.15 kilograms (2.5 lbs) and given dimensions of the tablet, it is logical to assume that the system is to be equipped with a decent battery. Interestingly, the Switch 7 Black Edition will also have an optical under-glass fingerprint sensor design with POA (power on authentication). As for the materials, the 2-in-1 will be made of aluminum.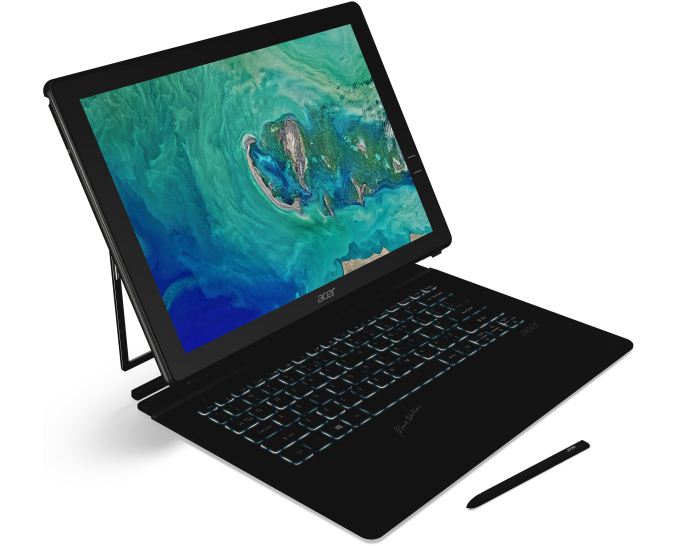 Acer plans to start selling the Switch 7 Black Edition in the North America and Europe this December. In the U.S., the machine will start at $1699, whereas in EMEA its MSRP will start at €1999. As usually, configurations will vary by region and country.
Related Reading:
Source: Acer