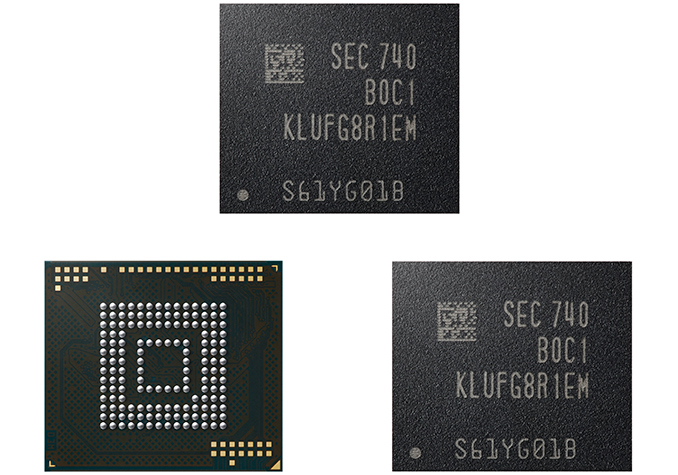 Samsung on Tuesday announced that it had initiated volume production of UFS NAND flash memory chips with 512 GB capacity based on its latest 64-layer 512 Gb V-NAND. The new UFS packages employ Samsung's latest controller, which sport some performance improvements over its predecessors. The new UFS devices are expected to be used for various applications, including smartphones, tablets, standalone VR headsets, TVs and other.
Samsung's 512 GB eUFS device is the company's first embedded UFS storage solution to use the latest 64-layer 512 Gb TLC V-NAND along with the new controller that features an improved NAND mapping table management. The 512 GB chip stacks eight of the aforementioned NAND dies and is speced for up to 860 MB/s sequential read speeds as well as up to 255 MB/s sequential write speeds, which is in line with the company's 256 GB eUFS device launched in 2016. When it comes to random operations, Samsung's 512 GB eUFS offers up to 42,000/40,000 read/write IOPS, similar to the predecessors featuring 48-layer 256 Gb V-NAND ICs. Speaking of previous-gen UFS 2.1 solutions with 64 GB, 128 GB and 256 GB capacities, the manufacturer will keep them in the fleet due to performance, yield, and other reasons.
The new 512 GB UFS chip from Samsung uses two full-duplex HS-Gear3 lanes with 5.8 GT/s data transfer rate per lane and comes in standard 11.5×13 mm package. The chip is compatible with the latest SoCs from Samsung, Qualcomm and others that support the UFS 2.1 specification.

Mass production of 512 GB UFS devices enables Samsung to integrate them into its upcoming smartphones and other consumer electronics products. The company yet has to confirm whether it will use the new storage solution for the Galaxy S9, but it is possible that the upcoming flagship smartphone from Samsung could have a 512 GB option.
On a side note, Samsung also announced plans to increase production of its 64-layer 512 Gb V-NAND chips as well as 256 Gb V-NAND chips to meet growing demand for mobile storage, SSDs and other products.
Related Reading:
Source: Samsung