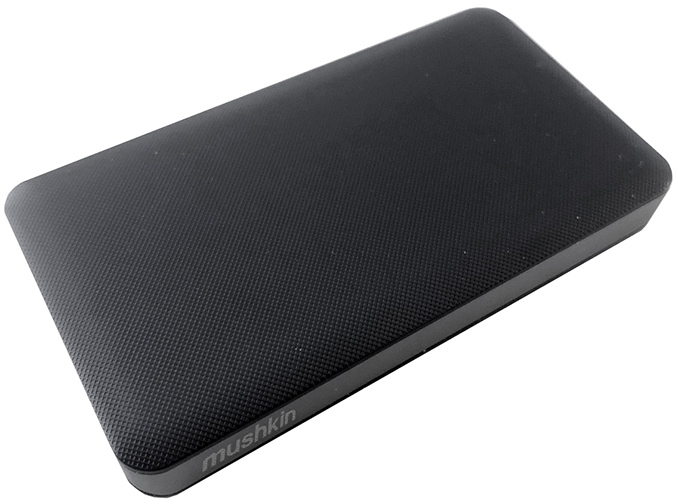 LAS VEGAS, NV — In addition to a host of new M.2 SSDs, Mushkin introduced two new USB-based products at CES 2018: the CarbonEXT new external SSD as well as the Swap family of USB drives that feature both USB Type-A and USB Type-C connectors.
The Mushkin CarbonEXT external SSD comes in a metallic rubber-padded enclosure and is based on the Silicon Motion SM2258XT controller, 3D TLC NAND memory as well as ASMedia's ASM1153E bridge. The CarbonEXT uses a USB 3.0 interface, so its performance is capped at 450 MB/s sequential read/write speed as well as 45K random read/write IOPS because of interfaces limitations (due to overhead incurred by 8b/10b encoding). Meanwhile, power consumption of the SSD barely exceed 3 - 5 W, so it will be completely bus-powered, just like regular USB drives. Mushkin will offer its CarbonEXT SSDs in 120 GB – 1 TB configurations to address different needs and budgets.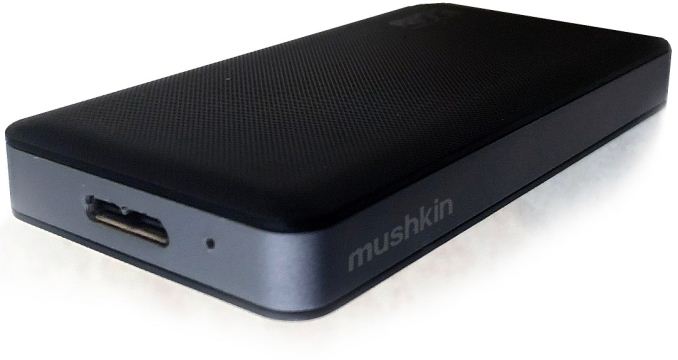 The CarbonEXT will complement (and maybe even replace at some point) the company's Ventura Ultra external SSDs introduced four years ago. The Ventura Ultra is based on the SandForce SF-2281 controller as well as planar NAND and since the industry is moving to 3D NAND, the days of the product line in its current iteration with 2D flash are counted. Meanwhile, recently Mushkin added a 480 GB configuration to the Ventura Ultra family, so it is not going away just yet. In fact, when it comes to dimensions, the Ventura Ultra looks a bit more attractive than the CarbonEXT since it is smaller (see the table below for details). As for performance, both are limited to 450 MB/s peak read/write speed.
Mushkin plans to start selling the CarbonEXT in early Q2. The manufacturer will bundle USB Type-A and Type-C cables to maximize their compatibility and address a growing number of laptops featuring only USB-C ports.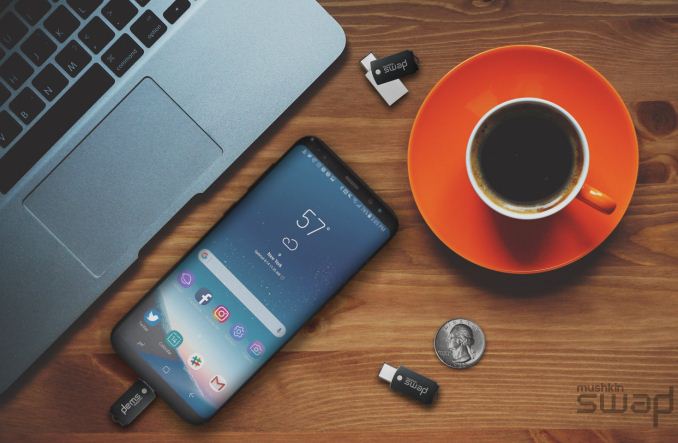 Moving on to regular USB drives. At CES, Mushkin demonstrated its new OTG-compatible Swap-series products that feature both USB Type-A and USB Type-C interfaces that can be used to connect to modern and legacy PCs as well as the latest smartphones and tablets. This is particularly useful when you need to transfer files from various devices without using cables (after all, a flash drive is more compact than a cable).
From a performance point of view, we are dealing with storage devices offering up to 225 MB/s sequential read speed as well as up to 65 MB/s sequential write speed, which is faster when compared to mainstream USB drives. As for dimensions, the Mushkin Swap measure 58×20×9.6 mm, which is in line with regular USB Type-A sticks.
The Swap drives will be offered in 16 GB – 128 GB capacities when Mushkin releases them in the coming months. MSRPs are something that remains to be seen — NAND flash pricing is fluctuating, so is the pricing of USB drives.
Brief Specifications of Mushkin 2018 USB Solutions
Family
CarbonEXT
Ventura Ultra
Swap
Interface
USB Type-A
USB Type-C
USB Type-A
USB Type-A
USB Type-C
Capacity
120 GB - 1 TB
60 GB - 480 GB
16 GB - 128 GB
Controller
SM2258XT
SF-2281
unknown
NAND Flash
3D TLC NAND
Planar NAND
unknown
Sequential Read
450 MB/s
225 MB/s
Sequential Write
450 MB/s
445 MB/s
65 MB/s
Random Read IOPS
45K IOPS
unknown
unknown
Random Write IOPS
45K IOPS
unknown
unknown
Dimensions
93×50×13 mm
73.3×19.8×9 mm
58×20×9.6 mm
Warranty
3 years
2 years
Related Reading:
Source: Mushkin