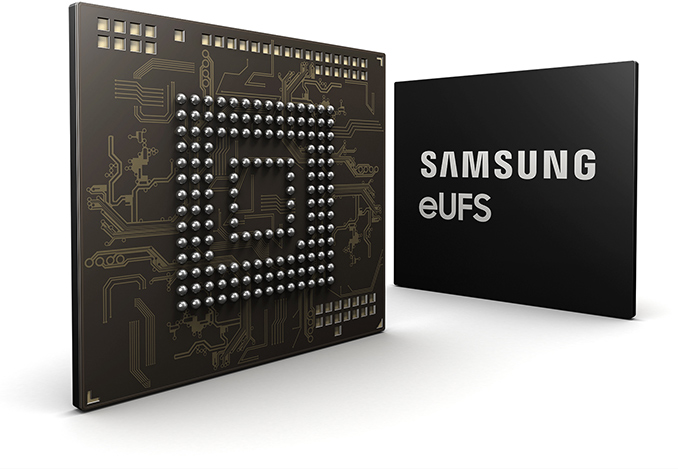 Samsung has announced that it has started mass production of eUFS 2.1-compatible storage devices for automotive applications. The new 256 GB devices support select UFS 3.0 features for vehicles, are qualified to operate in extreme temperature ranges and offer performance levels on par with today's smartphones.
Samsung's new 256 GB eUFS device is based on the company's planar MLC NAND flash memory produced using a 10 nm-class process technology as well as a proprietary UFS 2.1 controller supporting data refresh and temperature notification capabilities — both technologies are a part of the UFS 3.0 specification introduced last month and both are supported by Samsung's 64 GB and 128 GB eUFS products for automotive applications as well as by competing devices. The 256 GB eUFS chip is guaranteed to retain data and operate in extreme temperature conditions — between -40°C and 105°C (i.e., they are AEC-Q100 Grade 2 compliant). Such operating ranges ensure that a car's ADAS and infotainment systems powered by Samsung's latest eUFS device can survive cold winters (but not extreme ones with temperatures around -50°C) as well as Iran's Lut desert (where 70°C seems to be common). The storage product has an integrated thermal sensor, so when its temperature hits the maximum level (or any pre-set level), the storage device will notify the host processor, which in turn will regulate its frequency to lower the temperature.
Performance of Samsung's eUFS 256 GB device for automotive applications is at the high-end of the UFS 2.1 spec and can deliver up to 850 MB/s sequential read speed as well as up to 45K random read IOPS. Unfortunately, the manufacturer does not disclose all performance and any endurance specs of its eUFS 256 GB device, but the existing figures are in-line with performance of storage solutions for today's smartphones as well as with entry-level PCIe SSDs. Meanwhile, Samsung says that its refresh capability that relocates data from cell to cell to keep charges at sufficient levels to extend data retention also has a positive effect on performance as host processors do not have to extensively use read retry operation because of lower amount of read errors.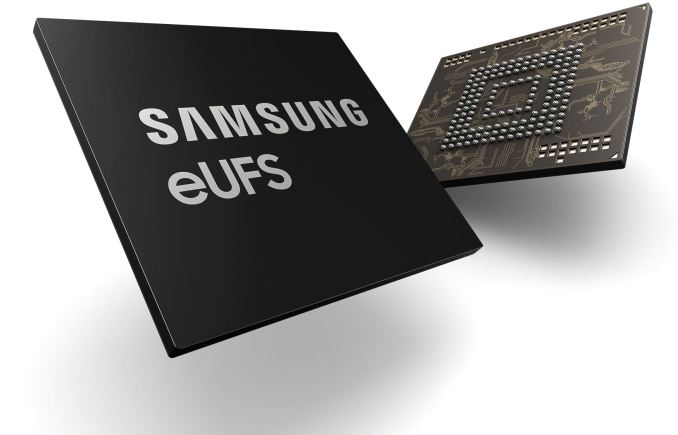 Samsung has already started to ship its 256 GB eUFS 2.1-compliant devices to its partners among automotive manufacturers working on next-generation ADAS (advanced driver assistance systems), infotainment systems, and dashboards. Samsung does not name the respective manufacturers, but claims that the 256 GB UFS 2.1 will first be used for high-end vehicles.
Related Reading:
Source: Samsung