Today, Toshiba is launching a new software solution for pooling NVMe-based storage in a datacenter environment. The new KumoScale software implements the NVMe over Fabrics protocol (NVMeoF) and allows storage to be access over the network with less than 20µs of added latency compared to NVMe SSDs directly attached to the local system. KumoScale provides abstraction over the individual SSDs so that multiple drives can form a shared pool of storage, from which separate volumes can be allocated to serve as storage for different services running on compute-oriented servers elsewhere in the datacenter.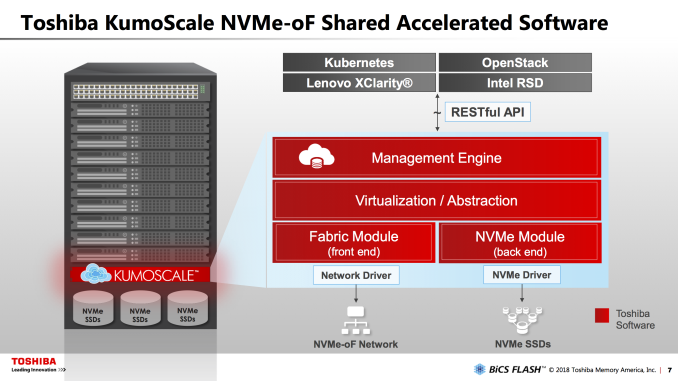 Toshiba announced their NVMeoF work last year at Flash Memory Summit in August. Today, they are giving it a brand name, announcing a general availability release, and sharing more about how it works—both technologically and commercially. KumoScale is a pure software product. While it is intended to complement Toshiba's datacenter SSDs, it runs on existing commodity servers, can use any NVMe SSDs, and makes the storage available over the standard NVMeoF network protocol. Toshiba has partnered with Portworx to enable integration between KumoScale and popular cloud computing infrastructure management tools like the Kubernetes container orchestration system. The combined stack of Portworx software and KumoScale-managed storage is touted as allowing compute and storage resources to be completely disaggregated, preventing "stranded" compute power or storage performance that can result from direct-attached storage configurations.
Toshiba's internal testing of KumoScale has demonstrated scalability of storage nodes to over 8M random read IOPS, capacities of 384TB, and partitioning of storage into over 4000 separate NVMe namespaces. Toshiba and Portworx are demonstrating KumoScale this week at the Open Compute Project (OCP) Summit in San Jose.