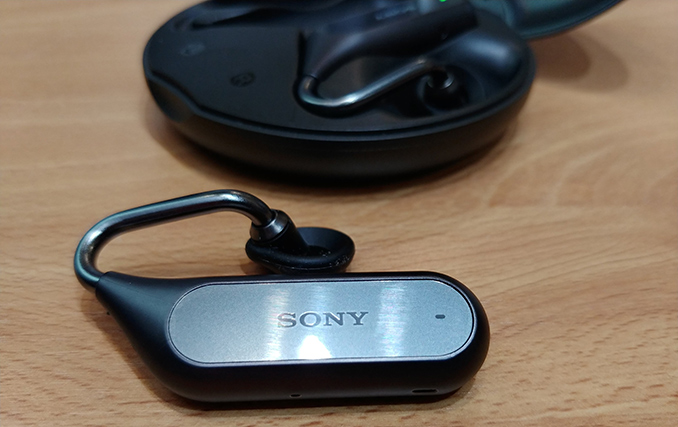 Sony this week began to take pre-orders on its open-ear Xperia Ear Duo headset. The non-obstructive device has been in development for years and is designed to allow a user to listen to music and smartphone notifications while still hearing environmental sounds and holding conversations. Given rather high manufacturing costs of the product, it is considerably more expensive than the rivals. Furthermore, the headset's Host App is only compatible with smartphones, but not iPads and select PCs.
The key element of Sony's Xperia Ear Duo earpieces is a very small driver that transmits audio directly to the ear canal without going into it and hence without blocking it from environmental sounds. The right earpiece of the Xperia Ear Duo connects to smartphone (or another source) using Bluetooth 4.2 LE (A2DP, AVRCP, HFP profiles are required; AAC and SBC codecs are supported), then it transmits audio to the left one using NFMI method. Sony says that NFMI ensures strong connection between two earpieces and it works better than if both used Bluetooth. Sony ships three sizes of rubber earbuds to firmly hold the earpieces where they should be, making the headset useful for people with different ears. Speaking of holding the earpieces, it is necessary to note that both weigh 0.4 oz (11.3 grams), so they are not hard to hold in place.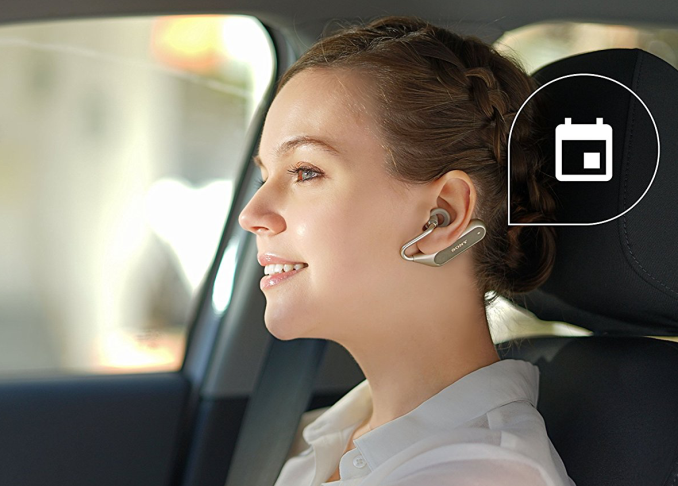 The Xperia Ear Duo headset is based on Sony's custom Spritzer chip that integrates a sensor hub and supports Sony's Clear Phase audio processing technology to adjust volume based on surroundings and eliminate sound dispersion when needed. Each earpiece has two microphones for hands free calling and to eliminate background noises during conversations. In addition, the headset is outfitted with touch and gyro/accelerometer sensors: the former enable to answer calls by touching either of the earpieces, whereas the latter enable to control calls and music playback by head gestures. Finally, the headset features proximity, compass, and barometer, though Sony does not disclose how it uses them (the proximity sensor is most probably used to start/stop charging when placed into charging case and to turn the devices on when they are in the ear).
Sony's new headset is made of aluminum and soft rubber to ensure its low weight and preserve against stain. The earpieces also feature IPX2-graded protection against vertical drops of water even if device is tilted by up to 15° from its normal position (i.e., do not wash them or wear them in the shower, but rain should not necessarily damage them).
Each earpiece is outfitted with a 56 mAh battery that enables it to work for four hours. Sony ships its Xperia Ear Duo in a special charging case that has a 740 mAh battery and thus can charge earpieces several times during long trips or during the day (up to one hour of music playback after a seven-minute charge is promised). The charging case supports a USB Type-C connection and is thus compatible with modern computers and chargers.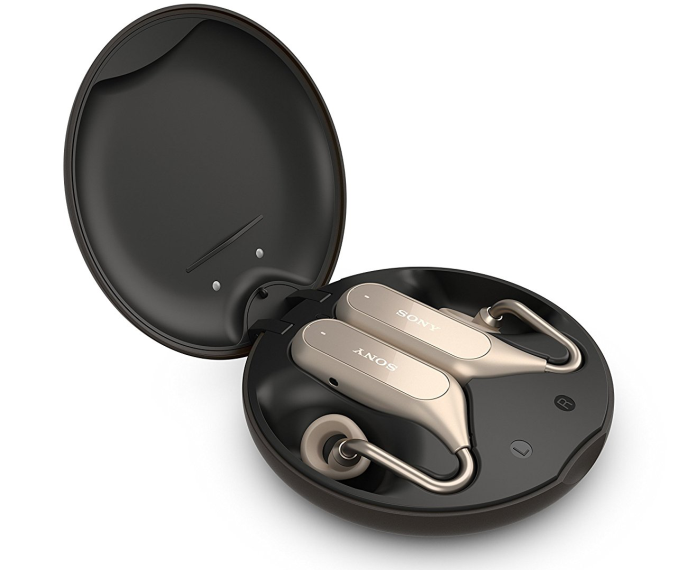 As noted, the Sony Xperia Ear Duo host app is compatible only with smartphones running iOS 10/Android 5.0 or newer. Technically, they are compatible with Android-based tablets too, but not Apple's iPad. The good news about being compatible with major smartphone operating systems means that the headset understands things like notifications and voice assistants. In fact, Sony even has its own Daily Assist app (for Google Android handsets) that recognizes time, location, activities, and promises to offer relevant information during the day (e.g., location-based reminders). Meanwhile, the lack of compatibility with certain PCs means that travelers who keep their music collections on their computers will need to carry additional headphones with them.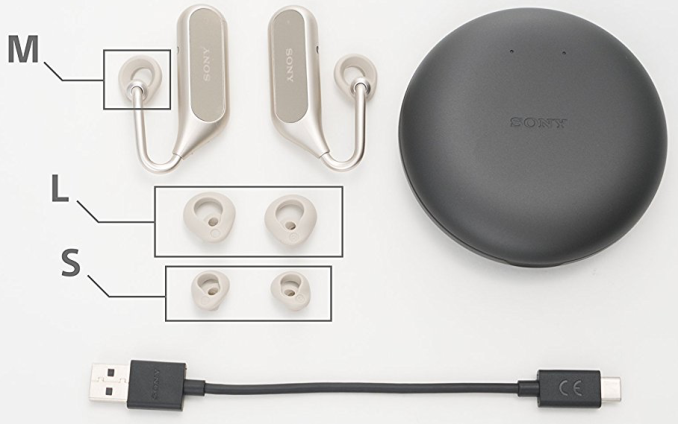 Retailers like Amazon and b8eta are taking pre-orders on Sony's Xperia Ear Duo already and will start shipping them starting May 25 or May 31, depending on location. The headset will be available in black and gold. Suggested retail price of the headset is $279.99, which automatically places the product well above all popular wireless headphones (such as Apple's Airbuds).
Related Reading:
Source: Sony