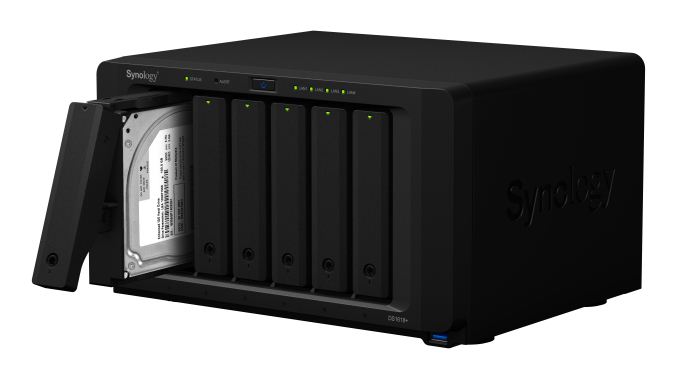 Synology recently introduced their much-awaited hardware platform upgrade in the DS1618+. Over the last several years, Synology has introduced a number of SMB NAS units with the Intel Rangeley SoCs (Atom C2xxx). Even though other vendors (such as Netgear) moved to the Denverton (Atom C3xxx) platform in early 2017, Synology continued to introduce Rangeley models. This is changing today with the introduction of the DS1618+, a 6-bay NAS in a tower form-factor (usual DiskStation) targeting the SMB and enthusiast market.
Synology is using the quad-core Intel Atom C3538 SoC in the DS1618+. It comes with a 4GB non-ECC DDR4 SODIMM, but, users can potentially upgrade it to 32GB with ECC support. The unit is also compatible with up to two DX517 units, allowing for a total of 16 bays. The unit also comes with a PCIe 3.0 x8 expansion slot (operating at x4) that supports either a Synology M2D17 dual M.2 SATA SSD adapter, or, a network interface card. Natively, the NAS comes with 4x Gigabit Ethernet ports, 3x USB 3.0 ports, and 2x eSATA ports (for chaining the DX517 expansion units). The table below summarizes the specifications of the DS1618+.
Synology DS1618+ Specifications
Processor
Intel Atom C3538 (4C/4T Goldmont x86 Cores @ 2.10 GHz)
RAM
1x 4GB DDR4 SODIMM (2x 16GB max. supported, with ECC)
Drive Bays
6x 3.5"/2.5" SATA II / III HDD / SSD (Hot-Swappable)
Network Links
4x 1 GbE
External I/O Peripherals
4x USB 3.0, 2x eSATA
Expansion Slots
PCIe 3.0 x8 (link is x4)
VGA / Display Out
None
Full Specifications Link
Synology DS1618+ Specifications
Price
$800
Given the rapid market penetration of NBASE-T, we would have liked Synology to include NICs on the board with support for multi-gig datarates. Given the SMB focus, that would have been an attractive feature to put in what is essentially a much-awaited platform upgrade from Synology. That said, the expansion slot allows users to install their own NICs, if needed. The NAS is priced at $800 and available for purchase now.
Co-incidentally, Synology also announced the official release of DSM 6.2 earlier today. This release brings in a Storage Pool feature, along with a new iSCSI LUN option supporting btrfs-based instant snapshots. The Synology High Availability 2.0 feature is now more user-friendly. Updates have also been made to the network security aspects (including a revamped 'Security Advisor' that attempts to detect abnormal login attempts, and different TLS / SSL profiles for each network service).