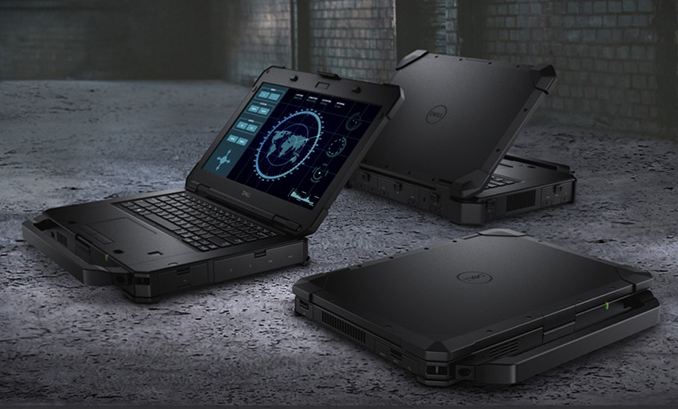 Dell today introduced its new generation of ruggedized Latitude laptops designed to operate in rough locations. The new family consists of three base models that offer different levels of protection against extreme handling and environments. The new Latitude Rugged systems are rquipped with modern CPUs and discrete GPUs, advanced security technologies, dozens of optional communication capabilities, and are compatible with Dell's strengthened peripherals as well as various special-purpose equipment.
Dell's 2018 Latitude Rugged lineup of notebooks includes three base models.
The flagship Latitude 7424 Rugged Extreme offers the best possible protection against extreme handling and environments along with a variety of options when it comes to storage (e.g., it has up to three SSDs running in various modes, and an ODD; see the table below for details), but at the cost of portability and a rather extreme MSRP.
A little bit below sits the Latitude 5424 Rugged that has the same expandability options, but comes in somewhat less reinforced chassis and therefore is considerably cheaper and portable. In addition, Dell introduced the Latitude 5420 Rugged, a simplified version of the 5424, that loses second and third SSD options, does not have an optical disk drive, but has the same level of protection. The Latitude 5420 is the thinnest and the lightest laptop in this family - it comes with a lower price tag as well.
When it comes to performance and general capabilities, all the laptops offer the same set of features. All three models are similarly end-to-end secure and manageable, their key differences are in levels of protection against extreme handling or environments. All of them can survive a drop or two and operate under thermal extremes, yet the Rugged Extreme model is more fit for such things than the remaining two. All the new units are also compatible with existing infrastructure supporting Latitude Rugged machines, so industrial, military, and other customers can buy the new laptops knowing that they can easily replace their predecessors and will not require any additional hardware-related investments.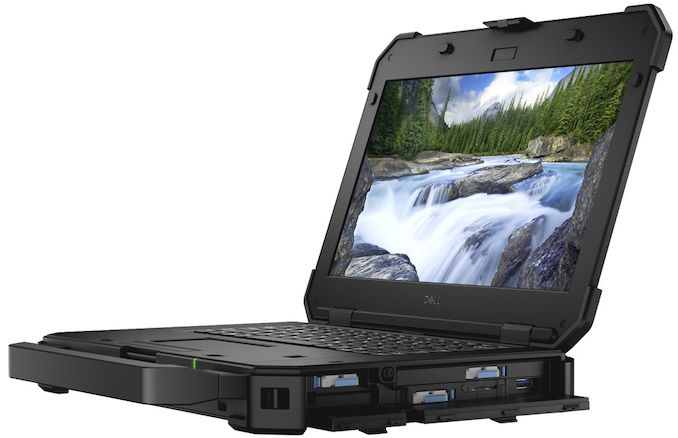 The new Latitude Rugged notebooks come with a 14-inch Full-HD multi-touch display that is equipped with a polarizer that enhances its readability outdoors, and is protected with a Gorilla Glass. The LCD used by Dell is one-of-a-kind since this is the industry's first laptop monitor featuring up to 1000 nits brightness.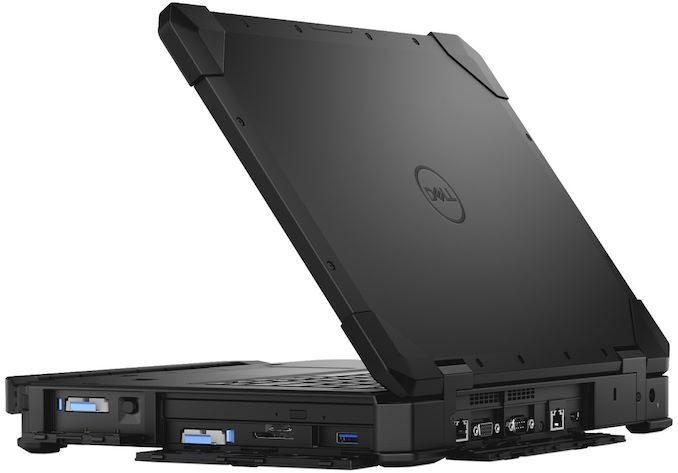 Moving on to internals of the systems. The new Dell Latitude Rugged machines can be outfitted with quad-core or dual-core Intel Core i3/i5/i7 processors (Skylake or Kaby Lake) that are accompanied by up to 32 GB of DDR4-2400 memory, and up to three Class 20 or Class 40 SSDs that can store up to 3 TB of data (7424 and 5424 models only). The higher-end SKUs even offer an optical drive, but the lightest one naturally does not have it for the sake of portability. For users demanding a higher performing GPU, Dell also offers optional Radeon 540/RX540 discrete graphics. Meanwhile, in a bid to keep the CPU, up to three SSDs, and a discrete graphics chipcool, Dell installed a new active cooling solution into its new laptops for extreme environments.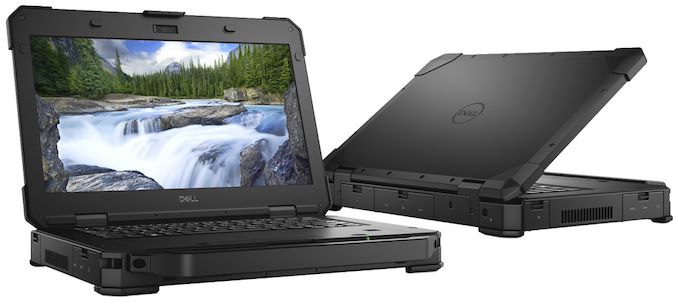 Since we are dealing with laptops designed to work everywhere, their communication capabilities are vast. Besides usual 802.11ac Wi-Fi and GbE, the new Dell Latitude Rugged are outfitted with an optional Qualcomm X20 4G/LTE modem (Cat 16), and a GPS card. As for general connectivity, the new units feature USB Type-A and Type-C ports, one or two RS-232 headers, an SD card reader, various display outputs (HDMI by default, DP and D-Sub are optional), and so on. Customers may also equip their Latitude Rugged systems with PCMCIA, ExpressCard, or Smart Card readers.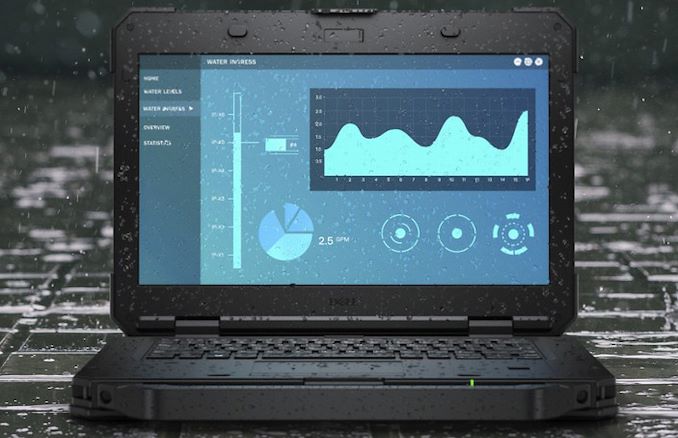 Moving on to battery life. All three new Dell Latitude Rugged systems feature up to two hot-swappable 51 Wh batteries (Ed: So you can only carry one spare on an aircraft? Why not 49Wh for two?). When both are installed, the laptops can operate for up to 14 hours depending on their exact configuration. Keep in mind that a 1000-nits display is very power hungry, so do not expect the notebooks to last for long when working outdoors with LCD brightness cranked up.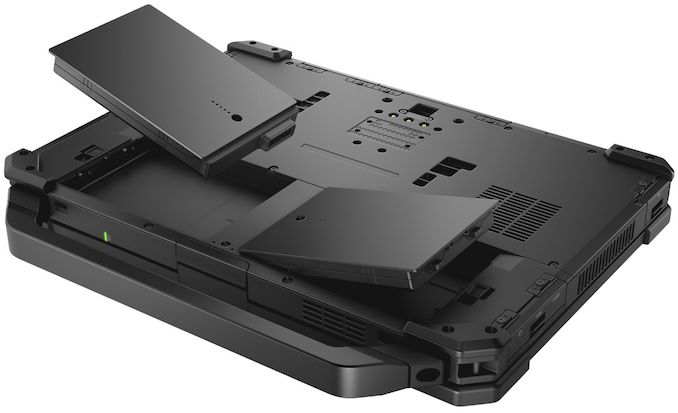 Dell's new Latitude Rugged Extreme and Latitude Rugged laptops will hit the market in the coming days or weeks, depending on the region. The top-of-the-range Latitude 7424 Rugged Extreme will start at $3,499, whereas the Latitude 5424/5420 Rugged machines will start at $1,499/$1,399.
Specifications of Dell's 2018 Latitude Rugged & Rugged Extreme Laptops
Latitude 7424
Rugged Extreme
Latitude 5424 Rugged
Latitude 5420 Rugged
LCD
Diagonal
14"
Resolution
1920×1080
Brightness
1000 cd/m²
Features
Outdoor-readable display with
gloved multi-touch, polarizer and Gorilla Glass
CPU
Quad-core 8th Gen Core i5/i7 with vPro
Dual-core 7th Gen Core i3
Dual-core 6th Gen Core i5 for Windows 7 Pro downgrade
Graphics
Intel HD Graphics 520/620 (24 EUs)
Intel UHD Graphics 620 (24 EUs)
AMD Radeon 540, AMD Radeon RX 540 discrete GPU
RAM
8 GB, 16 GB, 32 GB DDR4-2400
Storage
Primary SSD
128 GB, 256 GB, 512 GB, 1 TB, 2 TB PCIe/NVMe Class 40
256 GB, 512 GB, 1 TB PCIe/NVMe SED Class 40
Other
256 GB, 512 GB, 1 TB SATA Class 20
-
ODD
DVD ROM
DVD RW
Blu-ray RW

All ODDs replace third SSD option
External options only
Wireless
Wi-Fi
Intel Dual Band Wireless AC 8265 (802.11ac) 2x2 with Bluetooth 4.1
Intel Dual Band Wireless AC 8265 (802.11ac) 2x2 (No BT)
Qualcomm QCA61x4A 802.11ac Dual Band (2x2) with Bluetooth 4.1
WWAN
Qualcomm Snapdragon X20 LTE (DW5821e)
GPS
Dedicated u-blox NEO-M8 GPS card
Additional
Triple RF-passthough (Wi-Fi, GPS, and mobile broadband)
GbE
1 GbE
USB
Type-A
3 × USB 3.0
Type-C
1

× USB 3.0

Type-A for power and display
Webcam
Optional integrated FHD video web or
IR camera with privacy shutter
Security
Fingerprint reader,
Contactless and Contacted/SmartCard reader,
TPM 2.0,
ControlVault advanced authentication,
Dell Backup and Recovery
Dell Security Tools,
Dell Data Protection/Encryption,
NIST SP800-147 secure platform.
Other I/O
TRRS audio jack, micro RS-232 (1 or 2),
HDMI, D-Sub (optional), Display Port (optional).
Fischer USB (optional), SD card reader,
PCMCIA or Express Card (optional),
POGO connector, etc.
Battery
Primary
51 Wh
Secondary
51 Wh, optional
Dimensions
Width
354.5 mm | 13.95"
347 mm | 13.66"
347 mm | 13.66"
Depth
255 mm | 10"
244.5 mm | 9.62"
244.5 mm | 9.62"
Thickness
51.3 mm | 2"
44.4 mm | 1.74"
32.8 mm | 1.29"
Weight
3.45 kg | 7.6 lbs
2.5 kg | 5.5 lbs
2.22 kg | 4.9 lbs
Operating System
Microsoft Windows 10 Pro 64 Bit
Windows 7 Professional Downgrade (64 bit) - Skylake CPU required
Regulatory and Environmental Compliance
MIL-STD-810G
Transit drop: 72"/1.82m, single unit, 78 drops;
Transit drop: 36"/0.91m,
single unit, 26 drops;

Operating drop: 36"/0.91m

Blowing

dust, vibration, functional shock,
humidity, altitude, thermal extremes

Blowing rain, blowng sand, salt fog (with




rubberized keyboard), explosive atmosphere, solar radiation, thermal shock,

freeze/thaw, tactical standby to operational.

-
Thermal range
Operating: -20°F to 145°F (-29°C to 63°C);
Non-operating: -60°F to 160°F (-51°C to 71°C).
IEC 60529 ingress protection
IP-65 (dust-tight, protected against pressurized water)
IP-52 (dust-protected, protected against dripping water when tilted up to 15°)
Optional Accessories
Rugged desk dock,
Havis vehicle dock,
Dell WD15 monitor dock
Dell auto air DC adapter
Gamber-Johnson vehicle dock
Dell Rugged shoulder strap
Dell power adapters and power banks
Dell displays
Price
Starting at $3,499
Starting at $1,499
Starting at $1,399
Related Reading:
Source: Dell