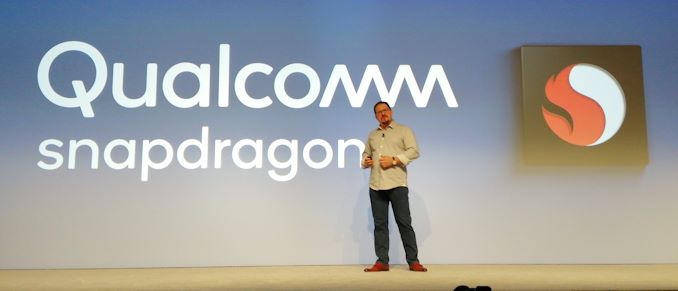 It has been difficult to move around in 2018 without bumping into someone with a Qualcomm Snapdragon 845-powered smartphone. The success the company has seen in capturing most of the Android market has been exciting for the executives and helped accelerate a large number of use cases and experiences for users. With 2019 fast looming, and Qualcomm recently announcing both its new Snapdragon 855 Mobile Platform and a good chunk of its next-generation 5G partnerships, we were able to spend some time with Cristiano Amon, President of Qualcomm, about recent developments and upcoming opportunities for the company.

Ian Cutress
AnandTech

Cristiano Amon
Qualcomm
Cristano Amon is one of the few public faces of the otherwise very corporate Qualcomm, appearing on stage at every major announcement event since he became President of Qualcomm in January 2018. Before that he was the President of Qualcomm Technologies for a fourteen year stretch from 2004 to 2018, and was very much at the forefront of Qualcomm's wireless technologies through the 4G era. This follows his educational background, with a BSc in Electrical Engineering from the Universidade Estadual de Campinas in Brazil. During his tenure at Qualcomm he has overseen both the growth of Qualcomm's Snapdragon business and the push into new markets such as the Always Connected PC line. Qualcomm's successes means that their revenue now sits at $22.7 billion for their Fiscal Year 2018.
The company's announcements at its annual Qualcomm Snapdragron Tech Summit this year are building on the base of 5G with partnerships across the globe, alongside the smartphone vendors and OEMs that will be using the next generation Snapdragon 855 SoC in a good number of 2019 Android flagships, some of which may also include the X50 5G modem. With all this in mind, the topics I wanted to cover with Cristano included 5G for the masses, both in terms of mid-range devices but also suburbia deployments, and then through to how Qualcomm expects 5G revenue to grow and in what time frame.
Many thanks to Cristiano and his team for the interview and their time!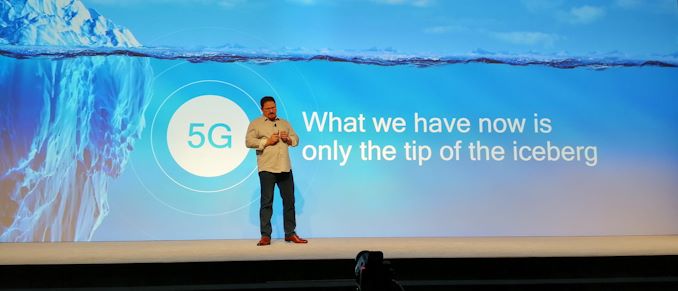 Ian Cutress: Qualcomm is clearly a market leader in 5G deployments and testing, with commercialization through 2018, 2019, 2020, and beyond. Can you draw any parallels between how long it took 4G to be profitable for Qualcomm and will that be accelerated with 5G?
Cristiano Amon: If I draw a parallel, the initial ramp of 4G, especially before the years the market had concentrated, as we now have a concentrated market and some geographies are mixed, it was a major expansion of revenue and profitability for Qualcomm. We increased our valuation dramatically during the ramp of 4G, and it came at the same time as smartphone changed into a mobile computing device. That's why when we invested in 4G, we took time to invest in the underlying technologies you see in Snapdragon. The same thing will happen with 5G.
When we look at 5G, I think we see that with excitement. I think we expect to see this as a significant financial event, especially in its contribution to earnings, from 2020 onwards. We're going to start ramping in 2019, but in 2020 we'll see significant volumes.
However, as I said in the keynote, this one feels a little different than 4G for a couple of reasons. This is a moment in the industry that mobile (and mobile hardware) is going into other industries as well. So for Qualcomm it is not only an opportunity of expanding of revenue and earnings as the landscape changes, but it is also an opportunity for our product and licensing businesses as we expand towards IoT and automotive in networking etc. All these different areas are enhanced with cellular technology – it's not only an expansion of the semiconductor business but also the licensing business as well.
IC: Do you ever expect to list 5G revenues separately to everything else?
CA: Not particularly. We have been very careful when how we think about our financial guide. Now we provide a one quarter guide. But it is kind of fair to say that the next step when we think about segment reporting is how we do it. We have highlighted in the past two years how we have started taking mobile technology to other markets, like ACPC, to diversify the company. To that end we have built a big automotive pipeline and we are going into IoT and all of those things. We did say in 2018 that these expansions will represent a $5 billion business for Qualcomm. Over time, as this continues to grow for us, I see the logic in us to reporting a split between mobile and non-mobile. 5G in mobile for us will be a very big first wave, and significant financially in 2020.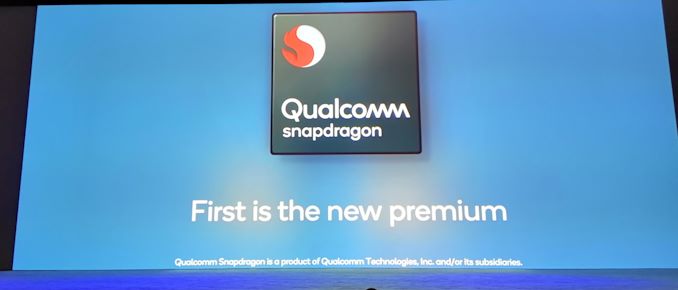 IC: There is a large China Mobile 5G event coming shortly and we recently had an event in South Korea. How much penetration does Qualcomm intend for its own brand at these sorts of demonstrations?
CA: I would say that China, especially with China Mobile this week, you're going to see a repeat of 5G but with a very 'China Mobile' scale. You're going to see our 5G customers talk about their 5G readiness with the pre-launch. I would say that, specifically in China, the China consumer is a lot more tech savvy than most. In China we have two things going on for us: first of all, there's a lot of recognition for Snapdragon. When you think about unaided awareness with consumers, one of the biggest ones we have is China with Snapdragon. Also with our direct customers in China, they highlight Snapdragon as one of the key features. One of the best examples is the Xiaomi Mi 8 Explorer edition with a clear backing showing the chip. I expect this to continue. If anything, we will give more Qualcomm brand exposure than we have in the past.
Alongside that is the fact that our technology is going to other industries. No question – the consumer market is the biggest one right now! But even though in the consumer segment, we are behind the glass on devices, and there's no room for stickers on the front. We still get recognition there, and you've started to see, our move to PCs and other things, there are other vectors to bring the Qualcomm brand and technology to the front and I expect that to increase over time.
In Formula 1, we sponsor the Mercedes team. Currently we have a Qualcomm logo on the car. Next year, that's changing to a Snapdragon logo.
IC: When is Qualcomm going to do an event at an F1 race?
CA: Ha!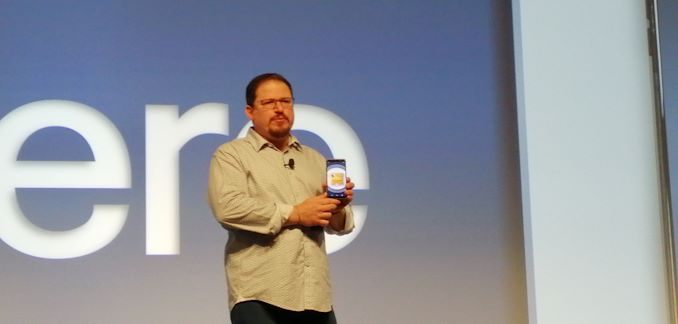 IC: With the current deployment of 5G modems like the X50 as an external modem to the SoC, should we expect any trade-offs in other aspects of the device due to the increased chip count and area requirements?
CA: What you think is the biggest trade-off is not the biggest! The biggest trade-off by a lot is that as we add mmWave, we have to have multiple antenna arrays. If anything it puts a lot more pressure in the companies with expertise to deal with the integration of RF along with power savings. Inside a device you have to have a limited [PCB] footprint, a lot of RF, all the existing RF bands, then the 5G bands, plus adding the antennas, and you still need to make room for the battery.
It's logical for us to do the external modem as a separate chip first as this is what we have done in every previous generation of wireless. The reason is that we have a flagship product that gets done every year, but we announced the X50 modem in 2016. As a creator of standards, we need to bring this technology to market. We need to create a lot of proof points. We do a lot of interoperability testing in order to mature the technology to get to even this point right now. By having an external modem as our first product, it allows us to concentrate on the development of 5G as we continue to update our Snapdragon technology every year. We will have a fusion solution, combining the SoC and modem, in time, so you should not be surprised that as the technology becomes more mature and the technology scales with all the combinations you have 5G. You are never going to see Qualcomm batting against integration.
Having said that, in addition of the X50 on the board as well as the RF front end capabilities, we have seen a lot of competition for the floor plan inside a smartphone. That's the reason we're very proud of the QRD (Qualcomm Reference Design) as it shows the overall level of integration of 855. Vendors have the ability to feel confident on its power consumption matrix, and how much we can do with the design of RF and still preserve the form factor of a flagship. When the first 4G devices came to market, OEMs had the questions about the size of the devices and that the devices were power hungry – well at the time the phone was also an immature platform. A lot of the use cases were not there, and the Play Store wasn't mature. We don't have that issue this time around. So the bar for us, and for our smartphone OEM customers, is very high. It means that unless I give to you a similar device to what you have now, you won't take it. It think that is why you have seen more proof points about this technology, about 5G, through 2018, than what we saw at the start of 4G.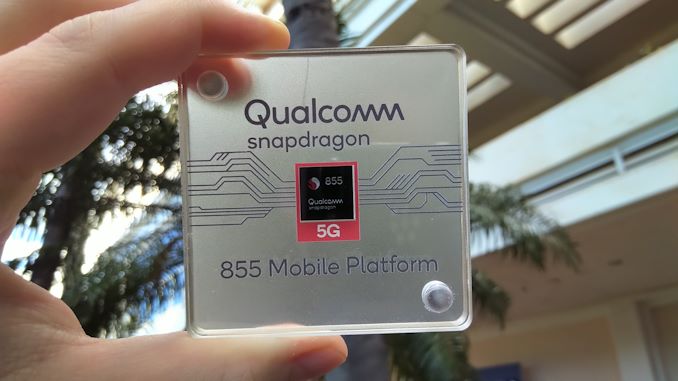 IC: With Qualcomm's prowess on wireless technologies and providing high performance chipsets for mobile platforms, a familiar question we get is 'when will we see Snapdragon with the same core performance as an Apple chip'. Let me change that question a little bit: given that Apple users have a different ecosystem, do you see the performance of the A-series processors a threat to how widespread Snapdragon is in a smartphone, or are other Android-based competitor chips the main competition?
CA: If I go back in time, when we launched 4G, we knew that in order for that technology to be successful you needed to develop, and invent in many cases, the fundamental technology to allow the phone to become a mobile computing platform. That's why we were the first company to have a >1 GHz clock speed in a CPU in a low powered device. We didn't get that from the Arm ecosystem, so we had to completely redesign that microarchitecture and we did that for a number of years.
Soon we realized that in a battery device, it's not like a PC. You can't just put a big CPU, a big GPU, and then add more graphics power, more memory – everything matters. So as the hardware has evolved we realize that for single threaded performance on the CPU, we are in a place that is good enough for all the applications that are needed, and the vectors of innovation needed to come from other areas. For processing, this means things like the GPU for machine learning. I would argue that when you look at our Adreno GPU matrix, especially our performance per square millimeter (of die area), or our performance per Watt, whether it's compared to Mali or PowerVR or anything else in mobile, we outperform all of them. We are the benchmark of the industry in graphics performance. We want that to be the same for our AI Engine.
Frankly speaking, for single threaded performance, I need to ask you this: is there a particular application that we cannot deliver best-in class-performance already, from the single threaded performance with Snapdragon today. Then the question is: are we innovating in the other areas that are more different and highly differentiated verses the competition? The way I think about it is that with the single CPU centric architecture and single threaded performance – we moved past that a while ago and we feel that what Arm is doing with the customization of Arm is delivering what we need. At the same time the silicon becomes just as important, if not more than ever, and more areas of computing are evolving into the phone, that's why we're working on GPU, the Hexagon, and the DSP.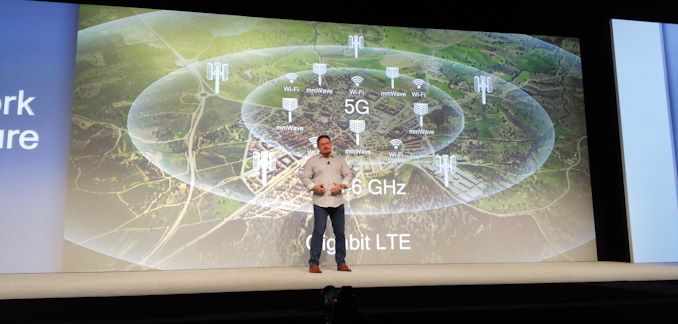 IC: The focus for Qualcomm and its partners today was primarily focused on 5G NR for dense urban environments; however there was some mention of enabling technologies such as telemedicine for suburban and rural communities. How do you see 5G NR propagating towards and beyond suburbs?
CA: Two things. I think 5G is designed to be a combination of both the sub-6 GHz and mmWave standards. The solution is not just one or the other. I think it was a mistake in the beginning for people to do just one or the other. It's really about both.
You need mmWave as you 'densify' the network to get the higher speeds and the higher speeds at lower latency for edge computing use case. Sub-6 GHz will be a macro cell type deployment. You'll still see significant improvements in speed and latency as some of the simulations have shown. You will also have the coverage. But it doesn't stop there with the 3.5 GHz band. In the United States, you see Sprint talking about the 2.5-2.6 G band. But also companies like T-Mobile are talking much lower frequencies which will propagate very well. I believe the Sub-6 GHz deployment architecture is likely to go 1:1 on existing sites and will provide the blanket coverage. The reason we've spent so much time as a company talking about gigabit LTE and LAA is because that transition. Like every wireless transition, it isn't going to be a hard handoff – you're going to coexist with those systems and as the new applications get developed, when you hand off the 4G, you will still be able to run it. Service doesn't just stop with a new technology in place.
To the other part to your question – there is this particular use case that is becoming very significant in a lot of the carrier business models around fixed broadband, especially in the suburban areas. The use case is, for both sub-6 GHz and mmWave, in the suburban areas as the very last mile in fiber to the home. This removes the need for a wire to actually come into the property.
I also believe that a couple of things are going to happen. It's a difficult thing for people to grasp right now, but on the current television broadcast architecture, the one thing that 5G in this use case enables is having enough bandwidth and reliability to do things that are important for real-time. If you are watching a sports game on pay-per-view, and all of a sudden you have a buffering connection you are going to get mad – if you pay for live content you want to watch it in real time. Well, with the speeds and reliability for 5G, there is no reason why that fixed line has to continue – you could have 5G direct to televisions. So that adds to this thing about broadband.
What Verizon showed in the demo video, we have that very elegant solution at Qualcomm. We can enhance the fixed broadband use case for many of the operators, and that is now is part of the products that are being built on. You've probably heard from us through the year about how successful we are being in retail with Wi-Fi Mesh. The simplest thing to do, especially when you have situations when users are in apartment dwellings and different types of deployments, as Verizon showed with mmWave, is that you link that to the Mesh, and the mesh takes you inside. So even if you have an outdoor node, and you're skeptical that the 5G signal won't propagate well inside the property, but in this case it doesn't matter because of the mesh. It can even be self-installed, such as with Netgear Mobile Hotspot, and then the mesh takes you inside. When I think about the carrier business case for broadband in surburban areas, the combination of 5G and mesh technology significantly increases the SAM and the viability of that use case.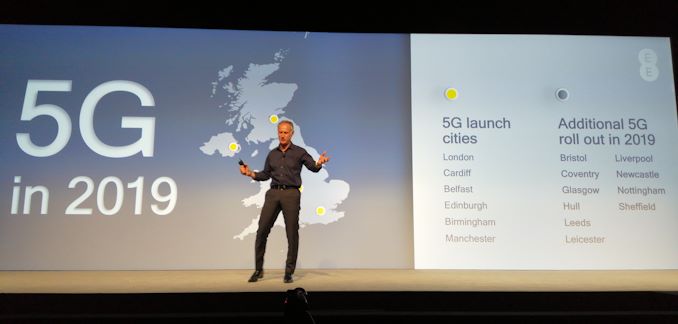 IC: How does Brexit affect your relationship with carriers or handset makers in the UK and Europe?
CA: Not at all. No-one has approached us with this as an issue and we see no impact. If anything we are seeing very good momentum for wireless in both the UK and Europe. I spoke to the regulators who have had roundtables with the CEOs and the European Commission, and obviously there's a lot of tension in Europe between rules of the new Telecom code in all of this. But I would say that, in general, we have seen enormous activity in Europe about launching 5G at the same time across the whole continent. It's not only within the UK, we see it in Germany, in Italy, in France. France has problems with 3.5 GHz (sub-6 GHz), so France could be a big surprise in mmWave. But I think everyone is moving to 5G. They're willing to work through whatever regulatory issues in order to get it done. I think the CEOs are being very positive in 5G, and they want to bring some excitement to the telecom sector.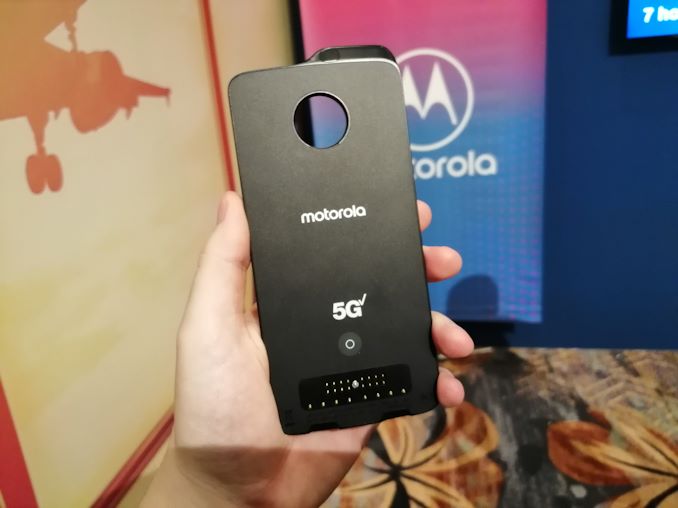 IC: We saw in the demo room the Motorola 5G mod for the z3, and we were told that the mod as a Snapdragon 855 inside as well as an X50. This was also true with the two mobile hotspots from Netgear and inseego. Will the X50 modem be available for other non-855 SoCs, or are the two intrinsically tied together for 5G?
CA: At CES we are going to start to talk about 5G beyond smartphones, such as the automotive space and the IoT space. You are going to see different implementations for our new chips because one of the things we want to do with 5G is bring a lot of modules to market, because we want to take it to the industrial applications. You will see both. You will see 855 launches without the X50 in 4G and emerging markets, but you will also see data-centric devices without the 855 as well.
IC: From the announcements on 5G for 2019 and 2020, how long will 5G remain a premium product? When should we expect it to enter the mid-range mobile market?
CA: The 4G transition was very successful for Qualcomm, and we want 5G to be the same - our goal was to get 4G to scale as fast as possible. As I've said, 2020 is more significant financially for 5G, but you should expect that in 2020 the industry will take 5G to the mainstream. Stay tuned - from a Qualcomm perspective I think we are better prepared than with 4G and we want to get 5G to the lower tiers as fast as possible. This is especially true because of both the opportunities within mobile and the opportunities beyond mobile.