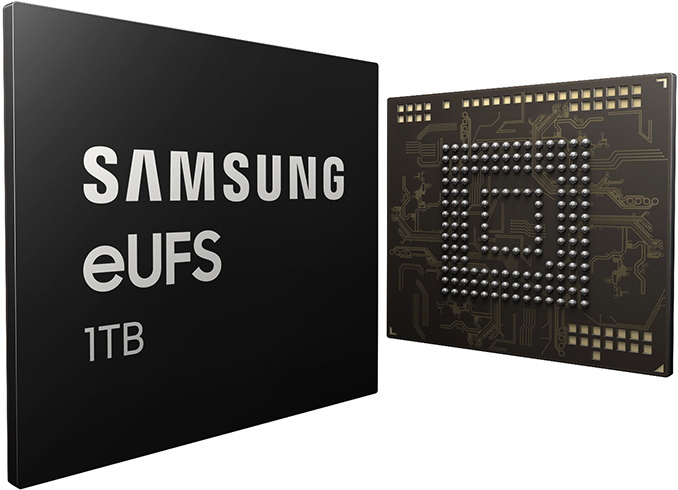 Samsung said it had started mass production of its eUFS 2.1 storage solution featuring a 1 TB capacity for smartphones. Apart from its massive capacity, the drive offers a sequential read performance that is two times faster when compared to a typical SATA SSD. Samsung expects the device to be used by high-end smartphones "soon".
Samsung's eUFS 2.1 storage solution comes in an industry-standard 11.5 mm × 13 mm package and is based on 16 512 Gb V-NAND flash memory dies as well as a proprietary controller. The drive is compatible with SoCs featuring a UFS 2.1 interface that are relatively widespread these days.
When it comes to performance characteristics, Samsung claims that the drive is rated for up to 1000 MB/s sequential read speed as well as up to 260 MB/s sequential write speed. Random read/write performance of the drive is up to 58K/50K of read/write IOPS. The new drive is tangibly faster when compared to Samsung's previous-generation 512 GB eUFS 2.1 solution, so the upcoming smartphones will offer not only more storage, but also higher performance. Obviously, any eUFS 2.1 device is orders of magnitude faster than any microSD card.
What is a bit surprising is that Samsung decided to stick to the UFS 2.1 spec instead of adopting the faster UFS 3.0 specification that is supported by Samsung's own Exynos 9820 mobile SoC (and it is likely that other upcoming leading-edge SoCs either do already, or will support it shortly).
Samsung's Comparison of Internal NAND Flash Storage
Sequential Read Speed
Sequential Write Speed
Random Read Speed
Random Write Speed
Launch Timeframe
Samsung 1 TB eUFS 2.1
1000 MB/s
260 MB/s
58K IOPS
50 IOPS
January 2019
Samsung 512 GB eUFS 2.1
860 MB/s
255 MB/s
42 IOPS
40 IOPS
November 2017
Samsung 256 GB eUFS 2.0
850 MB/s
260 MB/s
45K IOPS
40K IOPS
February 2016
Samsung 128 GB eUFS 2.0
350 MB/s
150 MB/s
19K IOPS
14K IOPS
January 2015
Samsung 256 GB UFS Card
530 MB/s
170 MB/s
40K IOPS
35K IOPS
July 2016
eMMC 5.1
250 MB/s
125 MB/s
11K IOPS
13K IOPS
-
eMMC 5.0
250 MB/s
90 MB/s
7K IOPS
13K IOPS
-
eMMC 4.5
140 MB/s
50 MB/s
7K IOPS
2K IOPS
-
Samsung did not disclose pricing of its 1 TB eUFS 2.1 drive, but since this is the industry's highest-capacity eUFS storage device, it will naturally carry a premium price tag and so will smartphones featuring the chip.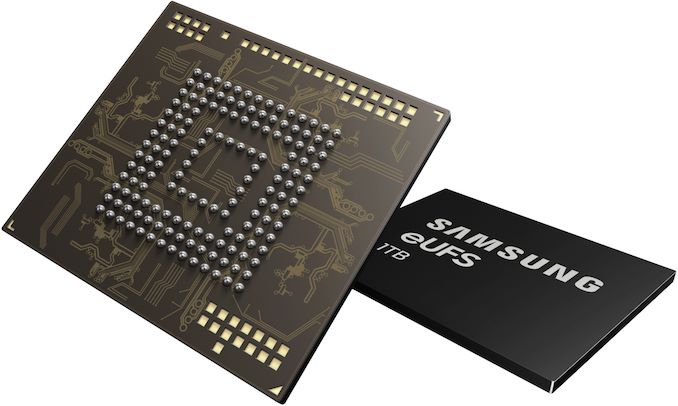 In addition to announcing its new eUFS 2.1 storage solution for high-end smartphones, Samsung also said that it would expand production of its 5th Gen 512 Gb V-NAND memory later in the first half of 2019, which will enable it to boost production of eUFS drives in general and 1 TB devices in particular.
Related Reading:
Source: Samsung