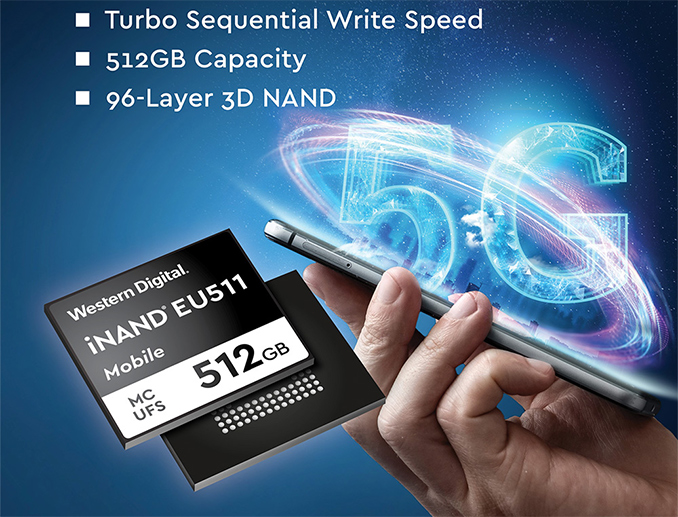 Western Digital said that it has now completed development and started sampling its first UFS 3.0 storage solutions for '5G era' smartphones. The new embedded flash drives (EFDs) provide up to 512 GB of storage space, use the company's latest 3D NAND memory, and support its proprietary iNAND SmartSLC Gen 6 technology to maximize sequential write speeds.
The Western Digital iNAND MC EU511 storage devices are based on the company's 96-layer 3D TLC NAND flash memory as well as an in-house-developed controller that supports a UFS 3.0 HS Gear 4 two-lane interface. The controller supports the company's iNAND SmartSLC Gen 6 technology (which presumably works like pseudo-SLC cache mode in case of SSDs) to ensure a maximum sequential write speed of up to 750 MB/s.
The amount of data generated and processed (both locally and in the cloud) in the upcoming 5G era is expected to be considerably higher than the amount of data generated and processed today, which will naturally increase requirements for performance of all edge devices (e.g., smartphones, tablets, etc.). Therefore, ensuring solid write speeds of internal storage is important, which is why Western Digital incorporated its iNAND SmartSLC into the new EFDs.
Western Digital's UFS 3.0 Storage ICs
64 GB
128 GB
256 GB
512 GB
SKUs
SDINEDK4
-64G
SDINEDK4
-128G
SDINEDK4
-256G
SDINEDK4
-256G-P
SDINEDK4
-512G-P
NAND Type
96-Layer BiCS4 3D TLC NAND
Controller
Developed in-house
Interface
UFS 3.0
Gear 4/2 Lane
11.6 GT/s per lane
Sequential Read Speed
?
Sequential Write Speed
Up to 750 MB/s with SLC caching
Operating Temperatures
?
Health Status Monitor
?
Data Retention
?
Thermal Sensor
Yes
Voltage
Memory
2.5 V - 3.3 V
Interface
1.2 V for VCCQ
Package
Type
FBGA-153 (?)
Width
11.5 mm
Length
13 mm
Height
1 mm
Sample Availability
Starting from February 2019
When it comes to other features, Western Digital's EFDs support UFS 3.0 error history, thermal notification, and RPMB multi-region configurations. The firmware of the devices is designed to be field-upgradeable.
Western Digital plans to offer its iNAND MC EU511 UFS 3.0-powered EFDs in 64 GB, 128 GB, 256 GB, and 512 GB configurations, thus targeting smartphones of different price classes. What is noteworthy is that all of the storage devices will be available in industry standard 11.5 × 13 × 1 mm packages, something that contrasts with high-capacity EFDs from other makers that use larger packages.
Western Digital said that it had started to sample its iNAND MC EU511 UFS 3.0-powered EFDs with OEMs, although which capacities are sampling today is unclear. We expect commercial products to use the devices in the coming quarters.
Related Reading:
Source: Western Digital