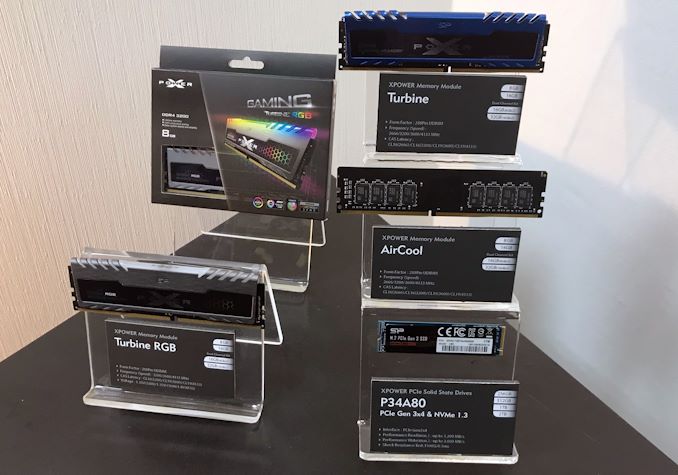 Silicon Power is best known for its reasonably-priced storage devices as well as various accessories for PCs and smartphones. But in an attempt to grow further, the company recently decided to enter the market for gaming PC components. Last year the company unveiled its first enthusiast-class memory modules, and this year it is unleashing its RGB-adorned XPower Turbine RGB family of DIMMs and SSDs for gamers.
Silicon Power's XPower Turbine RGB DIMMs come in 16 GB and 32 GB dual-channel kits. Specification wise, these modules use 10-layer PCBs and offer the same speed bins, latency, and voltage settings as the original XPower DIMMs launched last October: DDR4-2666 CL16, DDR4-3200 CL16, DDR4-3600 CL19, and DDR4-4133 CL19 at up to 1.4 V. As the brand name suggests, the key difference between the new modules and their predecessors are addressable RGB LEDs, which can be controlled using software from the major motherboard makers (ASUS, ASRock, GIGABYTE, MSI).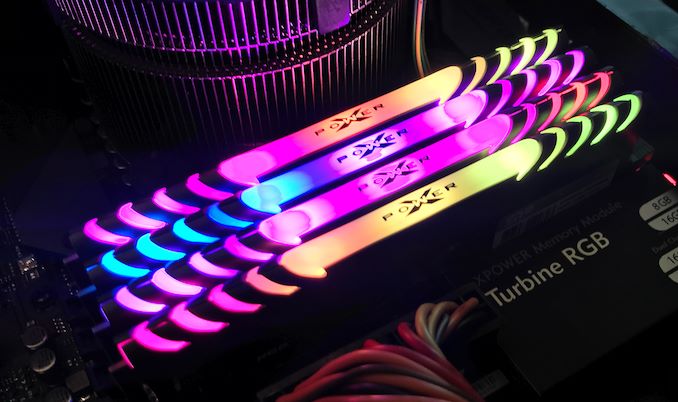 The XPower Turbine RGB DIMMs look rather impressive in person, but I wish Silicon Power offered higher speed bins with its RGB-enabled memory just to provide further differentiation with the regular XPower-branded memory as these are premium products after all.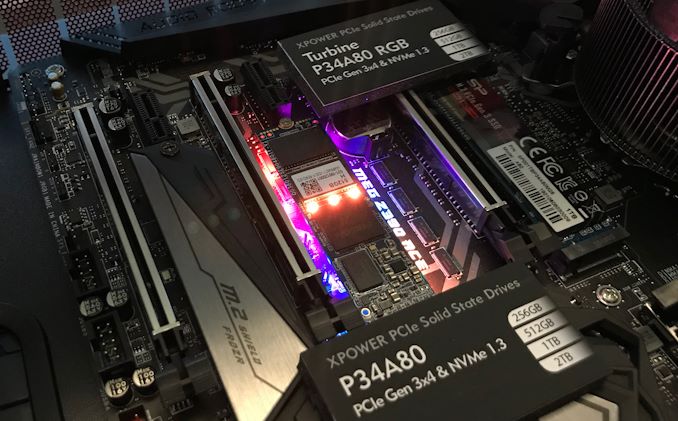 Another product in the XPower Turbine family is the XPower Turbine P34A80 RGB SSD. These drive family is based on Phison's PS5012-E12 controller and offers sequential read speeds up to 3.2 GB/s as well as write speeds up to 3 GB/s. The product is based on one of Phison's turnkey designs, but featuring Silicon Power's PCB with RGB LEDs. At this point the drives are still in development, so its final look will most probably differ from what the supplier demonstrated at Computex.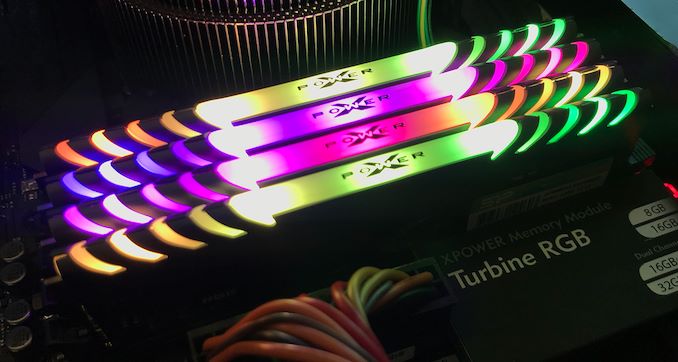 Silicon Power's DIMMs and SSDs for Gamers and Enthusiasts
Capacity
Performance
Features
XPower AirCool Memory
16 GB dual-channel
32 GB dual-channel
DDR4-2666 CL16
DDR4-3200 CL16
DDR4-3600 CL19
DDR4-4133 CL19
Air Cooling
XPower Turbine Memory
Aluminum heatspreader
XPower Turbine RGB Memory
Aluminum heatspreader with RGB LEDs
XPower Turbine PA34A80 RGB SSD
256 GB
512 GB
1 TB
2 TB
Reads: 3.2 GB/s
Writes: 3 GB/s
M.2-2280
PCIe 3.0 x4
NVMe 1.3
Phison PS5012-E12
RGB LEDs
5-year warranty
One thing to point out about the XPower Turbine initiative as a whole is that as the company intends for them to be premium gaming products – meaning they're focusing on performance and quality, but they also aren't going to be sold at cutthroat prices. Instead, it's part of a a step-by-step approach of the company, gradually expanding the lineup and building up the brand.
Want to keep up to date with all of our Computex 2019 Coverage?

Laptops

Hardware

Chips
Follow AnandTech's breaking news here!