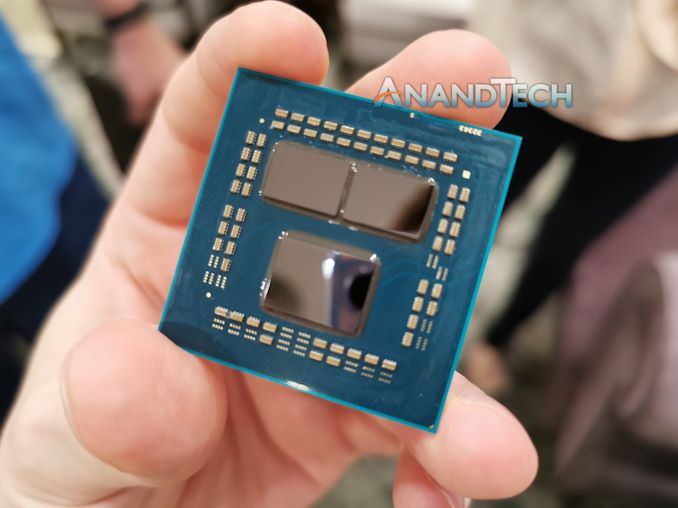 It's the review we've all been waiting for. Since December last year – and particularly since CES – AMD has been teasing us about the new Zen 2 microarchitecture and AMD's newest Ryzen 3000 series of CPUs. Incorporating a significantly upgraded CPU architecture and built using TSMC's latest generation manufacturing process, AMD has continued to run at full speed at a time when rival Intel has struggled to move at all. The end result is that while the first and second generation of Ryzen CPUs were all about AMD returning to competition and eating into Intel's substantial performance lead, the Ryzen 3000 series is nothing less than AMD's first shot in nearly 13 years at meeting (or beating) Intel at their own game in the desktop CPU market. It's a big moment for AMD, and an exciting one in the CPU industry as a whole.
The new Ryzen 3000 chips mark the first "big" leap for AMD since they introduced their first Ryzen processors a bit over two years ago. Unlike last year's Ryzen 2000 series, which was a more minor refresh and brought some tweaks to the microarchitecture and process node, this year's Ryzen 3000 is a major upgrade for both CPU architecture as well as on the manufacturing node. It marks AMD's switch from GlobalFoundries' 12nm process to TSMC's newest 7nm node. But what's more exciting is how AMD was able to actually implement this switch: Ryzen 3000 isn't merely a single chip, but a collection of non-uniform chiplets, introducing this design paradigm in a consumer product for the first time.
Today AMD launches its entire new CPU lineup and platform, alongside the new Navi-based Radeon RX 5700 series. In terms of CPU coverage, we'll be taking a closer look at the new flagship, the $499 12-core Ryzen 3900X, as well as the $329 8-core Ryzen 7 3700X and its peculiar low TDP of 65W.
Updates
(7/8): We've noticed large frequency boost behaviour changes with new motherboard firmware that was released on launch day (7/7). We are currently re-running all our test suite numbers and updating the article with the new data soon as applicable. For further details please read here.

(7/9): We've updated the article benchmark numbers on the 3900X. We've seen 3-9% improvements in exclusive ST workloads. MT workloads have remained unchanged, Gaming had both benefits and negatives. We continue to work on getting updated 3700X numbers. Original BIOS results are marked with ** in the graphs.

(7/10): We've updated 3700X results as well. Ultimately our conclusions haven't changed, but AMD does narrow the gap a bit more. For a full summary of our findings, please check out this article.
The CPU Line-up
AMD 'Matisse' Ryzen 3000 Series CPUs
AnandTech
Cores
Threads
Base
Freq
Boost
Freq
L2
Cache
L3
Cache
PCIe
4.0
Chiplets
IO+CPU
TDP
Price
(SEP)
Ryzen 9
3950X
16C
32T
3.5
4.7
8 MB
64 MB
16+4+4
1+2
105W
$749
Ryzen 9
3900X
12C
24T
3.8
4.6
6 MB
64 MB
16+4+4
1+2
105W
$499
Ryzen 7
3800X
8C
16T
3.9
4.5
4 MB
32 MB
16+4+4
1+1
105W
$399
Ryzen 7
3700X
8C
16T
3.6
4.4
4 MB
32 MB
16+4+4
1+1
65W
$329
Ryzen 5
3600X
6C
12T
3.8
4.4
3 MB
32 MB
16+4+4
1+1
95W
$249
Ryzen 5
3600
6C
12T
3.6
4.2
3 MB
32 MB
16+4+4
1+1
65W
$199
AMD is launching 5 different SKUs today, with the 16-core Ryzen 9 3950X set to follow sometime in September. For today's launch AMD sampled the R9 3900X and R7 3700X, and we took them for a ride in the limited time we had with them, covering as much as we could.
Starting at the top we have the Ryzen 3900X, which is a 12-core design. In fact it's the first 12-core processor in a standard desktop socket, and it rather unique within AMD's product stack because it is currently the only SKU which takes full advantage of AMD's newest chiplet architecture. Whereas all the other Ryzen parts are comprised of two chiplets – the base I/O die and a single CPU chiplet – 3900X comes with two such CPU chiplets, granting it (some of) the extra cores and the 64MB of L3 cache that entails.
Interestingly, while AMD has increased the core-count by 50% over its previous flagship processor, it has managed to keep the TDP to the same 105W as on the Ryzen 2700X. On top of this, the chip clocks in 300MHz faster than the predecessor in terms of boost clock, now reaching 4.6GHz; even the base clock has been increased by 100MHz, coming in at 3.8GHz. The big question then, is whether the new 7nm process node and Zen 2 are really this efficient, or should we be expecting more elevated power numbers?
Meanwhile our second chip of the day is the new Ryzen 3700X, which is configured and positioned as a particularly efficient model. With a boost clock of 4.4GHz and a base clock of 3.6GHz, the part should still be notably faster than the Ryzen 2700X, yet AMD has managed to make this a 65W TDP part which is going to make for some interesting analysis.
Continued Execution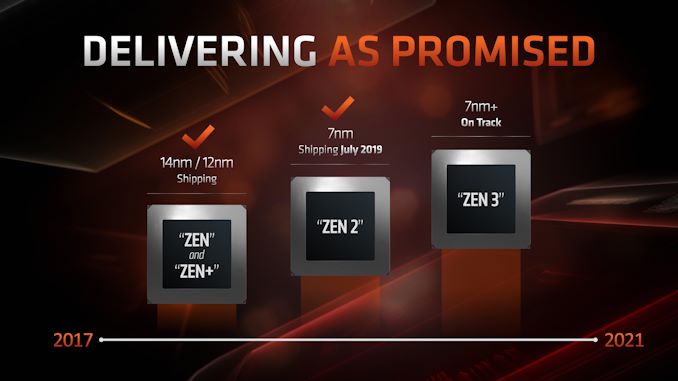 Today's Zen 2 and Ryzen 3000 launch is another step forward on AMD's roadmap. The company has been working on a very ambitious development roadmap for their CPU designs, and Zen 2 is the company's first chance to flex their muscles and do a full iteration on their CPU core design.
Executing on this roadmap has been important for AMD both because it's helped them close the performance gap with Intel, and because it's helped to prove to customers (particularly hyperscalers and enterprises) that Zen wasn't a fluke, and that the company can reliably continue to improve its technology. This is especially noteworthy because while rival Intel hasn't been standing still, all of Intel's desktop technology for the last 3 years has been based on the same Skylake core architecture and variations on Intel's exceptional-for-the-time 14nm process. This will eventually change, as Intel gets their desktop house in order for 2020, but right now AMD is moving forward when Intel can not, allowing AMD to take full advantage of Intel's run of bad luck and wooing customers in the process.
And of course, AMD isn't done here. For the company's engineers, today's chips are last year's work, and the company is working on the next generation Zen 3 core. Zen 3 is still a full generation away – and today is all about Zen 2 – but AMD is making it clear that Zen 2 isn't the end of the road either, and that they are working to further improve their CPU microarchitecture and overall platform.
Large Performance Boosts, Particularly for Gaming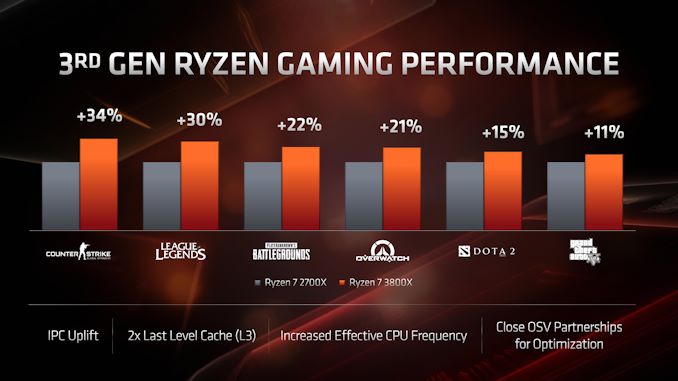 The 3rd gen Ryzen processors promise to bring some notably large performance improvements for users. The Zen 2 core microarchitecture is said to bring over 10% IPC improvements; this together with the higher clockspeeds should make for some solid generational improvements in a lot of workloads. For gaming in particular, AMD claims that we should be seeing some large improvements – the doubled size of the L3 cache is said to have made a notable mark on a lot of gaming titles, with AMD claiming ~20% to even ~30% improvements in some titles when compared to the last generation Ryzen 2700X.
The Ryzen 3000 Competition: Intel's Coffee Lake Refresh
Positioning the Ryzen 3000 series against Intel's line-up is a matter of both performance as well as price. AMD had already made comparisons between the new SKUs and Intel's counterparts back at Computex, where we saw comparisons between similarly priced units. According to the company, even Intel's pricey Skylake high-end desktop (HEDT) processor, the Core i9-9920X, isn't entirely out of the line of fire of the Ryzen 3900X.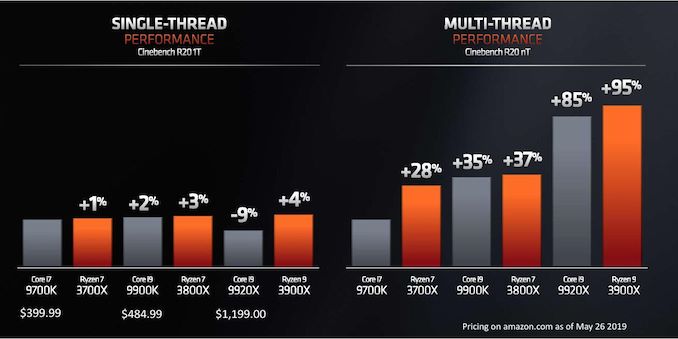 As a quick recap to where things stand, compared to its immediate predecessor, Intel's Coffee Lake Refresh received quite a bump in terms of both clock frequencies as well core counts. This allowed Intel to erase any Ryzen 2000 series lead in multi-threaded performance, all the while still maintaining a comfortable lead in single-threaded performance.
Against the Ryzen 3000 series, the Intel line-up will seemingly no longer have an IPC lead. AMD hasn't been in such a situation since the Athlon 64 days well over 15 years ago, which is a remarkable turn of events. But with that said, make no mistake: IPC is just one half of the equation for single-threaded performance, and the other is raw frequency, and the Intel line-up still has a notable advantage thanks to its peak frequencies of up to 5GHz. So taking over Intel's single-threaded performance lead (at least on a consistent basis) is a tall order for the Ryzen 3000 series.
Comparison: Ryzen 9 3900X vs Core i9-9900K
AMD
Ryzen 9 3900X
Features
Intel
Core i9-9900K
12 / 24
Cores/Threads
8 / 16
3.8 / 4.6 GHz
Base/Turbo
3.6 / 5.0 GHz
16 (Free) + 4 (NVMe)
PCIe 4.0 Lanes
16 (Free) Gen 3.0
(No Gen 4.0)
512 KB/core
L2 Cache
256 KB/core
4x 16 MB
64 MB total
L3 Cache
16 MB
105 W
TDP
95 W
$499


(cooler included)

Price (List)
$484
(no cooler)
Taking a look at chip pricing and positioning then, the big flagship fight among desktop processors is going to be between the Ryzen 3900X at $499, and the i9-9900K at $484. Both of which happen to be the highest-end SKUs of their respective mainstream desktop computing platforms. It's to remembered that the AMD CPUs come with a good cooler included, while Intel's options don't include one, meaning one would have to spend extra in order to get the Intel system running.
Here AMD should have a significant lead in terms of the multi-threaded performance of the new Ryzen 9 series as it's able to employ 50% more cores than Intel, all while promising to remain in a similar TDP range of 105W vs 95W. We still expect the 9900K to win some workloads which are more lightly threaded simply due to Intel's clock frequency lead, however this is something we'll investigate more in detail in the coming benchmark analysis.
Comparison: Ryzen 7 3700X vs Core i7-9700K
AMD
Ryzen 7 3700X
Features
Intel
Core i7-9700K
8 / 16
Cores/Threads
8 / 8
3.6 / 4.4 GHz
Base/Turbo
3.6 / 4.9 GHz
16 (Free) + 4 (NVMe)
PCIe 4.0 Lanes
16 (Free) Gen 3.0
(No Gen 4.0)
512 KB/core
L2 Cache
256 KB/core
2x 16 MB
32MB total
L3 Cache
12 MB
65 W
TDP
95 W
$329
(cooler included)
Price (List)
$385


​(no cooler)
The Ryzen 7 3700X is an interesting SKU. With only one populated CPU chiplet, the unit has half the available L3 cache versus the Ryzen 9 3900X. But it also has all the CPU cores within its one chiplet active. In theory this does mean that the CPU cores have less overall L3 cache available to them, as they have to share it with an additional core within their respective CCXs.
With a 3.6GHz/4.4Ghz base/boost clock configuration, we expect the 3700X to outperform the previous generation 2700X in all scenarios. The competition here based on pricing is the Core i7-9700K. Intel again should have a single-threaded performance advantage thanks to its 500 MHz higher clocks – but we'll have to see how both chips match up in daily workloads.
The Zen 2 µarch Overview: Read Our Dedicated Article
We've already posted a microarchitecture overview and analysis of the Zen 2 microarchitecture following our Tech Day briefings in June, so be sure to read the piece in preparation for further testing analysis in our review today: