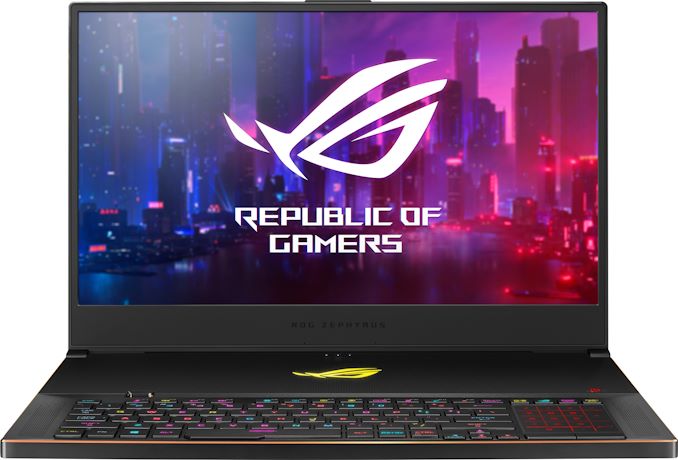 ASUS has been at the forefront of using displays with extreme refresh rates with its ROG-series gaming laptops. The company was the first to launch notebooks with a 120 Hz LCD in 2016, was the first to release a mobile PC with a 144 Hz monitor, and then the first to produce a laptop with a 240 Hz earlier this year. At IFA, the company is demonstrating the industry's first laptops featuring a display with a 300 Hz refresh rate.
Designed specifically for hardcore gamers and esports professionals on the go, the ASUS ROG Zephyrus S GX701 will be the world's first notebook with a display supporting up to 300 Hz refresh rate and a 3 ms GtG response time. This machine will be available already in October, 2019. In addition, similar LCDs with a 300 Hz refresh rate and a 3 ms GtG response time will be featured on a prototype ROG Zephyrus S GX502 as well as on the 15-inch and 17-inch models of the ROG Strix Scar III.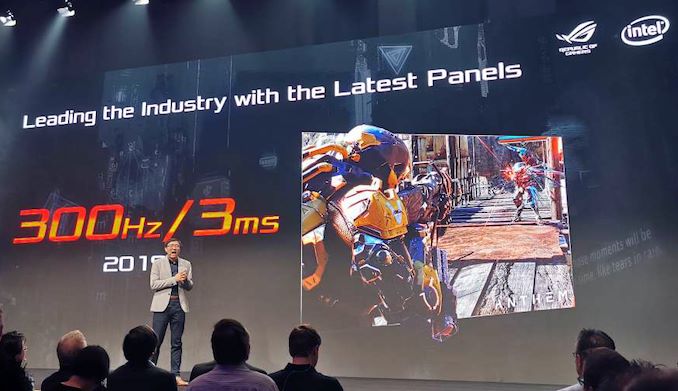 ASUS does not disclose the maker of its 300 Hz/3 ms display panels, though it is highly likely that the company uses panels with a 240 Hz native refresh rate in overdrive mode. What is noteworthy is that production 240 Hz ROG Zephyrus S GX701 and ROG Zephyrus S GX502 will feature factory-calibrated displays with Pantone Validation, so in addition to gamers, these machines will also be appreciated by professionals who use color-critical applications.
When it comes to other hardware used by the forthcoming 300 Hz laptops and other premium mobile gaming PCs from ASUS, the company says that the flagship ROG Zephyrus S GX701 will come with NVIDIA's GeForce RTX 2080 GPU clocked up to 1230 MHz at 100W in Turbo mode. Meanwhile, on display will be prototyes of the ROG Zephyrus S GX502 as well as the 15-inch and 17-inch flavors of the Strix Scar III with the 300 Hz display which will use NVIDIA's GeForce RTX 2070 GPU with up to 1540 MHz GPU clock at 115W in Turbo mode. Given usage of NVIDIA's graphics processors, the laptops will also support G-Sync variable refresh rate. As these are just prototypes, it will be interesting to see if these make it to market.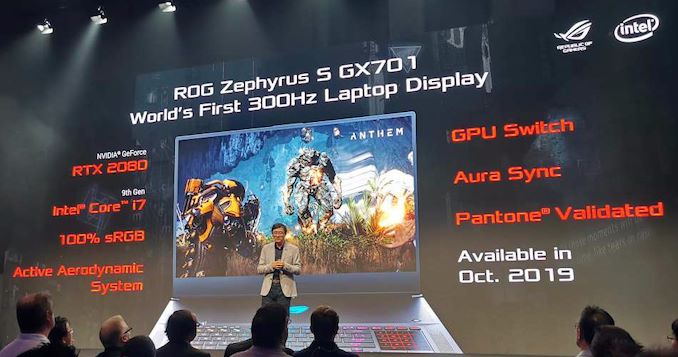 As for other specifications of the new ROG Zephyrus S-series laptops will pack up to Intel's six-core Core i7-9750H processor accompanied by up to 32 GB of DDR4-2666 as well as an NVMe solid-state storage subsystem. Other specifications will be disclosed at a later date, but it is safe to assume that top-of-the-range SKUs will use premium components. Prices will depend on exact configurations.
The ASUS ROG Zephyrus S GX701, asthe industry's first laptop featuring a 300 Hz monitor, will be available this October, in time for holiday season. The manuacturer promises that similar 300 Hz panels will be available on other ROG machines in 2020.
Related Reading
Source: ASUS