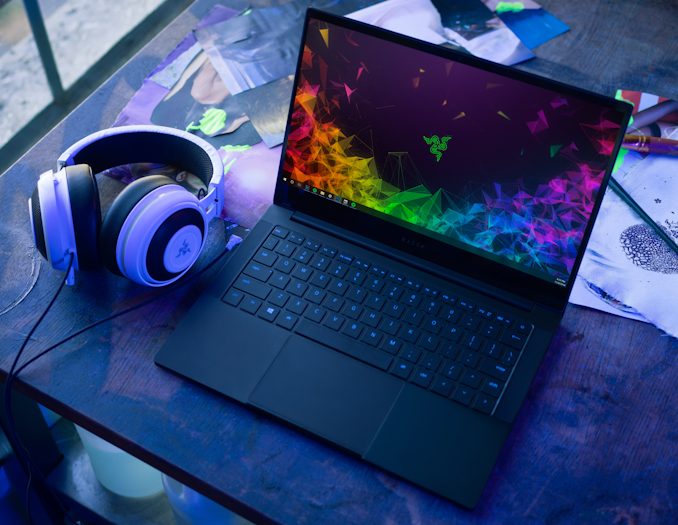 Razer on Wednesday has unveiled its new Blade Stealth laptops that are based on Intel's 10th Generation Core processors codenamed Ice Lake paired with NVIDIA's GeForce GTX discrete graphics. The new machines are slightly less compact than their predecessors, yet they offer considerably higher performance in games. In addition, the company introduced its Mercury White laptop that does not have a dGPU, but offers a longer battery life.
UPDATE 9/6: Intel notified us that Razer's new Blade Stealth has not been certified by Intel for Project Athena compliancy.

Razer's Blade Stealth laptops have come a long way. Originally introduced as ultra-thin notebooks with integrated graphics, they needed an external Thunderbolt 3 GPU to offer decent performance in games. By contrast, the latest Blade Stealth machines integrate a sophisticated discrete GPU to provide good performance out-of-the-box. The new 2019 Blade Stealth laptop is powered by Intel's quad-core Ice Lake Core i7-1065G7 CPU that is accompanied by NVIDIA's GeForce GTX 1650 graphics processor with 4 GB of GDDR5 memory. The systems also feature 16 GB of LPDDR4-3733 memory as well as a 256 GB or 512 GB M.2 PCIe 3.0 x4 SSD.
Usage of Intel's codenamed Ice Lake processor and other advanced components enable the new Razer Blade Stealth to comply with Intel's requirements for Project Athena laptops. However, at press time the new laptop is yet to receive approval from Intel.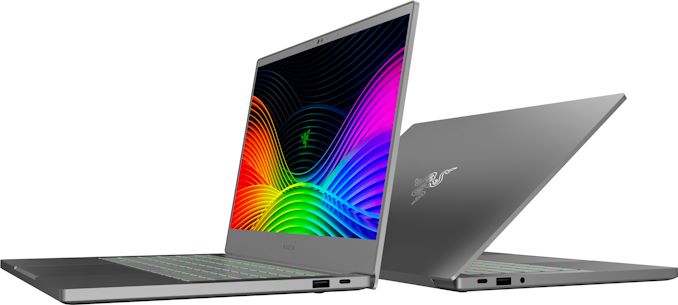 All of Razer's latest Blade Stealth notebooks come with a 13.3-inch displays featuring a 1920×1080 or 3840×2160 resolution depending on the SKU. Meanwhile, the 4K Ultra-HD panel covers 100% of the sRGB and AdobeRGB color gamut and come factory-calibrated, so the UHD models are positioned for professionals needing a decent monitor rather than for mobile gamers.
Meanwhile, in a bid to integrate NVIDIA's GeForce GTX 1650 GPU into a 13.3-inch chassis, Razer had to increase its thickness by 0.5 mm as well as to install a new advanced cooling system that adds 100 grams to its weight (vs. previous generation). Traditionally, Blade Stealth machines use a CNC-milled aluminum chassis with a black anodized finish.
In addition, the new Blade Stealth is available without a dGPU, and comes in a Mercury White chassis.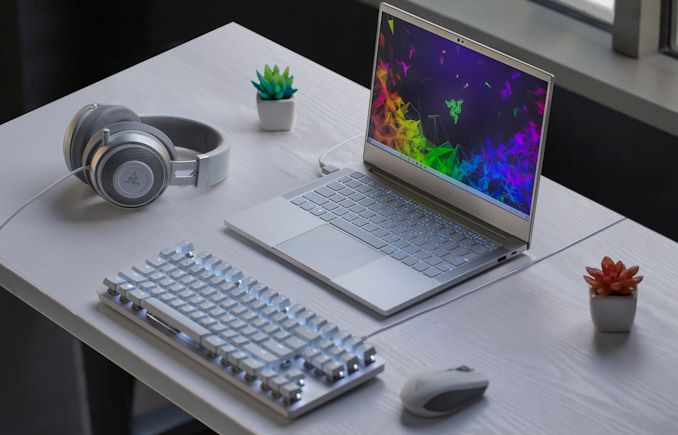 When it comes to wireless connectivity, the 2019 Razer Blade Stealth comes with Intel's Wireless-AX201 Wi-Fi + Bluetooth 5.0 solution that supports Gbps speeds over 160 MHz channels. The wired I/O department includes a Thunderbolt 3 port, two USB 3.0 Type-A ports, and one USB 3.1 Gen 2 Type-C port. As for other features, the laptop has an RGB-backlit Razer Chroma keyboard, a sizeable trackpad, a 720p webcam with IR sensors for Windows Hello, four stereo speakers with Dolby Atmos support, and a 3.5-mm audio connector.
Razer Blade Stealth Laptops: Fall 2018 vs Fall 2019 Models
13.3"/FHD
Base


2018
13.3"/FHD
Graphics


2018
13.3"/UHD
Graphics 4K

2018
13.3"
Mercury White

2019
13.3"/FHD
w. GTX


2019
13.3"/UHD
w. GTX


2019
Display
Diagonal
13.3"
Resolution
1920×1080
3840×2160
1920×1080
3840×2160
Brightness
400+ cd/m²
?
?
?
Color Gamut
100% sRGB
100% AdobeRGB
?
?
100% sRGB
100% AdobeRGB
Bezels
?
4.9 mm
CPU
Core i7-8565U
4C/8T
1.8 - 4.6 GHz
8 MB LLC
15 W
Core i7-1065G7
4C/8T
1.3 - 3.9 GHz
8 MB LLC
15 W
Graphics
Intel UHD Graphics 620
NVIDIA GeForce MX150 (25 W) with 4 GB
Intel Iris Plus
NVIDIA
GeForce GTX 1650
4 GB GDDR5
RAM
Capacity
8 GB
16 GB
16 GB
Type
LPDDR3-2133
LPDDR4-3733
Storage
256 GB M.2 SATA SSD
256 GB M.2 PCIe SSD
512 GB M.2 PCIe SSD
256 GB
M.2 PCIe
SSD
512 GB M.2 PCIe SSD
Wi-Fi
Intel Wireless-AC 9560 (IEEE 802.11ac)
Intel Wireless-AX 201
Bluetooth
5.0
5.0
USB
2 × USB 3.1 Gen 1 Type-A
1 × USB 3.1 Gen 2 Type-C
Thunderbolt
1 × Thunderbolt 3 port (USB Type-C)
Other I/O
720p webcam with IR for Windows Hello, TRRS connector for audio, four speakers with Dolby Atmos, microphone
Dimensions
Height
14.8 mm | 0.58 inches
15.3 mm | 0.6 inches
Width
304.6 mm | 11.99 inches
Depth
210 mm | 8.27 inches
Weight
1.28 kg
2.82 lbs
1.31 kg
2.89 lbs
1.38 kg
3.04 lbs
1.36 kg
2.99 lbs
1.42 kg
3.13 lbs
1.48 kg
3.26 lbs
Battery Life
Capacity
53.1 Wh
53.1 Wh
Life
13 hours
?
?
?
?
?
Launch Price
$1,399
$1,599
$1,899
$1,499
?
?
Razer's 2019 Blade Stealth laptops will be available at the end of September 2019 from Razer.com and select retailers in the United States and Canada starting at $1,499.99/ €1,679.99. Later on, the new notebooks will come to the UK, France, Germany, Nordics, China, Australia, Hong Kong, Japan, Singapore, and Taiwan
Dimensions and Weight of Razer's Blade Stealth Laptops:
Fall 2018 vs Fall 2019 Models
13.3"/FHD
Base


2018
13.3"/FHD
Graphics


2018
13.3"/UHD
Graphics 4K

2018
13.3"
Mercury White

2019
13.3"/FHD
w. GTX


2019
13.3"/UHD
w. GTX


2019
Dimensions
Height
14.8 mm | 0.58 inches
15.3 mm | 0.6 inches
Width
304.6 mm | 11.99 inches
Depth
210 mm | 8.27 inches
Weight
1.28 kg
2.82 lbs
1.31 kg
2.89 lbs
1.38 kg
3.04 lbs
1.36 kg
2.99 lbs
1.42 kg
3.13 lbs
1.48 kg
3.26 lbs
Related Reading:
Source: Razer