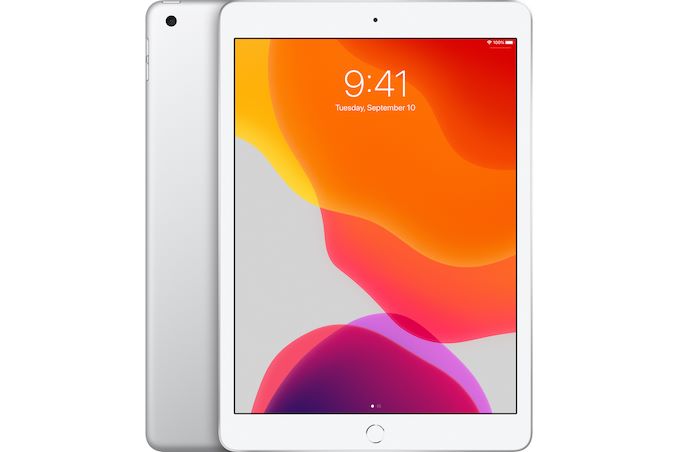 As part of today's fall keynote presentation for mobile devices, Apple took the wraps off of the latest iteration of their entry-level iPad. Now entering its 7th generation, the new iPad continues to retain most of the classic tablet's design elements and features, however strictly speaking, Apple has finally moved past the tablet's classic 9.7-inch size. As part of an effort to align the entry-level iPad with Apple's higher-end iPad Air, the company has ever so slightly enlarged the tablet, with the latest model filling out to 10.2 inches diagonal.
Size increases aside, however, the latest iPad still takes up the same spot within Apple's lineup as the previous iPad model. With Apple holding to the $329 retail price for the base 32 GB model ($299 education), this is Apple's entry-level iPad, optimized for content consumption and some very light content creation. The latter, in turn, actually gets a small boost in this generation, with the addition of Apple's Smart Connector, allowing the tablet to be used with Apple's matching Smart Keyboard.
Apple iPad Comparison
iPad Air
(2019)
iPad 7th Gen
(2019)
iPad 6th Gen
(2018)
SoC
Apple A12 Bionic
2x Vortex
4x Tempest

4-core "G11P" GPU
Apple A10
2x Apple Hurricane
4x Apple Zephyr

6 Core PowerVR GPU
Display
10.5-inch
2224x1668
IPS LCD
DCI-P3/True Tone
500 Nits Brightness
Fully Laminated
10.2-inch
2160x1620
IPS LCD
500 Nits Brightness
9.7-inch
2048x1536
IPS LCD
Size
Height
250.6 mm
250.6 mm
240 mm
Width
174.1 mm
174.1 mm
169.5 mm
Depth
6.1 mm
7.5 mm
7.5 mm
Weight
456 grams (Wi-Fi)
483 grams (Wi-Fi)
469 grams (Wi-Fi)
RAM
3GB LPDDR4X
2GB? LPDDR4
2GB LPDDR4
NAND
64GB / 256GB
32GB / 128GB
Battery
30.2 Wh
32.4 Wh
Front Camera
7MP, f/2.2
HDR, WCG
Retina Flash
1.2MP, f/2.2
HDR
Retina Flash
Rear Camera
8MP, f/2.4, AF
HDR, WCG
8MP, f/2.4, AF
HDR
Cellular
Gigabit-class LTE-A
2G / 3G / 4G LTE
SIM Size
NanoSIM + eSIM
NanoSIM
Wireless
802.11a/b/g/n/ac 2x2 MIMO
BT 5.0
802.11a/b/g/n/ac 2x2 MIMO
BT 4.2
Connectivity
USB-C
Apple Smart Connector
Lightning
Apple Smart Connector
Lightning
Launch OS
iOS 12
iOS 13
iOS 11
Launch Price
(Wi-Fi / Cellular)

$499/$629 (64G)
$649/$779 (256G)
(Wi-Fi / Cellular)

$329/$459 (32G)
$429/$559 (128G)
(Wi-Fi / Cellular)

$329/$459 (32G)
$429/$559 (128G)
In the case of the 7th generation iPad, taking a quick look at the specs actually tells us most of what we need to know about Apple's new tablet. In short, Apple has made the tablet a bit larger than its predecessor, but little else. Based upon the same A10 SoC, same 32.4 Watt-hour battery, and the same camera modules, there's not a whole lot new for the new iPad beyond its size. So by and large, the 7th generation iPad is pretty much a side-grade to the previous iPad.
The important part for Apple here is that the latest model of the tablet, besides being a bit larger overall – with size continuing to be important to consumers – is that this aligns the design of the iPad with the new iPad Air (again). Specifically, the 7th generation iPad gets the same 250.6mm x 174.1mm footprint as Apple's higher-end tablet. This means that the two tablets can share a lot of accessories that are designed to match the size of a tablet – case in point, Apple's Smart Keyboard, which fits both the iPad and the iPad Air. The iPad is still a good 23% thicker, so cases and the like will still need to take this into account, but it means the iPad Air is no longer alone with its slightly enlarged footprint.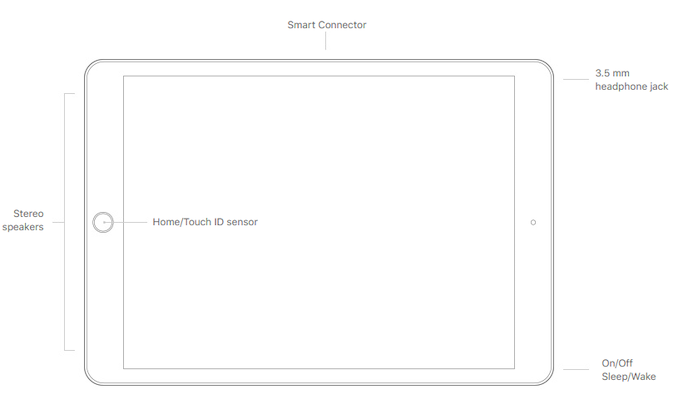 Blowing up the tablet also means that Apple has moved on to a slightly larger display panel. Owing to its thicker bezels, the 7th gen iPad doesn't get the same 10.5-inch screen as the iPad Air, but rather it gets a 10.2-inch IPS LCD. Apple has opted to retain their same "retina" PPI of 264, so as a result the resolution on the new iPad is just a bit higher, shifting up to 2160x1620, still following the classic 4:3 aspect ratio. Meanwhile, the new iPad is also the first time Apple's entry-level tablet is getting an official brightness rating, with Apple rating it for 500 nits, the same as the iPad Air. It should be noted, however, that this is as far as the iPad goes; the Air retains other advantages such as the laminated panel and wide color gamut.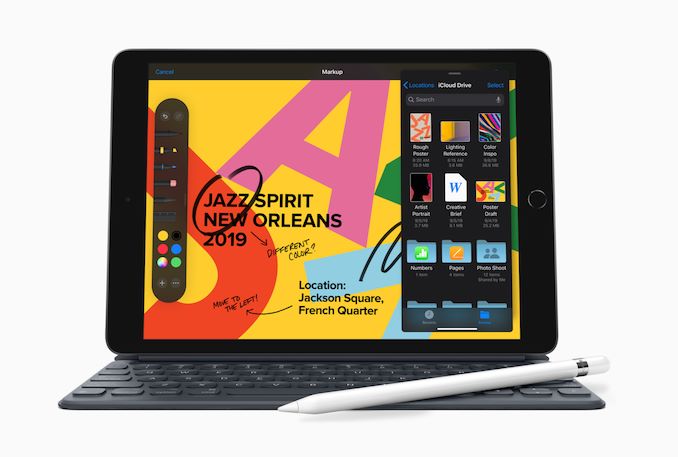 As this is an entry-level iPad, there isn't much in terms of frills to talk about from a feature perspective. Apple has retained the use of the Touch ID-equipped home button, and the 3.5mm jack has thankfully not been excised from this model. Meanwhile Apple's technical specifications do note that the tablet now includes a dual microphone setup to improve audio pickup, which is something that's been restricted to the Air models (classic and modern) up until now. Apple Pencil support has also returned, with the tablet continuing to support the first-gen pencil, but not the more intricate second-gen pencil used with the current iPad Pro models.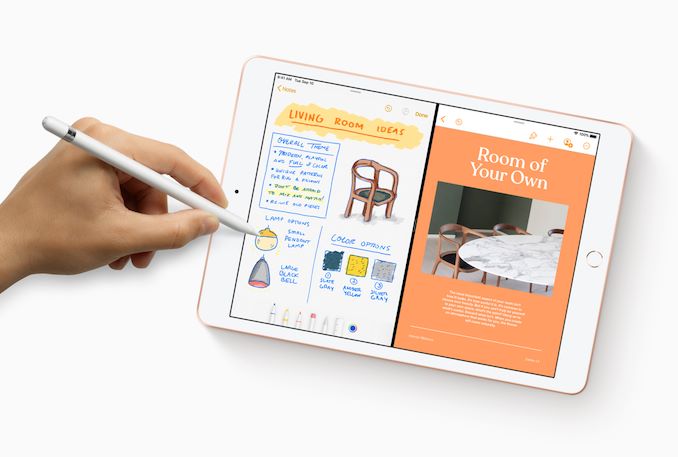 Curiously, however, Apple hasn't unified the tablet lineups in terms of I/O ports: the 7th generation iPad is still using Apple's Lightning connector, rather than the USB-C connector of the iPad Air and iPad Pro. So while many Air/Pro accessories will work with the new entry-level iPad, anything expecting that USB-C port will not. In that respect the new iPad is closer to being backwards compatible with the now legacy iPads than it is being unified with the newer models.
Rounding out the package, Apple has interestingly opted not to scale up their battery at all for the new iPad, even with its larger size. As with its predecessor, the 7th generation iPad packs in a 32.4 Wh battery, which even with the slightly larger screen, Apple is still rating as being capable of driving the tablet for up to 10 hours. Consequently, while this is technical minutiae that Apple will never get in to, I'm curious whether Apple has even changed parts here, or if they're still using the exact same battery as the 6th gen iPad as a means to keep down costs.
Unfortunately, the newest iPad isn't going to do anything about improving the tablet's performance, as Apple is once again using the A10 SoC, first introduced for the iPhone 7. Though by no means a slouch, A10 is among Apple's older SoCs – the company only supports iPads and iPhones going back to the A9 – and as a result it comes with the same basic image processing and Wi-Fi capabilities as the earlier iPad. And, while Apple doesn't disclose memory capacity, because of the Package-on-Package nature of the A10's memory, the SoC is almost certainly still the same 2GB version as before.
Last but not least, however, the new iPad does get a small boost to its cellular capabilities. The 7tn generation iPad seems to be borrowing from the iPad Air here once again, incorporating a similar "Gigabit-class" LTE radio, which will allow for faster transfer speeds than the older iPad's sub-Gigabit radio. And on a technical note, like the iPad Air, Apple has done away with CDMA support for the new iPad; now it's solely GSM/UMTS/LTE, meaning that in the unlikely event it falls back from 4G LTE, the iPad can't use Verizon and Sprint's 3G CDMA networks.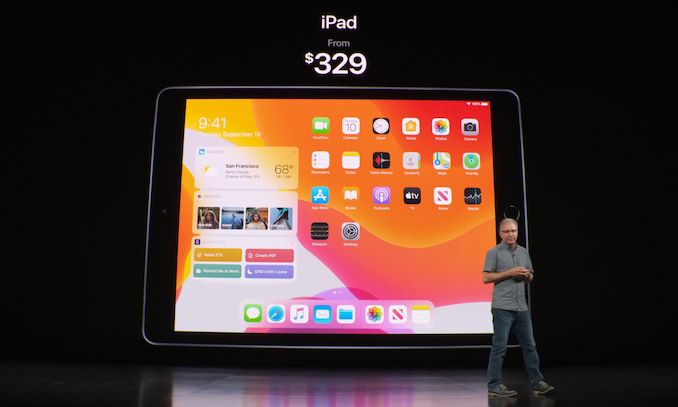 Wrapping things up, the 7th generation iPad will come in Apple's usual mix of colors, capacities, and Wi-Fi/Cellular feature sets. The lineup will continue to start at $329 for the base-model 32GB Wi-Fi version, while an upgrade to 128GB of storage will cost another $100, and adding cellular is a $130 upgrade. Apple will begin selling the tablets shortly after the new iPhone 11 series goes on sale, with the iPad set to being shipping on September 30th.