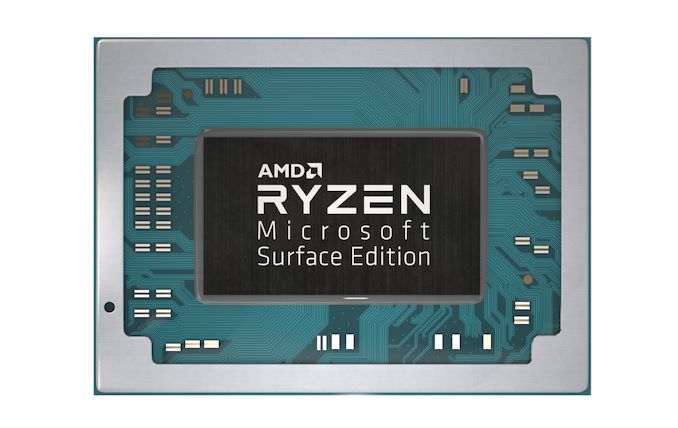 One of the key takeaways from Microsoft's launch this week was that the company was spreading its wings with devices made by all three major SoC vendors: Intel, AMD, and Qualcomm. Both the AMD and Qualcomm design wins are especially important given that these companies did not traditionally have a foothold in this space. Both companies showcased unique silicon for Microsoft, with AMD's Ryzen Microsoft Surface Edition going into the consumer-grade Surface Laptop 3, and Qualcomm's Snapdragon SQ1 in the Surface Pro X. We sat down with AMD to better understand this partnership.
Just to cover the announcement made at Microsoft's Event: the Surface Laptop 3 from AMD will be a 15-inch laptop design focused at the consumer market (compared to the Ice Lake version for businesses). It features a quad-core Zen+ 12nm APU with up to 11 compute units of Vega graphics within a standard 15W TDP design: this is unique as no other Ryzen Mobile processor offers 11 compute units at 15 watts. The 15-inch 2496x1664 display has an odd resolution, but focuses on the 3:2 aspect ratio that Microsoft likes and supports 10-point multi-touch and pen support. The AMD version will be offered with up to 32 GB of DDR4-2400 memory and 512GB/1TB of NVMe storage, and vary in price from $1199 (Ryzen 5, 8GB, 128GB) up to $2799 (Ryzen 7, 32GB, 1TB). This means that the Surface Laptop 3 should be a good fit for some mainstream gaming and performance workloads.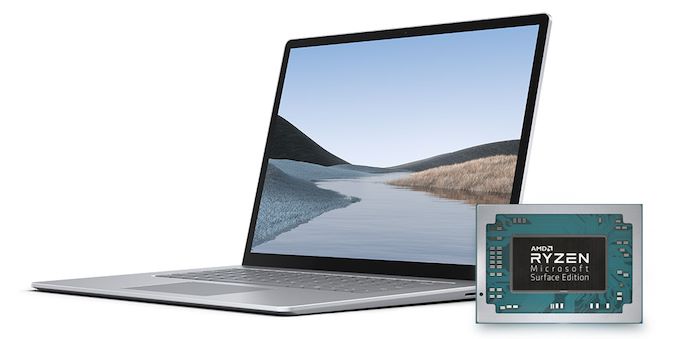 Jack Huynh, Corporate VP and GM of the Semi-Custom Group at AMD, and Sebastien Nussbaum, CVP and Senior Fellow at AMD, took time to speak with us over the phone about the relationship between AMD and Microsoft. Unfortunately the call recording failed, and so here is a summary of the key insights.
Firstly, AMD and Microsoft are not just doing a single generation of hardware. In our call we were told that both companies are looking at the next generation of product for this market. Up until this point we were told that his was a 'multi-year partnership', but AMD's commentary clarified that the collaboration is going to be over multiple generations of hardware and products. Given what we know about AMD's product cycle time as well as Microsoft's, we could envisage the next generation being built upon a Zen 2 design with something RDNA related – AMD is expected to release Renoir next year, which might be a push in this direction.
A number of comments was made to the effect of Microsoft using one of AMD's 12nm Zen+ Ryzen Mobile processors, rather than something built with the higher performance Zen2 microarchitecture on 7nm, which would have afforded power gains. AMD explained that this sort of device has a long design cycle, and as a result when AMD and Microsoft began collaborating on an AMD based Surface device, there was a certain degree of co-design and co-optimization that had to happen 24 months ago, and then intercept at the right time for both companies. To that end, the current Ryzen Mobile platform built on 12nm Zen+ with Vega (or, 'Picasso') was the right part.
Both Jack and Sebastien talked at length about how the Surface Laptop 3 was co-engineered between AMD and Microsoft. The CPU at the heart of the machine is described as being semi-custom, which is a term whose meaning is different depending to who you speak to. Here are some possible definitions:
Same silicon, but different binning (TDP, frequency, cores) for a single customer
New silicon, for a single customer
In either case, semi-custom designs are often for single customer use. When Intel states that half of their Xeon Scalable sales last year were 'semi-custom' designs, they are invoking the first definition: they take a standard Xeon design and through binning give the customer a set of frequencies and power consumption numbers that they want. When we talk about AMD's work in consoles, we typically talk about the second definition: unique silicon built for that specific customer. For the Ryzen Surface Edition, it's more of the former, but not just that.
What Jack and Sebastien explained to me is that these definitions are limited, focusing on hardware only. A lot of what AMD's semi-custom group do behind the scenes relates to firmware, software, security, and drivers: sometimes all a customer needs is a unique firmware stack, and that goes through the semi-custom arm of the business. In this case, the silicon inside the Surface Laptop 3 isn't new: it is still the same Zen+ 12nm Ryzen silicon we see in other Ryzen notebooks today, however it has been binned specifically with 11 compute units at 15W, rather than what we see in the market today: 10 compute units at 15W or 11 compute units at 35W. On top of that, Microsoft gets a great deal of care and attention with the design to ensure that the firmware, security, drivers, and software meet expectations.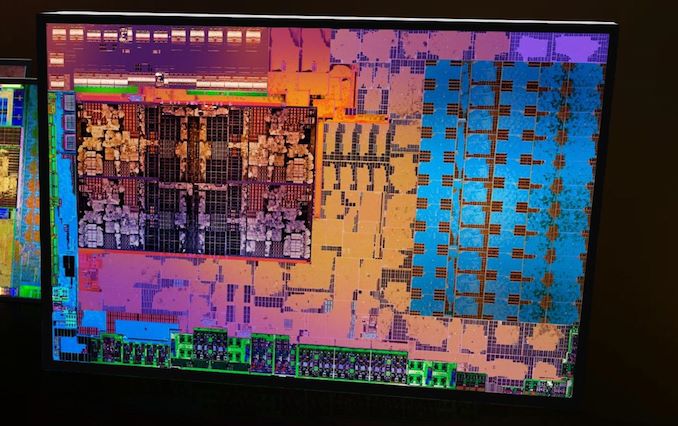 AMD and Microsoft already have a strong semi-custom relationship due to the console development strategy behind Xbox. This means that with the list of custom requirements that Microsoft has, they can approach AMD early to get everything implemented in the silicon design. That relationship, we were told, was leveraged in the Surface Laptop 3. Both Jack and Sebastien cited their strong work with the Xbox platform security, and how the principles that the two companies have learned from that relationship have made it into the Surface Laptop 3. On top of that, specific requirements that Microsoft has in terms of voltage and frequency control, along with accelerator optimization, are also open to them, which might not be to other OEMs buying off-the-shelf parts. AMD explained that one of the things they did extra work for with Microsoft was with the power delivery and frequency response of the system, to give more control to the OS in a CPPC2 like fashion – exactly what extra controls MS has over the standard CPPC2 API isn't clear at this point, and AMD is unlikely to say except that MS has a lot of control. AMD did state that features like modern standby, 10-point touch, and the responsiveness needed involved work from both teams to ensure the best user experience possible.
When asked if Microsoft has full access and audit control of AMD's firmware, driver, and software stack, the answer was 'in a sense'. That isn't a full yes, but AMD explained that because the relationship between the two companies is deep even at the silicon planning stage, both AMD and Microsoft have direct input into the firmware and driver stack from day one. This means that there will be some proprietary bits that Microsoft might not see, but it all has to be passed by the Microsoft teams at every stage. AMD explained that the security throughout the chip, on every microcontroller is certified and signed at a Microsoft level, in a way to help mitigate against future attacks. We were told that alongside employee-to-employee messages, AMD and Microsoft teams meet on a weekly basis to discuss developments, updates, and future security.
AMD did state that of all the work that has gone into the Surface Laptop 3 co-design, around 50-70% is going to directly benefit the state of other Ryzen Mobile hardware in the ecosystem. There are some unique secret sauce things that Microsoft has due to the way the co-engineering happened, but it does mean that the Ryzen Mobile system (both current and future) will benefit on some level either through increased security, better firmware, better power/response, or improved driver stacks.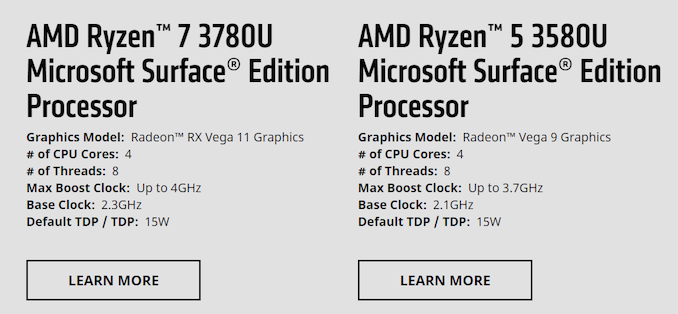 One question we posed to AMD's team was the 1.2-1.3 TeraFLOPs number being attached to the Surface Laptop 3. It was being touted as equivalent to the current Xbox on the market, however we can do the calculation that says the Ryzen 7 3780U, with 11 CUs at 1.4 GHz, actually achieves 1.8 TF. AMD stated that 1.8 TF is a theoretical 32-bit peak value, whereas the 1.2-1.3 TF value being quoted is more of an actual sustained throughput of the machine. They went on to say that this is the 32-bit FP throughput: the Surface can support FP16 calculations which actually adds another 70% or so to this value, which can improve gaming performance above the console level.
Overall, AMD was quite humble about the fact that they had put a lot of time and effort into the co-design of the Surface Laptop 3. They stated that they weren't concerned with the performance of the Intel version, but focused on making the AMD version the best iteration that a 15-inch Ryzen Mobile laptop could be. When asked if this is the ultimate Ryzen Mobile device, we were told an emphatic 'for this class, yes'.
The three main take-aways from the call are:
Semi-custom doesn't just mean hardware, it includes software/firmware too
AMD sees the Surface Laptop 3 as the best example of Ryzen Mobile in its class
AMD and Microsoft are already working on the next one. Bring on 2020.