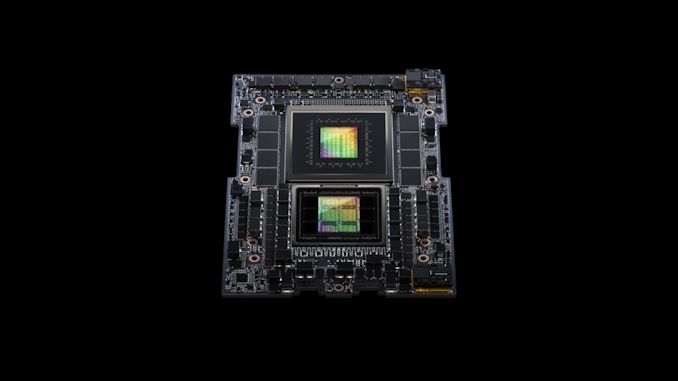 At SIGGRAPH in Los Angeles, NVIDIA unveiled a new variant of their GH200' superchip,' which is set to be the world's first GPU chip to be equipped with HBM3e memory. Designed to crunch the world's most complex generative AI workloads, the NVIDIA GH200 platform is designed to push the envelope of accelerated computing. Pooling their strengths in both the GPU space and growing efforts in the CPU space, NVIDIA is looking to deliver a semi-integrated design to conquer the highly competitive and complicated high-performance computing (HPC) market.
Although we've covered some of the finer details of NVIDIA's Grace Hopper-related announcements, including their disclosure that GH200 has entered into full production, NVIDIA's latest announcement is a new GH200 variant with HBM3e memory is coming later, in Q2 of 2024, to be exact. This is in addition to the GH200 with HBM3 already announced and is currently in production and due to land later this year. This means NVIDIA has two versions of the same product, with GH200 incorporating HBM3 incoming and GH200 with HBM3e set to come later.
NVIDIA Grace Hopper Specifications
Grace Hopper (GH200) w/HBM3
Grace Hopper (GH200) w/HBM3e
CPU Cores
72
72
CPU Architecture
Arm Neoverse V2
Arm Neoverse V2
CPU Memory Capacity
<=480GB LPDDR5X (ECC)
<=480GB LPDDR5X (ECC)
CPU Memory Bandwidth
<=512GB/sec
<=512GB/sec
GPU SMs
132
132?
GPU Tensor Cores
528
528?
GPU Architecture
Hopper
Hopper
GPU Memory Capcity
96GB (Physical)
<=96GB (Available)
144GB (Physical)
141GB (Available)
GPU Memory Bandwidth
<=4TB/sec
5TB/sec
GPU-to-CPU Interface
900GB/sec
NVLink 4
900GB/sec
NVLink 4
TDP
450W - 1000W
450W - 1000W
Manufacturing Process
TSMC 4N
TSMC 4N
Interface
Superchip
Superchip
Available
H2'2023
Q2'2024
During their keynote at SIGGRAPH 2023, President and CEO of NVIDIA, Jensen Huang, said, "To meet surging demand for generative AI, data centers require accelerated computing platforms with specialized needs." Jensen also went on to say, "The new GH200 Grace Hopper Superchip platform delivers this with exceptional memory technology and bandwidth to improve throughput, the ability to connect GPUs to aggregate performance without compromise, and a server design that can be easily deployed across the entire data center."
NVIDIA's GH200 GPU is set to be the world's first chip to ship with HBM3e memory, an updated version of the high-bandwidth memory with even greater bandwidth and, critically for NVIDIA, higher capacity 24GB stacks. This will allow NVIDIA to expand its local GPU memory from 96GB per GPU to 144GB (6 x 24GB stacks), a 50% increase that should be especially welcome for the AI market, where top models are massive in size and often memory capacity bound. In a dual configuration setup, it will be available with up to 282 GB of HBM3e memory, which NVIDIA states "delivers up to 3.5 x more memory capacity and 3 x more bandwidth than the current generation offering."
Perhaps one of the most notable details NVIDIA shares is that the incoming GH200 GPU with HBM3e is 'fully' compatible with the already announced NVIDIA MGX server specification, unveiled at Computex. This allows system manufacturers to have over 100 different variations of servers that can be deployed and is designed to offer a quick and cost-effective upgrade method.
NVIDIA claims that the GH200 GPU with HBM3e provides up to 50% faster memory performance than the current HBM3 memory and delivers up to 10 TB/s of bandwidth, with up to 5 TB/s per chip.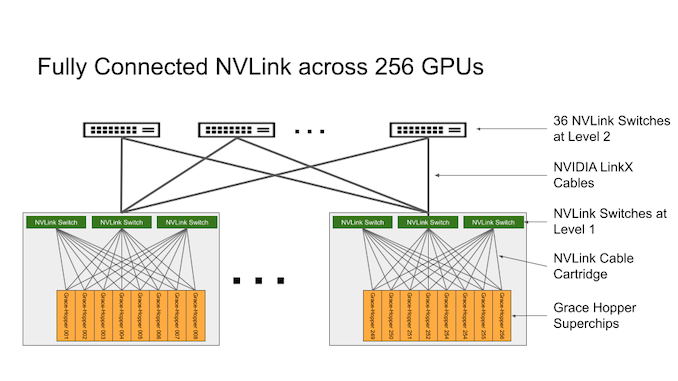 We've already covered the announced DGX GH200 AI Supercomputer built around NVIDIA's Grace Hopper platform. The DGX GH200 is a 24-rack cluster fully built on NVIDIA's architecture, with each a single DGX GH200 combining 256 chips and offering 120 TB of CPU-attached memory. These are connected using NVIDIA's NVLink, which has up to 96 local L1 switches providing immediate and instantaneous communications between GH200 blades. NVIDIA's NVLink allows the deployments to work together with a high-speed and coherent interconnect, giving the GH200 full access to CPU memory and allowing access for up to 1.2 TB of memory when in a dual configuration.
NVIDIA states that leading system manufacturers are expected to deliver GH200-based systems with HBM3e memory sometime in Q2 of 2024. It should also be noted that GH200 with HBM3 memory is currently in full production and is set to be launched by the end of this year. We expect to hear more about GH200 with HBM3e memory from NVIDIA in the coming months
Source: NVIDIA