Samsung, MemVerge, H3 Platform, and XConn have jointly unveiled their 2 TB Pooled CXL Memory System at the Flash Memory Summit. The device can be connected to up to eight hosts, allowing them to use its memory when needed. The 2 TB Pooled CXL Memory system has software enabling it to visualize, pool, tier, and dynamically allocate memory to connected hosts.
The 2 TB Pooled CXL Memory system is a 2U rack-mountable machine built by H3 with eight 256 GB Samsung CXL memory modules connected using XConn's XC50256 CXL 2.0 switch supporting 256 PCIe Gen5 lanes and 32 ports. The firmware of the 2 TB Pooled CXL Memory system allows you to connect it to up to eight hosts that can dynamically use CXL memory when they need it, thanks to software by MemVerge.
The Pooled CXL Memory system was developed to overcome limitations in memory capacity and composability in today's system architecture, which involves tight coupling between CPU and DRAM. Such architecture leads to performance challenges in highly distributed AI/ML applications, such as spilling memory to slow storage, excessive memory copying, I/O to storage, serialization/deserialization, and Out-of-Memory errors that can crash applications.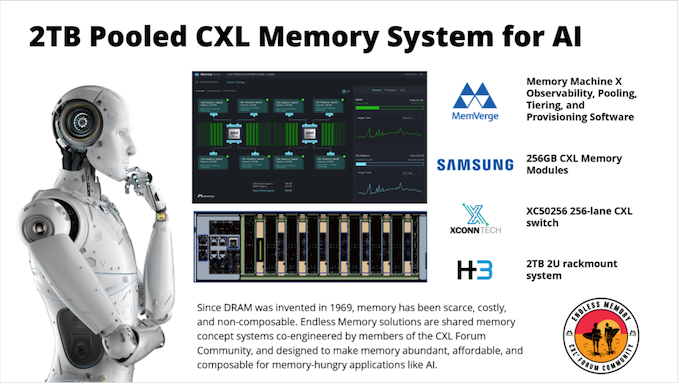 Attaching 2 TB of fast, low-latency memory using a PCIe 5.0 interface with the CXL 2.0 protocol on top to eight host systems and using it dynamically between eight hosts saves a lot of money while providing loads of performance benefits. According to companies, the initiative represents a significant step towards creating a more robust and flexible memory-centric data infrastructure for modern AI applications.
"Modern AI applications require a new memory-centric data infrastructure that can meet the performance and cost requirements of its data pipeline," said Charles Fan, CEO and co-founder of MemVerge. "Hardware and software vendors in the CXL Community are co-engineering such memory-centric solutions that will deeply impact our future."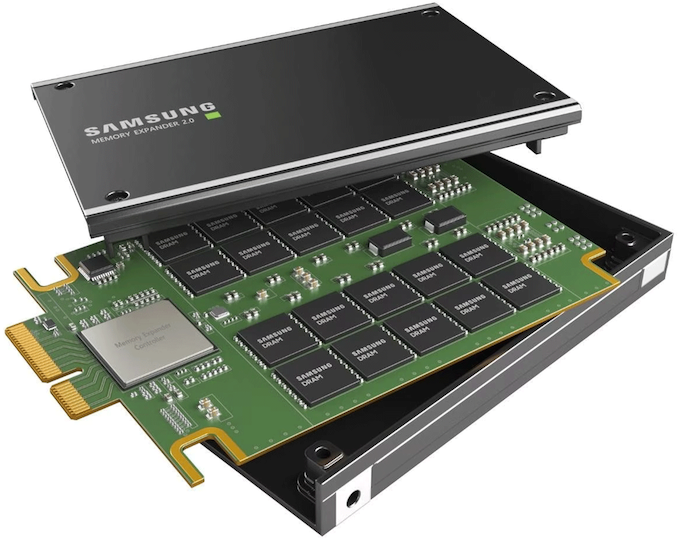 The jointly developed demonstration system can be pooled, tiered with main memory, and dynamically provisioned to applications with Memory Machine X software from MemVerge and its elastic memory service. Viewer service showcases the system's physical layout and provides a heat map indicating memory capacity and bandwidth consumption per application.
"The concept system unveiled at Flash Memory Summit is an example of how we are aggressively expanding its usage in next-generation memory architectures," said JS Choi, Vice President of New Business Planning Team at Samsung Electronics. "Samsung will continue to collaborate across the industry to develop and standardize CXL memory solutions, while fostering an increasingly solid ecosystem."
Source: MemVerge