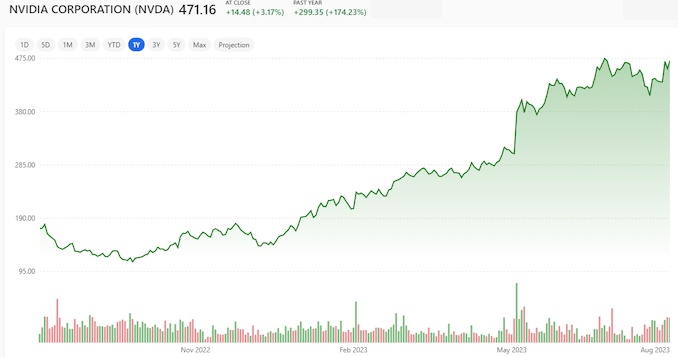 NVIDIA this afternoon has announced their results for the second quarter of their 2024 fiscal year, delivering what's arguably the most anticipated earnings report of the season. Riding high on unprecedented demand for their data center-class GPUs for use in AI systems, NVIDIA's revenues have been on a rapid rise – as well as their standing on Wall Street.
For the second quarter of their 2024 fiscal year, NVIDIA booked $13.5 billion in revenue, which is a 101% increase over the year-ago quarter. The company has, at this point, shaken off the broader slump in technology spending on the back of an explosion in demand for their data center products, and to a lesser extent the latest generation of their consumer GeForce graphics products. As a result, this is a quarter for the record books, as NVIDIA has set new records for everything from revenue to net income.
NVIDIA Q2 FY2024 Financial Results (GAAP)
Q2 FY2024
Q1 FY2024
Q2 FY2023
Q/Q
Y/Y
Revenue
$13.5B
$7.2B
$6.7B
+88%
+101%
Gross Margin
70.1%
64.6%
43.5%
+5.5ppt
+26.6ppt
Operating Income
$6.8B
$2.1B
$499M
+218%
+1263%
Net Income
$6.1B
$2.0B
$656M
+203%
+843%
EPS
$2.48
$0.82
$0.26
+202%
+854%
Driven by their highly profitable, high-margin data center products, NVIDIA achieved a GAAP gross margin of 70.1% for the quarter. Coupled with their record revenue, this has resulted in NVIDIA booking a blistering $6.1B in net income, an 843% improvement over Q2'22, and even more than trebling their net income versus just the previous quarter.
And while high margins are not unheard of for fabless semiconductor companies like NVIDIA, it's all but unheard of for a company of this scale to hit those kinds of margins. In the span of just a year, NVIDIA has gone from earning $6 billion a quarter in revenue to keeping $6 billion in revenue as profits. Suffice it to say, it's very good to be NVIDIA right now – or at least, it's good to be working in NVIDIA's data center product teams right now.
Things seem set to continue going NVIDIA's way, as well. The company, handily beating their already very bullish $11B revenue projection for Q2, is projecting a further 18%+ jump in revenue for Q3, to $16B in revenue. Which, if NVIDIA's projections pan out, would afford a 71.5% GAAP gross margin. This would set a new round of records for NVIDIA, who in just the last quarter became a trillion-dollar market capitalization company, and as of this moment is already knocking on $1.3 trillion in after-hours trading. But with lofty projections will also come lofty expectations to perform, and to maintain that kind of performance for more than a handful of quarters.
NVIDIA Market Segment Results
NVIDIA Market Platform Revenue, Q2 FY2024
Q2 FY2024
Q1 FY2024
Q2 FY2023
Q/Q
Y/Y
Data Center
$10,323M
$4,284M
$3,806M
+141%
+171%
Gaming
$2,486M
$2,240M
$2,042M
+11%
+21%
Professional Visualization
$379M
$295M
$496M
+28%
-24%
Automotive
$253M
$296M
$220M
-15%
+15%
OEM & IP
$66M
$77M
$140M
-14%
-53%
Diving into the performance of NVIDIA's individual market segments, the bellwether of NVIDIA's product portfolio remains their data center segment. That segment posted $10.3B in revenue for Q2, not just setting a new segment record, but smashing the old record in the process.
NVIDIA's data center segment has grown by leaps and bounds over the past year in particular, on the back of developments with large language models (LLMs) in the AI space, and the subsequent spike in demand for high-performance processors that can train and run those models. According to the company, the bulk of this additional demand has come from a mix of cloud service providers and consumer internet companies, with data center compute product revenue growing by 195% year-over-year. At this point NVIDIA is full speed ahead with the production of Hopper architecture (GH100) based products, and if a report from the Financial Times is correct, the company is now looking to triple its GH100 production, in anticipation of shipping over 1.5M units in 2024.
The jump in sales in their data center processors has also spurred on similar growth in NVIDIA's other data center product segments as well. Networking revenue for the company was up 94% year-over-year, as customers have been buying up increasing amounts of InfiniBand hardware to wire up their GPU installations. Unfortunately, NVIDIA doesn't provide a further breakdown here of how much of this increase is in the form of bundled sales – customers buying DGX SuperPods and other NVIDIA products that come with InfiniBand hardware installed – and how much of that is ad-hoc networking equipment sales. But either way the success of NVIDIA's data center GPUs is good news for their networking division.
But NVIDIA's success in the data center compute market also means that the company's overall revenues have become increasingly imbalanced. In the last couple of years NVIDIA has gone from being primarily a gaming company to primarily a compute company to almost entirely a compute company. NVIDIA's compute and networking segment sales – one of NVIDIA's two canonical reporting segments – now make up 77% of their overall revenue, and the disparity is increasing. So while NVIDIA is doing well on the whole, the lopsided success driven by the generative AI market means that they are, at least for the moment, not very well diversified with regards to revenue.
Speaking of things that aren't data center GPUs, NVIDIA's gaming market segment recorded $2.5B in revenue for Q2. This is up a "mere" 22% versus the year-ago quarter, coming on the back of the launch of NVIDIA's GeForce RTX 40 series products. Now that the company has finished releasing the full product stacks for both mobile and desktop, the company is enjoying a surge in sales as gamers are picking up the new hardware, and retailers have largely finished selling off old GeForce RTX 30 stock.
And while NVIDIA's gaming revenue pales in comparison to the data center, this is otherwise a good quarter for that market segment. While it does not end up being anything near a record due to the most recent cryptocurrency rush blowing up NVIDIA's gaming revenues a couple of years back, excluding those quarters, this would be one of NVIDIA's best quarters for the gaming segment on a revenue basis. Diving a bit into NVIDIA's historical data, gaming sales have grown by about $1.2B in the last 4 years, falling just short of doubling NVIDIA's revenues there. Though it goes without saying that gamers are less enthused about the current state of video card prices that are allowing NVIDIA to afford such revenue growth.
Moving down the list, NVIDIA's professional visualization segment finds itself in a weaker spot. The ramp of Ada Lovelace architecture workstation products has helped, especially in quarterly revenue, but at $379M in revenue, year-over-year revenue is down 24%. The professional visualization market has seemingly reached its saturation point, and while revenue ebbs and flows from one quarter to the next, NVIDIA has not been able to grow it significantly over the past several years.
The automotive segment, meanwhile, is NVIDIA's final market segment to show growth for the quarter. That segment booked $253M in revenue for Q2, up 15% from the year-ago quarter. According to NVIDIA, the bump in revenue was primarily driven by sales of self-driving platforms, tapered by lower overall car sales (particularly in China).
Finally, NVIDIA's OEM & Other segment was another that saw significant declines, dropping 53% to $66M. The company hasn't offered any further details with this quarter's financial results release, but in the previous quarter the drop was attributed to declines in GeForce MX GPU sales.
Looking Forward: To $16B Of Revenue In Q3
Given the rapid tear NVIDIA has been on in growing its revenues and profitability over the past year, half of the anticipation with recent NVIDIA earnings releases has not just been how well they've performed, but how well they expect to perform in the future. And at least for the next quarter, NVIDIA is projecting another set of record results.
For the third quarter of their 2024 fiscal year, NVIDIA is projecting $16 billion (plus or minus 2%) in revenue. That would be a 169% year-over-year jump in total revenue for the company, eclipsing the 101% growth of Q2. So long as NVIDIA's data center sales remain high, the company seems set to remain on a growth spurt through the rest of the year, as Q2 is the first quarter where NVIDIA has been shipping Hopper architecture products in large volumes – meaning that Q2 is essentially the start of the Hopper architecture era from and NVIDIA sales perspective. And should NVIDIA beat their own projections by more than a fraction, then the company will book more revenue in Q3'24 than they did in all of FY2021.
The further expected growth in data center sales is also expected to push NVIDIA's gross margins higher as well. The company is projecting a GAAP gross margin of 71.5% for the third quarter, beating Q2's already impressive figures.
As for what NVIDIA is doing with their newfound riches, where they aren't already investing more into data center GPU production to try to catch up with demand, NVIDIA is sinking their cash into stock buybacks. Already in the midst of a share repurchase program with $3.95 billion left, this week the company's board of directors has authorized NVIDIA to buy back an additional $25 billion in shares.
Besides bringing NVIDIA slightly more private by removing outstanding shares, this is almost certain to further boost NVIDIA's stock price, which like the company itself, has been on a tear this year. At the time of their Q1 earnings report, NVIDIA's stock was hovering around $307 a share, for a market cap of around $755 billion. Now the price is at $471, and in after-hours trading it's jumped a further 7% to $505 on the back of NVIDIA beating the street on their earnings report. As a result, NVIDIA is closing in on a market capitalization of $1.3 trillion, almost 4x the valuation of rivals AMD and Intel combined.
For the moment, at least, it would seem the sky's the limit for data center GPU sales. NVIDIA is already unable to keep up with demand for Hopper products, and that won't be changing in the near future. So, for as long as they can last for NVIDIA, let the good times roll.
Source: NVIDIA