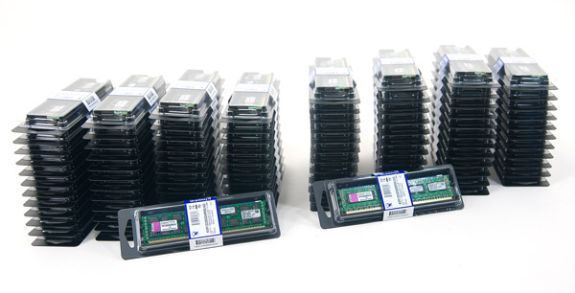 A couple of months ago we shared with you the CPUs that are going into our new server farm. We've actually started physically installing the machines (hence the brief outage over the weekend) so it's time to share another piece of the server puzzle.
The final configuration we decided on was 12 machines. This is a significant reduction of the number of systems we have installed (currently nearly 30) but the performance per box is much higher, allowing for consolidation through virtualization.
We are building two private clouds: a lighter cloud of 8 machines for our application serving needs (including some redundancy in the cloud), and a 4 machine DB cloud to handle the heavier IO. We'll dive into our infrastructure design in the later, full article but for now let's talk about memory.
The application server cloud is light on memory. Each system in this cloud has 12GB of memory (6 x 2 DDR3-1333 DIMMs). The DB server cloud on the other hand has 48GB of memory per box (12 x 4GB DDR3-1333 DIMMs).
Kingston was nice enough to supply the memory for our project with. The 96 sticks of memory were broken down into 48 x KVR1333D3D4R9S/4GI and 48 x KVR1333D3D8R9S/2GI. If you want to see what 288GB of memory looks like, check out the gallery below.
Note that for all of the components we selected for this project, we decided upon the components first and then petitioned the manufacturers second. The stipulation was that the AnandTech server farm would be a publicly visible test bed. Any failures of the hardware are public failures and would obviously reflect poorly on the manufacturer. For CPUs and memory it's not so big of a deal - physical failures there are fairly rare, but for SSDs this provided an interesting challenge. More on that in our next installment.