ADATA's HDD/SSD storage portfolio is made up of six separate external hard drive series and three internal SSDs. The new N004 series adds three additional USB3/SATA combo SSD drives to the line-up (64GB, 128GB and 256GB) :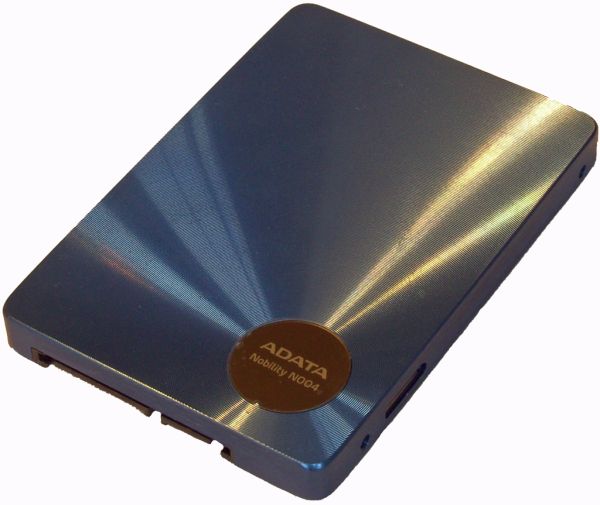 As the N004 isn't designed solely for external use, the casing dimensions and connector placement are pretty much standard fare for an SSD, the only exception being the inclusion of the USB 3.0 port on the right side of the drive (cable included).
Let's take a look at the USB 3.0 performance figures:
ADATA N004 128GB USB 3.0 Performance
Sequential Read (128KB)
Sequential Write (128KB)
Random Read (4KB)
Random Write (4KB)
ADATA N004 128GB USB 3.0
185.79 MB/s
167.85 MB/s
21.4 MB/s
14.62 MB/s
OCZ Enyo 128GB USB 3.0
178.1 MB/s
169.6 MB/s
21.9 MB/s
7.9 MB/s
ADATA N004 128GB USB 2.0
32.87 MB/s
22.56 MB/s
7.81 MB/s
7.81MB/s
OCZ Enyo 128GB USB 2.0
35.0 MB/s
31.1 MB/s
7.8 MB/s
7.4 MB/s
Corsair Nova 128GB SATA
222.1 MB/s
184.0 MB/s
37.5 MB/s
14.4 MB/s
A little bit of ground given up against the the Enyo as a USB 2.0 drive when it comes to write speeds, although as a USB 3.0 device the N004 seems to be the drive to go for. There is one irksome niggle with the N004; end-user firmware updates aren't possible. It's not a complete deal breaker in our eyes, though small performance enhnacing firmware changes are always welcome - no chance of those here.
We also checked out if garbage collection works over USB (no Trim over USB obviosuly):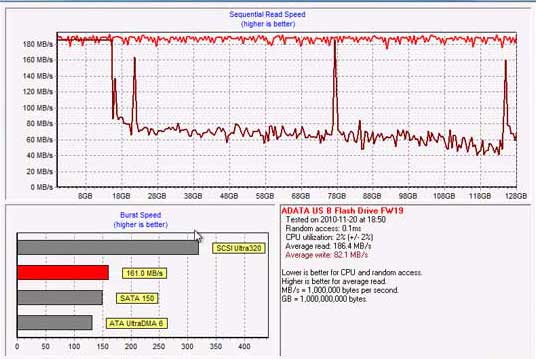 Performace after torture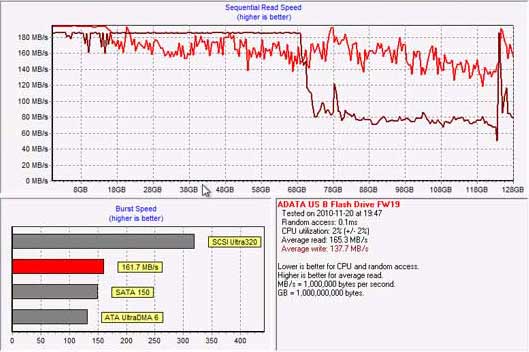 After 1 hour...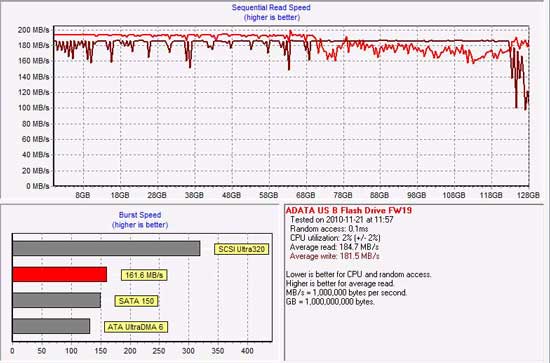 After several hours...
While the garabage collection obviously works, it isn't as good as what we've seen from Toshiba. If absolute transfer speed under constant usage is of the essence, the Indilinx Barefoot controller isn't the one to go for.
The nitty -gritty of give and take against present competition from OCZ is all in the pricing:
ADATA N004 Pricing
64GB
128GB
256GB
ADATA N004
$139
$213
$699
OCZ Enyo
$199
$305
$715
At 64GB and 128GB capacities, the N004 series is conderably cheaper than the Enyo. This is a big deal when you consider that the Enyo is limited to USB operation only. Obviously outright performance of the N004 isn't going to rival newer controller architectures over the SATA bus, but as a combination drive it stands alone right now.