Introducing the HP EliteBook 8740w
Sometimes mainstream line-ups from notebook manufacturers just don't cut it. Thus far, Dell seems to be the only vendor interested in offering quality screens in their laptops, and you'll pay for the privilege. But there's another, admittedly more expensive market out there for those of us with the desire to do better, those of us who are willing to pay a little extra to get a little more than the consumer-grade hardware can offer.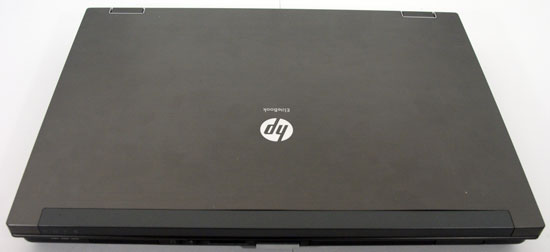 Enterprise-class notebooks bring superior...well...everything. With the higher price comes higher build quality, better components, sometimes better specs, workstation-class graphics (beneficial to AutoCAD, Maya, and Premiere CS5 users among others) on the go, and oftentimes that unicorn that we chase around here all too often: a better screen.
HP's EliteBook 8740w offers just such a screen: a 1920x1200 (instead of 1080p) IPS panel based screen dubbed the "HP DreamColor." It's a pricey upgrade, ringing in at $550, but it may be one of the best screens we've ever tested. So what about the rest of the notebook?
HP EliteBook 8740w Specifications
Processor
Intel Core i7-820QM
(4x1.73GHz + HTT, 45nm, 8MB L3, Turbo to 3.06GHz, 45W)
Chipset
Intel QM57
Memory
4x4GB DDR3-1333 (Max 4x8GB)
Graphics
NVIDIA Quadro 5000M 2GB GDDR5
(320 Shaders, 405 MHz core clock, 810 MHz shader clock, 2400 MHz effective memory clock)
Display
17" LED Matte 16:10 1920x1200 IPS HP DreamColor
(LG LGD0270 Panel)
Hard Drive(s)
500GB 7200 RPM
(Western Digital Scorpio Black)
Optical Drive
DVD+/-RW Drive with LightScribe
Networking
Intel 82577LM Gigabit Networking
Intel Centrino Ultimate-N 6300
56K Modem
Bluetooth 2.1+EDR
Audio
IDT 92HD75B3X5 HD Audio
Stereo speakers, headphone and microphone jacks
Battery
8-Cell, 14.4V, 73Wh battery
Front Side
Speakers
Headphone jack
Microphone jack
4-in-1 Flash reader
Left Side
Kensington lock
Exhaust vent
AC adapter
DisplayPort
D-SUB
USB 2.0
4-pin FireWire
ExpressCard/54
Right Side
eSATA
2x USB 3.0
USB 2.0
Optical drive
Ethernet jack
Modem jack
Back Side
Exhaust vent
Operating System
Windows 7 Professional 64-bit
Dimensions
15.6" x 11.2" x 1.4" (WxDxH)
Weight
7.8 lbs
Extras
2MP Webcam
Backlit keyboard with dedicated 10-key
Flash reader (MMC, SD/Mini SD, MS/Duo/Pro/Pro Duo, xD)
Fingerprint reader
Ambient light sensor
Dual drive bays
WWAN capable
Smart card reader
Docking port
Warranty
1-year standard warranty
Pricing
Starting at $1,999
Priced as configured: $6,527
With 18% CTO8740W Code: $5,352
Holy cow, check out that pricetag, and we haven't even maxed this baby out! Before getting into the nitty gritty, we'll get past the sticker shock: the three egregious offenders are the DreamColor display (a $550 upgrade), the NVIDIA Quadro 5000M (a staggering $1,425 upgrade), and the 16GB of memory, up from a stock 2GB (add another $1,100 on to the pricetag). HP wasn't screwing around when they sent us this notebook; it comes perilously close to being their best and brightest. But hey, if you need 32GB courtesy of four 8GB SO-DIMMs, HP has that as well... and it will more than double the above price! Also note that HP currently has an 18% discount code running on their CTO (Configure To Order) 8740w; such codes come and go on a regular basis, but like many OEMs HP frequently has such discounts.
For the rest, starting from the top we have one of our usual suspects, the Intel Core i7-820QM. The 820QM is a quad core, eight-thread processor that sports a nominal 1.73GHz clock speed capable of ramping up to 3.06GHz on a single core and 2.8GHz on two cores. Attached is Intel's cream-of-the-mobile-crop QM57 mobile chipset and a frankly gross 16GB of DDR3-1333. That mobile chipset is linked to two 2.5" drive bays able to support dual hard drives (or a single mechanical storage drive and an SSD). The lack of any SSDs is the only area where HP didn't go for broke with our test system, which of course will hurt in some of the HDD intensive benchmarks.
From there, we have the other big spender, the NVIDIA Quadro 5000M workstation-class GPU. The 5000M is NVIDIA's top of the line, but let's see if any of these specifications sound familiar: 320 shader processors (aka "CUDA cores") attached to a 256-bit memory interface connected to 2GB of GDDR5. Core clock speed of 405MHz and corresponding shader clock of 810MHz, with 2.4GHz effective on the memory. The kids playing along at home are going to note that this is an ever-so-slightly slower GeForce GTX 480M, using the same silicon with a paltry 15MHz deficit on the core (and corresponding 30MHz deficit on the shaders.) Of course, being a Quadro it does bring all of the secret sauce that NVIDIA packages with its workstation class cards, but the silicon remains essentially the same 100-watt GeForce GTX 465 crammed into a mobile chassis.
The rest of the notebook is pretty compelling. Ignoring the IPS-panel screen (which we'll examine in more detail later on), HP has opted to outfit the EliteBook 8740w with all the modern connectivity you could ask for. If there was one complaint I have here, it's the lack of a DVI or HDMI port, though a DisplayPort-to-DVI adapter could probably just as soon rectify that issue. On a notebook this modern, the VGA port almost seems out of place, though we understand enterprise customers are likely to have VGA-only projectors still hanging around.