Introducing the Corsair Obsidian 650D
Corsair pretty much stormed out of the gate when they entered the enclosure market, starting at the top with the Obsidian 800D and gradually working their way down, and each case has been well-received. Their first "budget" offering was still fairly pricey, but the Graphite 600T reviewed well and took home the bronze. Corsair recently added a similarly priced offering to their premium Obsidian line with the 650D. But is it another winner or are we left with a feeling of deja vu?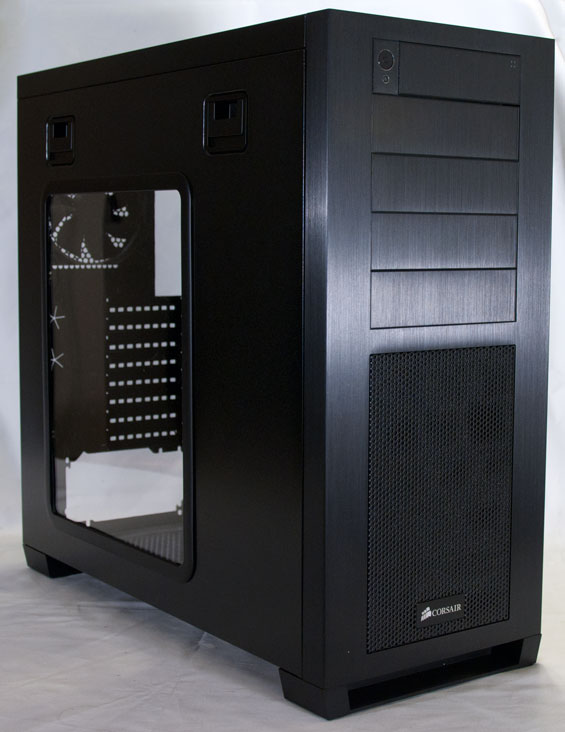 If NewEgg's customer reviews and the other reviews out for the 650D are anything to go on, Corsair would seem to have another winner on their hands. I'll admit to being a bit more skeptical, though, and as we go on you'll see why. Since reviewing the 600T last year, I've actually moved my primary computer into it. I stand by my original review and would still happily recommend it, but since playing with more and more cases and really wearing in the enclosure, there have been a few things that have begun to bother me. I still love the design and ease of use, and the cooling system and acoustics are still among the best, but the top of the enclosure actually winds up being questionable for mounting a 240mm water-cooler due to the slight curvature of the ventilation, and the negative air pressure design is next to impossible to improve as a result of how the enclosure is built.
So again, why bring up the 600T? Because the 650D, at least internally, is nigh identical to its predecessor. When we look at the spec sheet, though, we see that's not exactly a bad thing.
Corsair Obsidian 650D Specifications
Motherboard Form Factor
ATX, Micro ATX
Drive Bays
External
4x 5.25"
Internal
6x 2.5"/3.5"
Cooling
Front
1x 200mm fan
Rear
1x 120mm fan
Top
1x 200mm fan (compatible with two 120mm or 140mm fans)
Side
-
Bottom
-
Expansion Slots
8
Front I/O Port
2x USB 3.0, headphone and mic jacks, 2x USB 2.0, 6-pin FireWire
Top I/O Port
SATA hot-swap bay, fan controller
Power Supply Size
ATX
Clearance
13.5" with drive cage, 18" without (Expansion Cards), 185mm (CPU HSF), 300mm (PSU)
Weight
24 lbs.
Dimensions
21.5" x 9" x 20.5"
Price
$189
At $189 the 650D still ranks among the more expensive enclosures we've tested, to the point where it's really more an investment than anything else. A good enclosure can last you a long time, and roughing the 650D around a bit I never get the sense that it won't last.
The main differences in I/O against the very similar Graphite 600T are the loss of two USB 2.0 ports and the addition of the external SATA hot-swap bay at the top of the enclosure. I'm honestly a pretty big fan of these bays, and between the USB 3.0, FireWire, and SATA bay connectivity the only thing you're really missing is a card reader.