Introducing the Toshiba DX735 All-in-One
So far we've tested HP's TouchSmart 610 all-in-one and Dell's Inspiron One all-in-one, and in both cases we've found things to like along with aspects that left us wanting. Today we have on hand Toshiba's DX735 in its least expensive configuration. Starting at under a grand, the DX735 at least superficially suggests a design that's more focused, more streamlined, and less schizophrenic than the competition. Did Toshiba do right where the others stumbled, or is the DX735 just another case of too many compromises?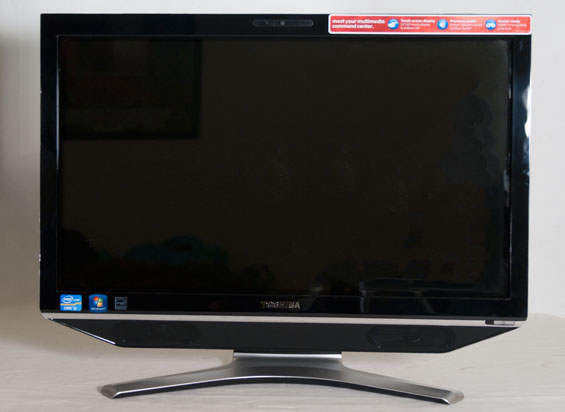 A Toshiba computer meant to be used solely on the desktop seems like a rare thing, but once you take a look at the specifications you'll see they went in a completely different direction from HP and Dell. While HP and Dell paired desktop processors with underpowered discrete notebook graphics, Toshiba cut a lot of the fat and just went for pure notebook hardware (excepting the hard drive). Here's what we received for review.
Toshiba DX735-D3201 Specifications
Processor
Intel Core i5-2430M
(2x2.4GHz + HTT, 3GHz Turbo, 32nm, 3MB L3, 35W)
Chipset
Intel HM65
Memory
2x2GB Samsung DDR3-1333 SODIMM (Max 2x4GB)
Graphics
Intel HD 3000
(12 EUs, turbo up to 1.2GHz)
Display
23" LED Glossy 16:9 1080p Touchscreen
TOS508F
Hard Drive(s)
Seagate Barracuda 7200.12 1TB 7200-RPM SATA 6Gbps HDD
Optical Drive
DVD+/-RW writer (HL-DT-ST GT30N)
Networking
Atheros AR8151 PCIe Gigabit Ethernet
Atheros AR9002WB-1NG 802.11b/g/n
Bluetooth 3.0
Audio
Realtek ALC269 HD Audio
Stereo speakers
Headphone and mic jacks
Front Side
Webcam
Speaker grilles
Power button
Right Side
Optical drive
Left Side
Input button
Brightness control
Volume control
SD/MMC/XD/MS Pro card reader
Headphone and mic jacks
2x USB 3.0
Back Side
Kensington lock
HDMI input
5x USB 2.0 (one taken by wireless mouse and keyboard receiver)
AC adaptor
Ethernet jack
Operating System
Windows 7 Home Premium 64-bit
Dimensions
25.6" x 7.5" x 17.3" (WxDxH)
Weight
17.6 lbs
Extras
Webcam
Wireless keyboard and mouse
Flash reader (MMC, SD/Mini SD, MS/Duo/Pro/Pro Duo)
USB 3.0
Touchscreen
Warranty
1-year basic support
Pricing
$849 online (11/21/2011)
This is going to sound strange after my having taken Dell's Inspiron One to task for using a mediocre, halfway point of a processor, but I actually like the Intel Core i5-2430M that Toshiba employs in the base DX735 model which we have on hand. Where the other manufacturers are experimenting with mixed results, from the get-go you can tell Toshiba has basically grafted a notebook on to the back of a 23" touchscreen, and that's not necessarily a bad thing.
The dual-core i5-2430M has two cores with Hyper-Threading clocked at 2.4GHz, able to jump to 2.7GHz on both or 3GHz on one. That's not overwhelmingly fast and it's certainly no quad-core replacement, but the decent dual-core processor coupled with a lack of dedicated graphics hardware (or even a dedicated graphics option) makes the DX735's target market clear: this is an internet appliance. Users who want a little more oomph can spend up $100 to get a model that sports a quad-core i7-2670QM that should be more or less comparable in performance to the i5-2400S in Dell's all-in-one, but at a substantially lower wattage.
The Intel HD 3000 integrated graphics are standard across the line and are adequate for the purposes of this all-in-one, while the default 4GB RAM is a perfectly reasonable starting point. I do quibble a bit with Toshiba only offering up to 6GB on their "top end" model; RAM is cheap enough that 8GB should be easily doable.
Where Toshiba wisely diverges from notebook hardware in the DX735 is the use of a full-size hard drive. While it may add heat and weight to the system, Toshiba was frugal enough with their thermal budget that they're able to employ the 1TB Seagate Barracuda 7200.12. The drive is reasonably fast (for a hard drive) while being a good citizen, and it runs 10C cooler than Dell's drive does.
Finally, where Toshiba kills the competition is in offering USB 3.0 connectivity. While overall connectivity is pretty basic, having two USB 3.0 ports for high speed data transfer is a godsend. It's still downright perplexing why the other, more expensive models from the other vendors don't offer USB 3.0, but at least it's here.